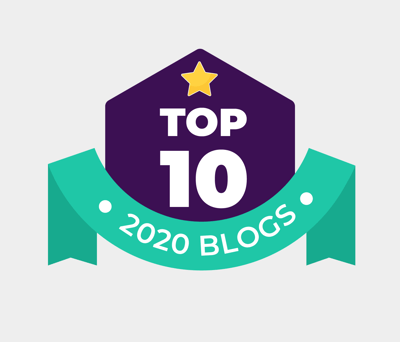 We know you have a choice when it comes to reading wellness blogs.
We want you to know that we're so thankful you've landed on ours.
At whatever point you started reading the Employee Wellness Blog, we're grateful. You're the reason we've kept putting up wellness blogs weekly throughout 2020, despite perhaps the most unpredictable year on record. As a wrap-up for this year, we wanted to share our most-read blogs with you.

That includes:
25 Quotes About Wellness Your Employees Need to Hear

How to Avoid a Sore Arm After Your Workplace Flu Shot

6 Amazing Benefits of Morning Exercise

14 Creative Ways to Promote Breast Cancer Awareness Month at Work

5 Virtual Wellness Program Ideas to Engage Your Remote Employees

7 Tips for Promoting Positivity in Your Workplace

13 Tips on How to Stay Positive During Anxious Times

Indoor or Outdoor Flu Shot Clinic: Which Should You Pick?

Transform Your Walk into a Full-Body Workout

13 Health and Wellness Conferences You Won't Want to Miss in 2020

In 2021, we look forward to inspiring even more leaders to create regular wellness routines in the workplace. Without further ado, here are our 10 most popular blogs of 2020:
Want to pass along some healthy wisdom in the new year? Then you'll definitely want to share this insightful list of wellness quotes. Employees can always use a reminder about the joys of wellness.
A few gems we love from this list include:
●
"Embrace and love your body. It is the most amazing thing you'll ever own."
●
"Be patient with yourself. Nothing in nature blooms all year."
●
"You are your only limit."
Want the full list to email to your team? Check it out here.
Not a fan of how vaccinations make your arm feel sore? Whether you're getting the flu shot or the COVID-19 vaccine, you can avoid some of that post-shot soreness. Share this valuable resource with employees throughout flu season and just before you host your annual flu shot clinic!
Some of the best tips to avoid a sore arm after your flu shot include:
Relax

Take ibuprofen or Tylenol

Use your arm afterward

Try cold and warm compresses
Want more of the nitty-gritty details on how to avoid that sore arm? Click here to read the full post.
A morning workout is a great way to start your day. Even if you're not a morning person, you may find an early morning workout routine can get you going sooner. This post covers the top benefits of getting in a sweat session before starting work.
Morning exercise perks include:
More energy

Better mood

Less stress
Want the full list of reasons to skip snooze and hit the spin session? Check out the blog here.
October is Breast Cancer Awareness Month. Since this post went live in 2018, it's become a favorite of our readers year after year. In it, you'll find unique ways to spread the word about breast cancer in your office.
Some of the ideas to spread awareness:
Wear a pink ribbon daily

Host a DIY fundraiser

Provide education with valuable resources

Host a lunch and learn with a breast cancer survivor
This post covers respectful yet engaging ideas for the promotion of Breast Cancer Awareness Month. Keep these in mind for when October rolls around for a health topic that's important to cover in your wellness campaign.
Remote employees are often the most "out of the loop," but with remote work becoming the new normal, it's time to invite them back in. This post shares creative ways to bring virtual wellness to the forefront.
Some of our recommendations include:

Starting a healthy well-being hub

Hosting virtual lunch and learn events
Providing "good for the soul" meetings
Want all the details on creating virtual wellness programs with ease? Check out the full post here.
There's no time like now to keep positivity on display in the workplace. That's why this is one of the most-read posts of 2020 on our Employee Wellness Blog! Promoting positivity on a daily basis helps your employees or co-workers start looking on the brighter side of things. After all, positivity is contagious!
A few of the tips we shared:
Appreciate the little wins

Develop relationships

Know your mission

Smile
If you want a little refresher for the new year, give this one a read.
Staying positive can be challenging, but 2020 was no doubt a tough time to stay positive for many individuals. That's why we created this post with easy-to-implement tips on seeing the positive side of things.
A few of our favorite tips we shared:

Do good for someone else

Work on your own health
Look for the good in others
Strengthen your social circle
You can learn how to be positive. The tips listed here are a great starting point to get you going down the path of positivity!
With the rise of COVID-19 cases this year, many workplaces implemented daily social distancing practices. In keeping your team safe, many of you opted to do an outdoor flu shot clinic.

Inside this post, you'll find details on:

An employee survey to see if your team is interested

The pros and cons of each type of setting

The convenient flu cart option
If you still want to set up a flu clinic in the new year (it's not too late, flu season spikes between December and February!), give this post a read to decide the ideal setting for your workplace.
With mandated lockdowns, many individuals found their gyms closed and instead opted to hit the outdoors for workouts. In the new year, consider adding a walking routine into your daily workout experience.
Some tips to get that full-body workout experience in:
Walk on an incline

Add a light jog

Use weights
If you like being outside, this post shares ways to get in that full-body workout that your gym used to provide.
Health and wellness conferences, expos, and seminars are a great way to connect with other industry professionals while also learning about new trends. Before the pandemic hit, we had selected 13 of the top conferences for your consideration. Keep an eye out for these same conferences in the new year!
Here's a look at the conferences covered:
Check out the full listing of conference details here.
Here's to a Healthy and Happy 2021 in Your Workplace
That's a wrap!
Throughout this year, we hope you found inspiration and motivation to encourage wellness in your workplace. Whether you're a manager, an HR rep, a CEO, or even a wellness coach, it's our wish that you always find exciting, new, and informative content on our Employee Wellness Blog.
Thank you for your loyalty and dedication to reading our blog.
From TotalWellness, we wish you and your employees a healthy 2021!

Which one was your favorite 2020 blog post? What topics would you like covered in 2021? Share in the comments below!