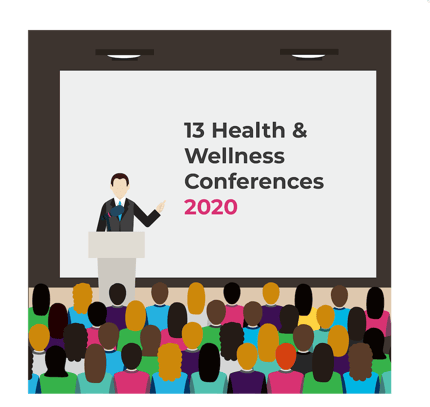 Ready to start planning your company's 2020 wellness program ideas?
For a healthy dose of inspiration, consider refreshing your perspective with a corporate wellness conference to make this upcoming year the healthiest yet for your team.
Health and wellness conferences are an excellent opportunity for HR reps, benefits directors, wellness committee members, and health directors to network and learn about upcoming wellness trends to bring into the workplace.
If you've been looking for a way to increase interest in your company's wellness programs, here's one way to do it. Most conferences offer team discounts, so check when you register if you can bring down the cost per person by registering your team.
Don't feel like tracking down the best wellness conferences to attend this year?
No worries. We've rounded up the top health and wellness conferences and summits of 2020.
Here are 13 to send your team to for a healthier new year:
January 20-22, 2020
Clearwater Beach, FL
This event is ideal for mid-to senior-level professionals in HR, occupational health and safety, employee health services, and other related wellness fields. Sessions will cover everything from the value of financial literacy to creating a thriving workplace culture. Pre-conference sessions include: Organizational Strategies for Health and Financial Wellness; Creating a Thriving Culture: It's a Two-Way Street; and Legally Compliant Communications— And the Consequences of Miscommunication.
Highlights:
20+ sessions available
Engagement opportunities with guest speakers
Wellness Works and Prevention Pays— If Done in the Right Ways (Dr. Ron Loeppke, Vice Chairman U.S. Preventive Medicine, Inc.)
A sample of workshop topics: Conducting a Self-Audit of Your Health and Welfare Plan; Creating a Culture That Is Well For Tomorrow; Is Functional Medicine the Future of Healthcare and Solution to Chronic Illness?
January 26-28, 2020
Scottsdale, AZ
This conference is for companies whose leadership supports and appreciates that corporate wellness plans are essential for a healthy workforce. Whether you're just starting to create a new corporate wellness plan or have been at it awhile, this conference offers three days of education on how to create successful wellness campaigns. From unveiling the latest trends to enhancing workplace productivity, participants will walk away with strategies to promote healthy behaviors at work.
Highlights:
Networking breakfast
Aligning Vendor Services to Support a Culture Well-being (Amy Iveson)
Making Behavioral Health Part of Your Corporate Wellness Program (Tracy Clemente of Chegg)
Sampling of conference topics: Maximize Employee Engagement in Your Wellness Program; Create A Customized Employee Wellness Program Using: Data, Culture, and Plan Design; Leading a Self-Care Revolution: Engaging Leaders in Your Well-Being Strategies.
March 12-15, 2020
Atlanta, Georgia
This summit is for wellness professionals with a strong focus on physical fitness, including exercise physiologists, personal trainers, and healthcare professionals. Tracks and sessions include topics like worksite health promotions along with trends and updates in nutrition.
Highlights:
Master class workouts
The Astonishing Effects of Exercise on the Brain (Wendy Suzuki)
Tiny Habits and Behavior Change: How to Create Lasting Change (BJ Fogg)
A sample of workshop topics: Ergo-Energizer: How to Be Fit If You Must Sit; Fueling Women's Health at the Critical Stages of Life; Exercise and Mental Health: Are Activity Trackers Helpful or Harmful?
March 18-19, 2020
Lynnwood, WA
If you'll be in the Pacific Northwest in the spring, consider attending this short but sweet summit. Health promotion thought leaders and experts come together to share strategies and best practices for creating healthier workplaces. Network with other health professionals and discover the newest resources to assist your employees in achieving optimum health.
Interested in nominating a workplace for its healthcare initiatives? Submit nominations for the 2020 Golden Apple Awards by February 3, 2020.
Highlights:
Speaker Dr. Laura Hamill of Limeade
Raquel Garzon, Revitalize Project founder
Continuing education credit opportunities
Recognition of standout wellness programs
Sampling of conference topics: Creating a Culture of Well-being and Engagement; Physical Activity Breaks for the Workplace; Obesity: A Misunderstood and Undermanaged Workforce Disease.
April 15-17, 2020
Las Vegas, Nevada
Want to create a healthier benefits package for your company? This conference is your opportunity to discover best practices and tips from senior HR and benefits execs. Get the nitty-gritty on how to keep programs competitive to snag — and keep — the best talent for your company. Session topics will include everything from improving employees' overall wellbeing to assisting employees in boosting their financial health.
Highlights:
Speaker Joan Lunden, former co-host of Good Morning America
60+ industry thought leaders on-site presenting
Active learning sessions (short and long)
Sampling of conference topics: Employer Strategies to Reduce Health Costs and Improve Quality; A Day-One Strategy for Employee Financial Wellness, and Employees Going Rogue Selecting Providers. What's the Cost?
April 24, 2020
Akron, Ohio
This single-day event is jam packed with appearances from 10 different guest speakers, including a best-selling author, corporate wellness specialist, professor, and other health experts. Learn key strategies to implement in your workplace to boost employee engagement for your wellness initiatives. Conference sessions include coverage of navigating the changing healthcare landscape, food choices and disease correlation, workplace wellness, and more.
Highlights:
Keynote speaker Angela Gaffney, certified health coach
Modern Minimalism: When Less is More (Rose Lounsbury)
Workplace Wellness and Onsite Care (Dave Drap)
Sampling of conference topics: The Pervasive Growth of Mental Health in Wellness Programs; Power of Food: Putting it into Practice; A Foundation for Momentum to Thrive at Work and in Life.
May 11-14, 2020
San Antonio, TX
This conference comes with a powerhouse of guest speakers like best-selling author Daniel Pink, Chobani president Peter McGuinness, senior manager Suzanne Vickberg of Deloitte, and more. Topics will range from gratitude in the workplace to work-life harmony. Attendees can also earn professional development credits with various organizations, too.
Highlights:
Early morning yoga sessions
66 session options to explore
Guest speakers from companies like Shopify, Coca-Cola
Sampling of conference topics: The Gratitude Effect: Unleashing the Power of Recognition in Organizations; Building Workplaces That Reflect Our World, Not Our Biases; The Work-Life Harmony: Thriving in the Balance of Career and Personal Fulfillment.
2020 Health and Wellness Conferences to Watch
The following conferences are also scheduled for 2020. At the time of this post going live, the conference websites listed below did not have a finalized 2020 agenda. Keep checking the websites as conference dates get closer or subscribe to the conference mailing list for updates.
April 2020
May 2020
July 2020
August 2020
Now you have a comprehensive conference list to choose from for the upcoming year. Continuing education at conferences is a fun way to discover wellness program ideas that revive your employee health initiatives. Happy 2020 conference planning!
Which health and wellness conferences will you attend in 2020? See one not listed? Let us know!
Conference Image: Created by Freepik