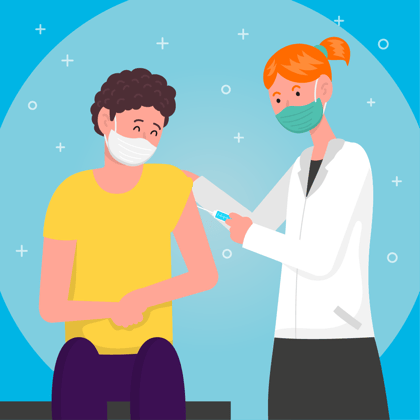 The workplace environment is much different this year as we navigate the COVID-19 pandemic.
Likewise, any wellness events — including flu shot clinics — are also quite different and need an extra level of careful planning. More sanitation methods, plentiful social distancing, and daily mask-wearing are all part of the normal employee gatherings these days.
Since the flu season this year will also be paired with COVID-19 challenges, it's more important than ever for employers to encourage workers to get the flu shot.
If you normally host an annual flu shot clinic, you may want to start considering the pros and cons of an outdoor versus indoor option. You'll need to put even more thought into event space, signage, entrances, exits, consent forms, and more.
Below, we break down the factors to keep in mind to make the best choice for your employees when it comes to hosting a flu shot clinic this year.
Indoor vs. Outdoor Flu Shot Clinic: Making a Decision
Flu season will be here before you know it.
Planning ahead on whether you'll host an indoor or outdoor flu clinic event will minimize confusion and stress while also ensuring you make the right choice for your employees.
So, how do you decide?
Here's an easy way to pick: If it's difficult to space out employees indoors, an outdoor flu clinic is best. If you have the room inside and can safely social distance, then the indoors can work.
It all comes down to knowing your employees and what you can do to safely host one of the most important wellness events you'll have this year.
A brief survey of employees may help you cement your decision. Keep it anonymous and easy to fill out for the best results.
You can simply ask three questions:
Do you plan to get a flu shot this year? (Circle: Yes or No)


Would you prefer an indoor or outdoor shot clinic? (Circle: Indoor or Outdoor)


Do you have any other concerns about getting the flu shot? (Write any concerns down below.)
Once you have the results, you can make a better decision that works well for the majority of your employees. Still not sure? Read on for the considerations to keep in mind for hosting each type.
What to Know About Hosting Outdoor Flu Shot Clinics
Traditionally, flu shot events are held indoors. However, this year an outdoor event may better suit your needs. Events held outdoors, using a drive-thru approach, will require a bit more planning by your wellness committee or staff.
Here's a look at the pros and cons for an outdoor flu clinic:
Pros:

Easy for your employees
Less chance to spread germs
Better option for social distancing
Frees up indoor workspace areas
Cons:
Requires more pre-planning
May require permit or permission from property manager
Weather can delay or postpone the event
Below are a few things to keep in mind for an outdoor flu shot clinic:
Event Space
This is always one of the bigger challenges when it comes to hosting events, but especially flu shot clinics. Space is often at a premium in most office buildings, so an outdoor flu shot clinic may work in your favor.
Plus, it makes it easier to social distance responsibly.
If you work with TotalWellness as your flu clinic provider, we make it as simple as possible by using a drive-thru approach. Your employees simply drive up in their cars and we can inject the flu vaccine as they sit comfortably in their vehicles.
Setting up the event can be the most challenging aspect, but here are a few guidelines:
Consider how many lanes you can have - Use cones to designate lanes. A minimum width of 13 feet per lane and a radius of 18 feet for turns is recommended.
Think about traffic flow - Decide on suitable locations for entrance and exit points to accommodate traffic flow that will not block external traffic patterns.

Set up a safe registration area - Develop sensible areas to be used for form pick-up and shot administration. Organize form pick-up tables and nurse stations on the driver's side of vehicles. Establish a vehicle waiting area for participants who need to remain at the event for 10-15 minutes after receiving their first flu shot.
Have adequate signage directions - Develop signs to address driving directions (arrows, stop signs) and event instructions such as completing the consent form if not done already. Each sign should be at least 18 by 24 inches in a large block font, secured to the

ground or a post, and made from weather-resistant materials. Signs at large venues with

multiple lanes should be made for every lane (numbers and arrows). Directional signage

should be displayed at every entrance, exit and choice to turn.
Outdoor Venue Considerations
When choosing where exactly to host your outdoor flu shot clinic, it's important to be mindful not only of room, but also others outside your organization who may need the parking lot. Here are some checklist items to consider as you pinpoint the exact outdoor location:
Do you have enough space? -

Select a location large enough to accommodate the flow of vehicles in an organized and efficient manner.


Will it block too many parking spots/intersections? -

Avoid hosting your event at locations directly attached to or near busy roads/intersections. You don't want to create a traffic backup for vehicles not participating in the event.

Be mindful of property owners/tenants -

If your parking lot is shared by other tenants or owned by another entity, be sure to receive appropriate approvals prior to hosting your event in the parking lot.

Get the appropriate approval -

If your parking lot is public property, ensure you obtain the proper permits or permision to host the event at the location.
Weather Considerations
With an outdoor event always comes the concern about how the weather will behave. Planning ahead and having a backup plan can make this a non-issue.
When preparing, remember to:
Have a tent or awning - It's essential to have shade and a cooler environment for flu shot delivery.

Keep paperweights handy - Skip chasing down paperwork in the wind when you have these on hand to keep all paperwork in a neat pile.

Provide a temp-controlled facility - A temperature-controlled facility and supply storage area is helpful. Nurses will keep coolers at their stations, but it's best to keep limited supplies in each one and replenish only as necessary from a storage area.

Create a plan B - If it's too windy or rainy, have a backup plan.
Final planning tip: Set up appointments for every 10-15 minutes to keep the flow of vehicles moving smoothly through your parking lot.
What to Know About Hosting an Indoor Flu Shot Clinic
If you host an indoor clinic, it will take some new configuration and planning to ensure everyone can safely get a flu shot. You'll want to provide adequate space for the nursing staff and your employees to participate.
Another thing to keep in mind: If most of your employees take public transportation, an indoor event may be better attended than a drive-thru event.
Pros:
Easy to advertise
No weather issues
Close to work stations
Easier to encourage spontaneous participation
Cons:
Close quarters
More sanitation needed
May require rearranging of work areas
Below are a few things to keep in mind for an indoor flu shot clinic:
Event Space
Several rooms or a large room is best for an indoor flu clinic event. Allow for each flu shot station to be set up at least six feet apart from the next station. Allocate a registration/waiting area where participants can socially distance while they wait.
Indoor Venue Considerations
Organization and abiding by recommended CDC safety regulations will be a major part of planning any indoor events this year. If you'd like to keep your flu clinic inside, it will allow for more spontaneous participation from your employees. With a few social distancing precautions — and lots of hand sanitizer on hand along with mask wearing — you can safely host an indoor event.
Here are some checklist items to consider as you pinpoint the exact indoor location:
Be mindful of social distancing recommendations - Ensure no more than five stations are in one space. This limits the area to no more than 10 individuals in a space at one time.

Set up one-way "traffic" - Designate one door into a space as the entrance and a separate door as the exit. Prop open doors to avoid multiple participants from touching door handles.

Post signage about social distancing - Place helpful tape X's six feet apart on the floor, so participants have a guide on where to stand while they wait. Post signs about social distancing and handwashing reminders.

Reduce pen touching - When participants initially register for the flu shot clinic, be sure to send them all required consent forms. Ask that they print and complete those prior to showing up at an event. If you use an online registration system, have them complete it then. Ask them to bring their own pen for signing any forgotten forms.

Ask participants to bring masks - Ask all employees to wear masks while participating in the indoor event for their safety and the safety of others.
Another Option: Try Out the Flu Shot Cart
If you choose TotalWellness as your flu shot provider, we can have a nurse make rounds to each participant's workstation. This nixes your need to set up an entire area dedicated to vaccinations while also managing social distancing. Depending on your location, most nurses can do between 15 to 20 shots per hour.
Flu Clinics Offer Protection to Your Employees During Flu Season
Due to COVID-19, receiving a flu shot this fall carries extra importance. As always, TotalWellness is dedicated to providing flu shots in a safe environment.
No matter which company you go through for your flu clinic, it's important to take into consideration your company's setting for the utmost safe experience. The most successful flu clinic will be the one where your employees feel safe and willing to participate.
When selecting an event location, it's important to consider which type of location will allow for appropriate social distancing and which type of location your participant population will feel most comfortable in.
Doing so will encourage the most participants to get vaccinated while also being safe during the COVID-19 pandemic.
Will your company be hosting a flu shot clinic this year? If so, will you do it indoors or outdoors? Let us know your best practices in the comments below!
Medical vector created by Freepik