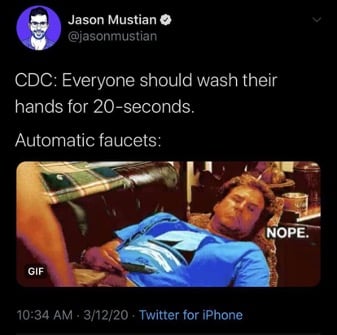 National Handwashing Awareness Week is almost here.
During the first full week of December — and well into cold and flu season — comes a celebration of clean hands. This year the dates fall Dec. 4-10.
While you may be tired of hearing "wash your hands" from every public health official, it's true that washing hands saves lives. It keeps germs from spreading in spaces like workplaces, schools, and the general community.
In an effort to not bore you with another wash your hands well lecture, we've rounded up the best handwashing memes and gifs on the internet. Share these far and wide during National Handwashing Awareness Week.
Here's to spreading humor, not germs.