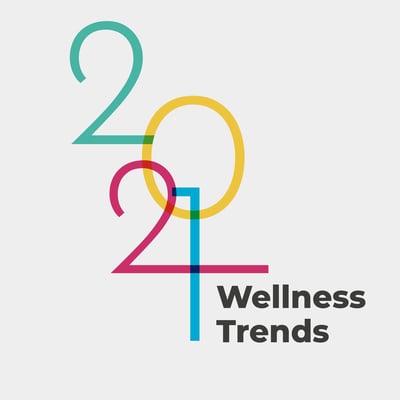 Interested in what next year's wellness trends will be?
Looking toward 2021, there's no doubt wellness will look a lot different. Even with a COVID-19 vaccine rolling out, the general public will likely still be hesitant to do their usual self-care, fitness, and health routines. That includes heading to crowded gyms, visiting spas, and even simply going into the doctor's office.
Some wellness trends like increased telehealth use and at-home fitness options will continue on and aren't surprising. But other trends like wellness health beverage consumption and sobriety support are standing out as unique well-being opportunities.
Those are just a few of the projected 2021 wellness trends, too.
Below, you'll find insight from wellness thought leaders and a recent wellness trends survey.
Keep these trends in mind as you plan upcoming wellness campaigns and look at new ways to engage your workers in wellness.
Increased Telehealth Visits
Telehealth visits skyrocketed this year. In the upcoming year, experts expect even more telehealth requests for healthcare workers. Going forward, 76% of those surveyed said they would like to use telehealth.
In 2019, a mere 11 percent of U.S. consumers opted to use telehealth. Now, 46% of consumers use telehealth to replace cancelled healthcare visits. During lockdowns, telehealth expanded healthcare options more than ever. Not only did it make it easier for individuals to access physicians, it made the opportunity available to those workers who just couldn't otherwise take a day off work.
Plus, more healthcare options are available over virtual healthcare visits. In 2020, the Trump administration approved Medicare coverage of 144 services offered via telehealth.
"Wellness has changed quite a bit in 2020, primarily due to COVID-19 and the resulting lockdowns. Social distancing and isolation have brought mental health more into the forefront. I expect a trend toward even more telemedicine/telehealth services in 2021 since it will still be awhile before we reach a point where the majority of the population gets immunity. I also expect a trend towards the destigmatization of talking about mental health issues. This has been a long time coming and it will be great to finally have coaching and mental health services be seen as valuable, necessary and more easily accessible with online services."
At-Home Fitness Options
In 2020, anyone who wanted to purchase workout goods noticed most retailers (online and in-store) were cleared out of workout equipment. Whether you were looking for resistance bands or dumb bells and everything in-between, you would have been hard-pressed to find a store with fitness supplies. In the new year, expect working out at home to become the norm.
"Home-based, social workouts are here to stay, even once COVID is (hopefully) in the rearview mirror. We've seen an incredible transition from in-person to virtual across events and other social experiences and that absolutely extends to fitness. Getting fit from an Instagram video just doesn't compare to working out side-by-side with your friends, competing against one another and pushing each other to do better. The world can't wait for life "post-vaccine," but we've all gained habits during this period that are extremely positive to our overall well-being, when done in moderation. At-home fitness certainly falls into that bucket. Given the number of consumers that have invested substantially in their home gyms, I wouldn't be surprised to see the return to gyms fall short of expectations."
Walking for Physical and Mental Health
Walking benefits the body in more than one way. Plus, it's easy to do and can be done anywhere — even when you're on lockdown. Walking became the preferred method of working out for many people during quarantines. From in-home walking programs to neighborhood strolls, expect to continue to see the walking trend continue.
"People are more willing to get outside and take a walk to get exercise than ever before, and are finding the benefits for walking on both their physical and mental health. Walking is something you can do at work on your lunch hour and breaks. Walking even ten minutes per day, when broken up into two or three sessions is a powerful way to clear your mind, burn calories, improve cardiovascular health and posture."

Lynell Ross, psychology-trained certified health and wellness Coach, nutritionist, and certified personal trainer, and resource director for Test Prep Insight
Unique Beverage Consumption
What are you drinking these days? If you've been downing water and are getting bored with it, it may be time to try some new drinks for your health. The health and wellness market is seeing brands incorporating more health ingredients like nutrients and vitamins, along with add-ins like probiotics, CBD, and adaptogens, according to a FoodBev Media report.
"Herbal teas will be making a reappearance as a beverage trend in 2021. Herbal teas make excellent iced tea flavors and are easily infused with fruit and other ingredients to give significant health benefits.

Peppermint tea has been used for many years as a means of improving metabolism. The catechins in tea, which are classified as flavonoids, are the metabolism boosting compounds of the drink. Peppermint tea is also interesting in its ability to help fight a wide variety of illnesses. This is primarily contributed to its antifungal properties.

This tea's antifungal nature is also responsible for its ability to help improve digestion health. A cup of peppermint tea after a meal can help alleviate gas and bloating while also speeding along digestion and potentially metabolism through this means as well."
Increased Interest in Sobriety and Addiction Support
With lockdowns, unemployment, and excessive stress due to the pandemic, many individuals turned to self-medicating with alcohol. One report found alcohol sales up by up 54% in late March 2020, which was the start of the pandemic and lockdowns. By April, online alcohol sales were up by 500%. Now, individuals are starting to realize excessive drinking isn't the answer to glowing health.
"The sober curious trend is here to stay for 2021. Alcohol is a socially acceptable drug; we drink it to celebrate, deal with stressful days, or enjoy vacations. It is hard to step away from the crowd mentality; however, with the rise in popularity of sober month challenges, individuals can take a little time to reevaluate their relationship with alcohol. The "Dry January Challenge" gives folks a wellness timeout to look at their health as a whole.

We live in a fantastic time. The beverage industry has hopped on board, and artisans are creating outstanding non-alcoholic craft beers, as well as alcohol-free spirits and wines. Sober bars and dance parties give folks the option to socialize and have fun with other non-drinkers in a judgment-free environment.

During such a stressful year, 2020 has seen a rise in online support groups through Zoom helping people struggling with addiction and alcoholism. In long-term recovery, men and women now share their journey to sobriety through books and social media content, inspiring those that still struggle to seek help or move towards their sober path. By their willingness to share their tales, they help remove the stigma and shame surrounding the concept of eliminating alcohol from one's life."
Micronutrient Blood Testing
We are what we eat. For many people, learning just what is missing from their diets can be the key to rebalancing and restoring good health. Since nutrition is a big part of overall health — and can prevent major health conditions like diabetes and heart disease — experts think a look at recalibrating nutrition on a personal level will be a spiking trend.
"The emphasis on vitamins and immune health caused most folks to flock to nearby pharmacies to pick up a multivitamin. Yet next year and beyond, I think we'll see people really begin to get intentional about micronutrients in their meals, underscoring their well-being.

I expect we'll see a big rise in micronutrient testing. These are quick and easy tests done at most doctors' or nutritionists' offices requiring only a small blood sample. From there, you can see your body's complete micro-nutritional breakdown, often identifying deficiencies in key nutrients as well as possible overconsumption of others underpinning health concerns.

Nutrition is square one of health — even more so than exercise. I tell my clients this over and over again and it surprises them. But you really are what you eat. Better yet, you really are what micronutrients you consume."

John Fawkes, NSCA CPT, certified nutrition coach, and editor of The Unwinder
Meal Planning and Cooking at Home
With many restaurants closing and diners eating out less, individuals have discovered the joy of cooking at home. Not only does it provide more control over food quality, but it offers a chance to mindfully eat and choose foods that nourish the body into a state of good health.
"People who have quarantined or just spent more time at home, and less time in restaurants have rediscovered home cooking. Many of us, especially working people, have found that it doesn't take much time to prepare a healthy meal. And, we are feeling the benefits of getting better nutrition and taste, along with less sodium, fat and sugar than restaurant food offers."

Lynell Ross, psychology-trained certified health and wellness coach, nutritionist, and certified personal trainer, and resource director for Test Prep Insight
Prep Your Workplace for Wellness Trends
Are you ready for these wellness trends in 2021?
While many of these trends are deeply personal, there's still an opportunity to help employees experience them. Any chance you have to put wellness experiences or ideas into your team's line of sight, it's worth giving a try. Especially if you can incorporate these into your upcoming wellness challenges, campaigns, and concepts for the new year!
A few tips for implementing some of these trends:
Host a nutritionist -

Have a nutritionist offer insight into healthy eating at home. They may offer a cooking demo or provide handouts on eating well daily. This is a great opportunity for a

lunch and learn event — digitally or in-person!


Encourage mental health services -

Share your company's policy on mental health along with any local and online mental health resources. Stress the importance of work-life balance and offer details on telehealth sessions as paid for by company insurance.


Pay for a fitness platform -

Company gym closed? Is your team working remotely? Offer to pay for log-in access to a fitness platform. Have your wellness committee select three different options and send out details to have your team vote on which one they'd like access to. Then, buy them a year-long membership!


Send out beverage boxes -

Every quarter, consider sending out boxes of wellness drinks, teas, or organic shots as a thank you to your team members.
Now, it's time to get trendy and focused on your own workplace trends to set! Here's to a year focused on fun and unique wellness opportunities.
How would you consider implementing some of these wellness trends? What trends do you hope to see catch on in your workplace?