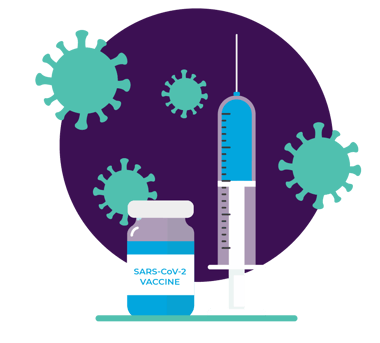 Is there a vaccine for COVID-19?
The short answer: Yes.
On December 11, 2020, the U.S. Food and Drug Administration issued the first emergency use authorization (EUA) for a vaccine for the prevention of coronavirus disease 2019 (COVID-19) caused by severe acute respiratory syndrome coronavirus 2 (SARS-CoV-2) in individuals 16 years of age and older.
Below, we cover when you can expect the vaccine, who will get it first, and facts about the benefits of the COVID-19 vaccine.
When Will a COVID-19 Vaccine Be Available?
The first coronavirus vaccine is set to arrive at 145 locations across all 50 states Monday, December 14. Trucks departed Pfizer's plant in Portage, Michigan, on Sunday and the company expects to deliver 2.9 million doses to 636 locations by the end of this week.
Moderna, another drug maker, plans to meet with the FDA on Dec. 17 for a final review. If all goes well and authorization is granted, the first shots may be available on Dec. 21, according to a recent New York Times article. The Moderna vaccine's early results show a 94.1% vaccine efficacy.
The United Kingdom received its first batch of the Pfizer-BioNTech Covid-19 vaccine on December 3, 2020. This comes one day after the country authorized its distribution. The two-dose vaccine arrival is expected to be enough for 400,000 people, according to the UK Department of Health.
Still, the vaccine will not be given to the vast majority of Americans until well into next year.
Who is Working to Approve The Vaccine?
Operation Warp Speed — a federal government organization — was created in response to the COVID-19 pandemic. Its ultimate goal is to produce and deliver 300 million doses of safe and effective vaccines.
Operation Warp Speed partners with other government organizations like the Department of Health and Human Services (HHS) and the Department of Defense to help develop, make, and dispense millions of COVID-19 vaccines as safely, quickly, and efficiently as possible.
Additionally, Operation Warp Speed works alongside the Centers for Disease Control and Prevention (CDC), the National Institutes of Health (NIH), the Biomedical Advanced Research and Development Authority (BARDA), and the Department of Defense (DoD). It also works with private firms and other federal agencies, including the Department of Veterans Affairs.
Who Can Get the Vaccine First?
A limited supply is expected upon the first release of the vaccine. This means there won't be a vaccination available for everyone immediately.
It's expected that the first doses will go to the nearly 21 million high-risk healthcare workers and residents and staff in nursing homes and other long-term care facilities. The vote to do this came from the CDC'S Advisory Committee on Immunization Practices on December 1, 2020. Because healthcare workers are at high risk of contracting the virus, they are one of the top priority groups to have access once the vaccine is cleared by federal regulators.
Up next would be those with certain underlying health conditions and those ages 65 and older who are deemed at "increased risk" of getting COVID-19.
Which Companies Will Release the Vaccine?
As of right now, the two options likely available to U.S. citizens first include vaccines from Pfizer-BioNTech and Moderna. AstraZeneca is another company working on approval for a public vaccination release.
The Benefits of Getting a COVID-19 Vaccine
As with all vaccines, there's a series of routine processes and safety procedures put into place to ensure the approved vaccines are safe.
As researchers work to create a vaccine, it's becoming more clear that the benefits of becoming vaccinated can be helpful for the general public.
According to the CDC, there are three major benefits of the vaccine:
1. The Vaccine Prevents You From Getting COVID-19
Infectious disease experts are highly recommending a vaccine due to the way they've witnessed other vaccines work against serious diseases. By getting vaccinated, you protect yourself and others from potentially getting COVID-19. Experts are continuing their studies on the effects of the COVID-19 vaccine and ways to keep the spread from increasing.
2. It's a Tool to Stop the Pandemic
While mask-wearing, handwashing, and social distancing can help reduce the spread of this contagious virus, it isn't enough. Cases continue to crop up and the virus is spreading to more areas of the United States. Similar to a flu vaccine, the COVID-19 vaccine will work with your immune system to make sure you can fight the virus if you get it. When combined with the other safety measures to reduce the spread, a vaccine option offers the best chance at stopping the virus nationally and internationally.
3. It's a Safer Way to Build Protection
Unfortunately, until you get COVID-19 you don't know how it's going to impact your body. Some people don't want to take the risk, which is why a vaccine is an ideal way to protect yourself. COVID-19 can sometimes have serious and life-threatening side complications. When you receive a vaccine, your body creates an antibody response without the actual experience of having COVID-19.
Facts to Know About the COVID-19 Vaccine
As the U.S. gets closer to releasing its vaccine, there's no doubt a lot of questions about the vaccine and what it can and can't do. Here, we fill you in on some of the facts about what to expect if you're weighing the option of getting vaccinated.
A few facts to note:
Fact #1: The Vaccine Doesn't Give You COVID
The current vaccines under development in the U.S. don't contain live COVID-19 viruses. Vaccines are a way to teach the body how to fight off the virus that causes COVID-19. After vaccination, you may notice certain symptoms like a fever, which indicates your body is building immunity. Protection from the virus kicks in a few weeks post-vaccination.
Fact #2: You Won't be Positive for COVID-19 Viral Tests
If you happen to receive a vaccine during current clinical trials in the U.S., a viral test won't come back positive. On antibody tests, you may have a positive result as your body develops an immune response, which is what the antibody test picks up.
Fact #3: Already Had COVID? A Vaccine Can Still Help
Scientists are still learning how COVID-19 works, which includes how re-infections may happen. Because of the potential of COVID-19's health risks, those who have had it may be advised to get vaccinated. Experts still don't know how long someone has protection after a COVID-19 diagnosis. Cases of re-infection have been reported, but are rare, according to the CDC.
Fact #4: The Vaccine Can Help Prevent COVID-19
Most individuals report mild illness when infected with COVID-19. Others can become quite ill. If you're sick, you can spread the illness to others, too. Vaccination is the best way to develop an antibody response without having to get sick.
Additional COVID-19 Vaccine Resources To Check Out
Knowledge is power, especially when it comes to your health.
Below are some additional reading materials and official resources to look through as you consider the vaccination:
You can also stay updated on the latest COVID-19 news and learn when there is a vaccine for COVID-19 by following content published on the HHS.gov site.

If you are interested in offering COVID-19 vaccine to your employees, click here to be added to wait list.
Do you plan to get the COVID-19 vaccine once it's available? Let us know your thoughts in the comments below!