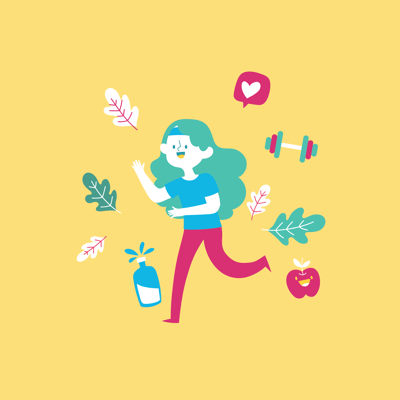 It's no secret employee wellness is changing.
Thankfully, the 2020 UnitedHealthcare Wellness Checkup Survey results show Americans are making positive wellness changes. For employers who like to follow trends and update their wellness programs, now may be the perfect time to do so.
"Now is an opportune time for Americans to make an investment in their health, with employers in a crucial role to foster healthy habits among employees in the workplace and while working at home," stated Rebecca Madsen, UnitedHealthcare chief consumer officer in a recent press release.
Given that the pandemic has created a hyperfocus on health and well-being, those surveyed reported updated changes in their wellness routines. For example, more than two-thirds of respondents said that walking has become their preferred exercise routine during the pandemic.
"The UnitedHealthcare Wellness Checkup Survey highlights the importance of implementing robust well-being programs that may foster whole-person health, reduce absenteeism, and curb care costs," Madsen added.
Below, you'll see the findings are a collection of opinions of health topics and preferences, which can help you further improve or inspire your next updates to your wellness program.
Here's what the survey showed:
Wellness Programs Are Of More Interest
For those surveyed who have access to employee wellness programs, a whopping 77% said the wellness program initiatives positively impacted their health.
The impacts were impressive, too:
33% reported improved sleep
36% increased their physical activity
48% felt more motivated to pay attention to their health
38% stated employee wellness programs decreased their stress levels
Additionally, 17% of respondents found employee wellness programs helped them in dealing with chronic health conditions. An equal percentage said it also helped them uncover a disease or medical issue.
Other wellness initiative perks employees reported included: Positive impacts on their health, improved productivity, and fewer sick days. Of those employees without access to wellness programs, 71% of respondents would be interested in such initiatives, if offered.
Walking and Running Are Favored Forms of Exercise
Since most gyms are still closed or at limited capacity, fitness enthusiasts have taken their current exercise routines outdoors, the survey says. Of the 68% of survey respondents who workout, walking has become a preferred method of exercise. Other respondents enjoyed running (28%), body-weight exercises (23%), cycling (21%), and weight training at home (18%). Generation X and Baby Boomers both favored walking for their exercise methods.
More People Will Get the Flu Shot This Year
With the cold and flu season coming up soon — and a COVID-19 vaccine in the works — 30% of survey participants said they're more likely to get the annual flu shot this fall.
Workplace Habits Are Changing
Greetings have changed quite a bit since the start of the pandemic. Social distancing requirements are altering the way people interact with one another. One-third (34%) of employed respondents plan to stop shaking hands at work — no matter the circumstance. Of those who don't mind a bit of physical interaction, 35% of the survey participants said they'd be open to using an alternative greeting like an elbow or fist bump. And 31% said they'll still shake hands. When surveyed, Baby Boomers were the most likely to stop shaking hands with others in the workplace.
Diets Became Problematic for Some
Many of the survey's respondents found their diet to be their downfall when it came to making healthy choices. In the survey, 30% stated their diet is worse off now than before the COVID-19 pandemic started. This may be attributed to more snacking opportunities — and temptations — while working from home with the fridge so close by. Others — 21% of survey participants — said it actually improved their nutrition choices.
Now is the Time to Encourage Employee Wellness
Because there is such a high level of interest in personal health at the moment, now is the time to take advantage of that in your workplace. It's the ideal time to promote annual physicals, set up employee flu shot clinics, and showcase your wellness initiatives.
Work with your wellness committee to intentionally create programs that reflect your employees' best interests. Here's a brief look at how to encourage employee wellness activities whether your team is working from home or in the office:
At-Home Employee Wellness Activities
Stay connected and engaged with your team by letting them know you care about their health no matter where their office is. Here's a quick list of simple wellness activities to promote:
Easy-to-do steps challenges
Send a box of healthy snacks
Virtual lunch and learn events
Mail them a flu shot voucher
An email of self-care routine ideas
Send cute email reminders to take breaks
In-Office Employee Wellness Activities
Keep your office staff feeling well and connected by engaging them in low-risk and fun wellness activities. These all can be easily done while social distancing:

What are some of the ways you're keeping your employees engaged in wellness these days? We'd love to hear your comments! Share your thoughts, tips, and ideas down below!