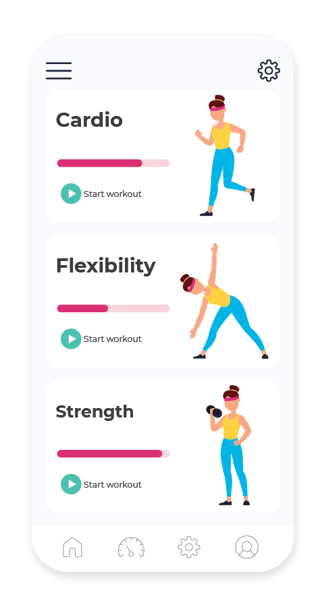 Ready to adjust your fitness routine for the new year?
If you're tired of your gym being closed and outdoor exercise is not an option, it's time to check out some free fitness resources to keep yourself in tip-top shape. Plus, if your wallet is on a budget, free is always an incentive to give a workout a try — even if it's a trial run.
Whether you're into yoga, no-equipment workouts, or intense cardio sessions, there's an app or online resource for you.
Below, you'll find fitness resources for:
Workout variety
Short-on-time workouts
No-equipment workouts
Gentle workout options
In this post, we'll review free fitness resources anyone can use if their regular gym is closed. As we go into 2021, make it your best year yet — physically and mentally —by using these exciting fitness resources.
Workout Variety Options
Need a little variety in your workout routine? Not only does workout variety offer training to a new muscle group, it provides you with a mental challenge, too. Plus, rotating your workout options will reduce your risk of injuring or overworking body parts.
Give these options a try if you need some variety in your workout life:
Fitness Blender
Get a variety of free, full-length videos that are available for every fitness level. Whether you need to stretch or strength train, you'll find workout videos to suit your needs on Fitness Blender. Plus, you'll have access to healthy recipes and informative articles to keep you motivated on your fitness journey.
Gold's Gym On-Demand Workouts
Can't make it into your local Gold's Gym? Join them online. Even if you're socially distancing from your gym, you don't have to give up on your fitness routine. With these on-demand workouts, you can join fitness trainers from around the world to get your workout in. The full-length videos will get you working out everything from your glutes to your core.
Daily Burn
Whether you're looking for yoga, cardio, Pilates, barre, or strength training options, this platform offers a variety of options to keep your workouts interesting. Right now, get a 60-day free trial to see if you like it. When you start your free trial, you'll have access to thousands of videos along with daily 30-minute workouts. Plus, you'll get 24/7 community support to keep your fitness goals on track.
Short-on-Time Workout Options
Pressed for time but still want to get a sweat session in? These apps and fitness channels provide you exactly what you need to feel the burn. No excuses not to workout now, huh?
Try these when you only have a little bit of time:
FitOn
Workout your mind and your body with this platform. If you're limited on how long you can sweat, this platform is for you. Sign up for free and join celebrity fitness trainers like Julianne Hough, Gabrielle Union, Jeanette Jenkins, and others to get sweating and feeling your best. Stream to a variety of devices, including your phone, laptop, Apple TV, or tablet.
Seven
Don't love working out? Then you'll love this app because it keeps things short and sweet. The concept of this app is simple yet effective. Each workout on the platform is based on scientific studies of workout sessions and moves that provide maximum benefit in the shortest amount of time possible. Best of all, you can target your goal areas to ensure you start seeing results where you want to see them the soonest. Join over 7 million users on this platform looking to get fitness results just like you!
Available on iOS and Android; free with the option for in-app purchases
POPSUGAR Fitness
Whether you're in search of healthy living tips, stress relief, or solid workouts that produce results, you will want to subscribe to this free channel on YouTube. There's no denying the popularity of this channel with its over 5 million subscribers. You'll find everything from 30-minute barre videos to yoga stretches, cardio Latin dance, and everything in-between. Pull it up on your t.v. or your phone wherever you are to get in a quick workout.
NativePath
Super short on time? Then you'll love the 3-minute routines you can follow on the NativePath website. Whether you want to strengthen your back or focus on spine mobility, watch and follow any of the short videos to get in a mini workout. You can also find longer home workout options that include a video, written instructions, and an inspirational quote to get you going.
No-Equipment Workouts
Whether you're on the road or can't locate any fitness equipment online or in-stores (thanks, pandemic), you can still get a good workout in sans gear. These full-body workout options provide you moves that can help you strengthen both your body and mind.
Give these no-equipment-necessary fitness resources a try:
Daily Workouts Fitness Trainer
Only have 10 minutes? This app is perfect for you. Have around 30 minutes? Then this app meets your criteria, too. Keep in shape and do a daily workout with ten different 5 to 10 targeted workouts. Or, opt for random full-body workouts to get your heart rate up and your blood pumping.
Available on iOS and Android; free
Adidas Training by Runtastic
Need to boost your energy levels with short workouts that don't require equipment? Then this platform is for you. Start off with 7-minute workouts that can help you lose weight and build muscles. You can opt for workouts 2, 3, 4, or up to 5 times weekly. You'll find 180+ videos on this platform demonstrated by personal trainers to help you get through each workout with ease.
Available on iOS and Android; free with option for in-app purchases
Nike Training Club
The simplicity of using the workouts on the app is the best. You can try this app out in any space with no equipment or just a set of weights. Within the app, you'll find 185+ free workouts that get your body moving and your heart pumping. You'll also find trainer-led programs if you're looking to achieve specific results. Workouts range from 5 minutes to an hour, depending on your needs.
Available on iOS and Android; free with option for in-app purchases
CorePower Yoga
Check out CorePower Yoga on YouTube to access over 300+ classes or catch a live stream. From five-minute meditations to hour-long yoga flow sessions, yogis of all abilities will enjoy this channel. Whether you need to unwind for a few minutes or get a good sweat session in, you'll find multiple ways to do it with the variety offered on the channel.
Gentle Workout Options
Working your way back into sweat sessions? Easing into workouts due to a recent injury? These light workout options are for you. From stretching to full-body walking workouts, you can still burn calories without having to be a dumbbell gym warrior.
Try these for a lighter, beginner level workout option:
Yoga with Adriene
Yoga lovers everywhere love a free yoga program. This popular channel titled "Yoga With Adriene" offers free yoga videos every week to help yogis keep up their practice. Yoga is known for its positive effects on the mind along with the physical benefits of stretching. Adriene covers yoga for all types of needs, including chronic pain, inner peace, lower back pain, and more. Grab your mat and pick any video for a great full-body stretch or workout!
Map My Walk
Love to walk for exercise? Then you'll love this app by Under Armour. For every mile you walk, you'll get feedback and stats to help you improve your performance. Choose goals and connect with others in this 40-million members strong community of walkers. You can choose from over 600 different sports activities to track your movement. You can also use the app's "Routes" feature to find new paths to walk to get your daily physical activity in.
Available on iOS and Android; free with option for in-app purchases
7 Minute Chi
Looking to recenter your mind while getting physical movement in, too? In just seven minutes, you can energize yourself physically and mentally with tai chi and Chinese qi gong, a moving meditation. You'll copy the simple moves performed by Master Li. These moves are perfect for an afternoon pick-me-up or even just as a quiet way to start your day.
Available on iOS; free with option for in-app purchases
Use Free Fitness Resources to Your Advantage
When you have the internet at your fingertips and a smartphone in your hand, anything is possible — including workouts that are free. Try one or more of the above platforms to keep your workouts exciting and varied.
Need a little more inspiration? Here are some articles to get you going:

You already know being active is good for your heart, muscles, and mental health. With lockdowns occurring at a regular rate these days, it's important to continue staying physically active to reduce the negative impacts of sedentary lifestyles. This is especially true for individuals working-from-home who often sit much more.
To get the motivation you need, set your fitness goals, work with an accountability partner, and show up each day. When you start developing a new habit like working out, it can feel a little daunting. But with regular practice and daily commitment, you can turn it into a habit that helps you feel — and look — your best.
Here's to going into the new year feeling strong, healthy, and lively! Cheers!
What are some of your favorite fitness apps or resources? Let us know in the comments below!