Just like that, nearly 365 days have passed.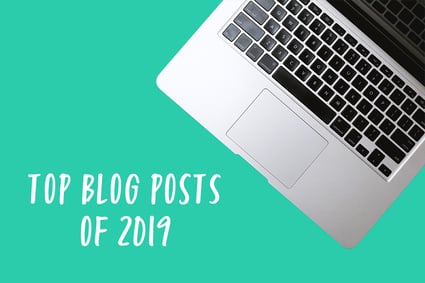 If you've been reading our blog for most of this year, we hope you're feeling a whole lot happier and healthier by putting our actionable content into practice.
During 2019, we've covered topics to inspire wellness and health in the workplace and life. Our blog content included coverage of tips to avoid holiday weight gain to the best breathing exercises to reduce stress and everything in-between. We love to give our readers variety.
In 2020, we look forward to getting you even more excited about spreading wellness habits at work.
Until then, here's a look at what content you all couldn't get enough of this year.
Here are our 10 most popular blogs of 2019:
1. The Best Health and Wellness Conferences to Attend in 2019
There's nothing like a good conference to get you inspired. The most popular post in 2019 covered four different health and wellness conferences across the country, including highlights and topics from each one. Because conferences are an excellent opportunity to network, earn learning credits, and discover best practices, we're not surprised you all loved this post so much!
The four conferences we featured:
Click here to read the full post! Don't forget to check out our newest one: 13 Health and Wellness Conferences You Won't Want to Miss in 2020!
2. Six Key Messages to Share During National Nutrition Month
March is National Nutrition Month. Sometimes, employees just don't want to hear "eat healthier" as advice. These six key messages offer practical tips that can be applied in your employees' lives. No need to overcomplicate nutrition!
Actionable tips included:
Don't shoot for perfection
Choose quality over quantity

Embrace healthy eating lifestyle benefits
Find more practical nutrition takeaways here.
3. Want Your Employees to Live Longer? Create a Blue Zone Office
"Blue Zones" are areas around the world where longevity isn't uncommon. Researchers have studied the world's longest-living people to find out what they do differently than the rest of us.
This post dives into the nine key elements of the Power 9, including:
Move Naturally

Purpose

Down Shift

80% Rule

Plant Slant

Wine at 5

Right Tribe

Loved Ones First

Belong
Read on to learn how to create your own "Blue Zone Office" here.
4. 17 Fall Wellness Tips to Keep You Healthy This Season
Fall is the time for comfort foods. Rich, creamy soups and decadent pumpkin pies can taunt even the most strong-willed individuals. It's also a time where bulky sweaters can hide tummy bulge from the aforementioned foods, too. Sometimes we just need a wellness reminder during the fall season, which is exactly what this post covered.
A few healthy tips to use anytime:
Drink plenty of H2O

Dine with your family

Soak in an Epsom salt bath
Want more wellness tips? See our full list here.
5. Unwind Instantly With These 9 Stress-Relieving Activities
Work stressing you out? Then you'll love our post that offers nine different activities that make it easy to melt the stress away — right on the job. Unmanaged stress can lead to chronic physical and mental problems, so it's important to stay ahead of it when you can.
A few activities to unwind:
Take a walk

Connect with others

Listen to your favorite music
Want more stress-busting activity ideas? Read on to learn how to melt stress away.
6. Seven Healthy Snacks for Work to Supercharge Your Day
Work vending machines aren't exactly known for providing healthy food choices. If you're looking for a filling and nutritious snack, this post offers easy go-to ideas. On your next trip to the store, you won't want to bypass these easy — and healthy — snack items.
Perfect snacks to nibble on:
Raw nuts

Avocado

Seaweed

Dark chocolate

Fresh fruit

Hummus

Dried fruit
Want to know why each of these snacks is actually a healthy choice? Read on!
7. Gratitude Challenge 2019: 30 Ways to Say Thanks to Your Employees
Are you showing your employees enough gratitude? Being shown gratitude is deeply linked to job satisfaction and retention rates. Each November, various "Gratitude Challenges" arise to help individuals reflect on what they're grateful for in life. This post challenges employers to show their workers what they mean to them.
A few ideas from the challenge:
Give away gym memberships

Start an employee "hall of fame"

Allow pets at work

Just say thanks

Give away company swag

...and more!
Curious about all 30 ideas? Check out the challenge here.
8. 5 Healthy Office Habits That Will Make You Happier At Work
Good habits are the foundation of successful people's lives. While healthy habits — like exercise — can be hard to keep, the reward of staying with a good habit can be huge.
Healthy office habits include:
Getting organized

Using company benefits

Being social

Staying healthy

Thinking positively
If you're looking for ways to make your life healthier at work, read this post.
9. 13 Tips for Eating Healthier Every Day
Do you struggle to eat healthily? Sometimes in the fast-paced speed of life, it can feel tough to find the perfect "diet." It's actually pretty simple. And, eating healthy on a budget doesn't have to be expensive, either. In fact, Harvard School of Public Health researchers found a healthy vs. unhealthy diet costs just $1.50 more per day.
Here are a few tips for eating healthier:
Cut out sodium

Eat smaller amounts

Find healthy foods you love
Fill your plate with vegetables
Want more healthy eating tips? Read all 13 tips here.
10. 20 Fantastic Benefits of Walking Daily
Walking, by far, is the most simple form of exercise to do. There's no learning curve or gym membership required. Simply lace up your shoes and head out the door to reap the benefits. It's great for your mental and physical health, too.
Some of the benefits of walking include:
Weight loss

Lower diabetes risk

Reduces heart issues

Creativity booster

...and more!
Check out all 20 of the benefits of walking here.
Head into 2020 With Healthy Intentions
As another decade comes to a close and another year starts, it's the ideal time to start making healthy lifestyle changes.
Thank you for your loyalty in reading our blog. We hope our content always inspires you to help employees (and yourself!) make healthier choices each day. Aside from our Employee Wellness Blog, don't forget about all the FREE downloadable guides, eBooks, and challenges in our resource center.
Want to be inspired on the go? Check out our podcast with host Alan Kohll, TotalWellness founder and president. The takeaways will inspire your healthiest workplace yet.
As we go into the new year, we hope you feel a renewed sense of health and wellness. And, if you need a little more encouragement to stick with your New Year's health resolutions, be sure to check back here for inspiring content.
Here at TotalWellness, we wish you and your employees a happy and healthy 2020!
Which 2019 blog post was your favorite? What topics would you like covered in the new year? Share in the comments below!