Employee wellness is best with a hands-on approach. Activities such as wellness challenges, health coaching, and employee wellness days provide employees the opportunity to truly dive in and take control over their health. One of the most underrated hands-on employee wellness activities are lunch and learn sessions. They're easy, engaging, educational, and most importantly, effective.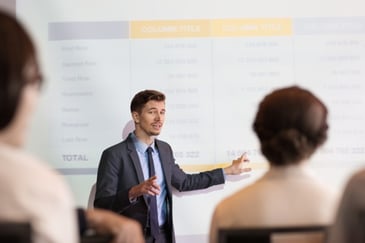 Lunch and learn sessions are exactly what they sound like – a presentation or training session hosted over the employee lunch hour. They provide valuable information for employees in an informal setting. Employers can utilize lunch and learn sessions to compliment their workplace wellness program and further educate employees about the importance of their health.
If your company has never hosted a lunch and learn as part of your employee wellness program, you're missing out on a huge opportunity! Take a look at some of the benefits of hosting a lunch and learn session, plus some tips for hosting a successful one at your company.
Why Lunch and Learns?
Lunch and learns are an effective way to get your employees' attention. Sure, sending out email blasts and hanging up flyers in the break room are good ways to promote healthy habits in the workplace. But they aren't the most effective way to help your employees take charge of their health. By bringing in a healthcare professional to provide helpful health insight, your employees will feel more educated and inspired to make better health decisions.
Some other benefits of hosting lunch and learn sessions include:
Increased employee morale
Teamwork skills
Encourages a culture of wellness
Shows employees that employers truly care about their wellbeing
When it comes to employee health and wellness, there are numerous topics to choose for your lunch and learn session. If you're not sure where to start, consider your employees' biometric screening results. Do your employees need help making better nutritional choices? Are your employees living a sedentary lifestyle and need some tips for living a more active lifestyle? Do they need advice on disease management? Pick a topic that will resonate with employees.
Some ideas for lunch and learn topics include:
Nutrition and Diet
How to grocery shop for health
Beginner's cooking class
The importance of focusing on real food
Portion control and weight management
Decoding nutrition labels
How to make better choices while dining out
Physical Activity
Desk exercises and stretches to do at work every day
Exercise basics (consider hiring a personal trainer for the day!)
The benefits of regular exercise
Consequences of living a sedentary lifestyle
How full-time employees can live a more active lifestyle
Financial Health
Everything you need to know about your 401K
The basics of saving for retirement
Intro into money management
How to effectively manage a savings account
Mental and Emotional Health
Health in the Workplace
Healthy habits all employees should practice in the workplace
How health affects your work performance
The importance of taking a lunch break
How to get more active at work
Sleep
How to get quality sleep
The importance of sleep for full-time employees
How to practice proper sleep hygiene
Workplace Productivity
How employees can prevent the afternoon slump
Tips for staying organized at work
Time management techniques
Tips for Hosting a Successful Lunch and Learn
Once you've picked a topic, it's time to start planning your lunch and learn session.
Find a healthcare professional. Depending on which topic you choose, it's important to find a healthcare professional to lead your lunch and learn. Employees won't take the session as seriously if a fellow colleague or manager is giving the presentation. For example, if you're hosting a lunch and learn session about the importance of nutrition, your employees are much more likely to take advice seriously from a professional nutritionist rather than an HR manager. Do a bit of research to find professionals near you that have hosted lunch and learn sessions before.
Promote the lunch and learn. Your lunch and learn session won't be successful if employees don't attend! It's important to promote your lunch and learn with a bit of excitement. Create an email blast, write up a preview in your company newsletter, and post flyers in the office kitchen and break rooms.
Give employees an incentive. If you're worried about participation, offer employees an incentive to attend the lunch and learn session. Offer wellness points, an entry into a raffle for a prize, or a free day of PTO to help boost attendance.
Provide a healthy lunch. Since your lunch and learn is aimed at improving employee health and wellness, it makes no sense to provide an unhealthy lunch for your employees! Cater in healthy lunch options such as soup, salads, healthy sandwiches, and a variety of fresh fruit and veggies. For more ideas, check out this article from ezCater for some healthy vegetarian lunches that are sure to energize your workforce!
Ask for feedback. To be sure that future lunch and learns are successful, you'll need some employee feedback. Ask employees what they would like to learn about in the future and what could make future learn and learn sessions more engaging. Send out an anonymous survey after the lunch and learn to gather this information.
These are just a few ideas to help get you started on hosting your very own lunch and learn session. Customize your approach to best suit the needs and culture of your workforce. No matter how you spin it, hosting a lunch and learn will help educate and inspire your employees to live a healthier lifestyle.
Does your company host regular lunch and learns? Leave a comment below!
Like this blog post? Share it with your employees or co-workers with this printable version of the blog!
Image created by Katemangostar - Freepik.com