A wellness program won't be successful without any type of behavior change from its employees. Wellness challenges are the core of behavior change, and are essential to any winning workplace wellness program. Hosting regular challenges is a fun, engaging way to help employees practice healthy lifestyle behaviors and create new habits – which can lead to the development of permanent healthy habits.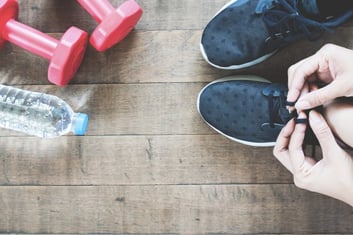 Wellness challenges can also be utilized to vamp up your company's wellness initiatives. In fact, hosting a wellness challenge can:
Help you climb out of a rut in your program
Be used to celebrate special events, milestones, or holidays
Provide some momentum after a new program or campaign launch
Stimulate engagement by instilling a sense of friendly competition among teams and colleagues
Most wellness challenges don't usually require a big investment on the employer's part – which is another reason why they are so appealing. However, sometimes it can be a bit tricky to get employees to participate in a wellness challenge. The key is to promote the challenge with some excitement and motivate employees to get involved for their own benefit. Below are a few ideas to help motivate employees to participate in wellness challenges:
Start with a big announcement. This may seem a bit obvious, but it's essential to make a company-wide announcement. This means vocalizing the wellness challenge to your employees. While it's good to advertise the challenge in an email or newsletter, not every employee reads the whole thing – and a small note or sentence about any upcoming wellness challenges might get overlooked! Be sure to make a company-wide announcement, and ask middle managers to effectively communicate the challenge to their teams. Don't forget to build up some excitement and enthusiasm surrounding the challenge during your announcement. Besides giving a quick summary of the wellness challenge and its start date, let employees know why they will enjoy participating.
Utilize social media. Social media is a great way to promote any wellness initiative, especially challenges. Employers and wellness coordinators can utilize social media to post updates on the challenge and give participating employees shout-outs. Encourage employees to document their progress of any wellness challenges on Instagram, LinkedIn, Twitter, or Facebook. Create a fun hashtag for employees to post on their social media photos and updates so that they can be easily seen and shared by other participating colleagues. (Check out our Instagram for some examples!)
Provide incentives. Incentives are a powerful tool to increase employee participation and motivation. Many employees will ask, "what's in it for me?" And although participating in a wellness challenge provides many intrinsic rewards and health benefits, most employees will want some type of tangible reward. That's why it's a good idea to always offer some type of incentive for employees who complete wellness challenges. These rewards don't have to require a huge budget. There are many simple and affordable incentives that will motivate employees to participate. Some ideas include:
A free healthy lunch
Gift cards
Jeans day
Free day of PTO
Half-day Friday
Employer contribution to employee's FSA
Fun team outing
Free company apparel
Discounts to local health clubs and classes
Office potluck
Work-from-home day
Get senior management involved. Senior managers and top executives are powerful advocates for any wellness challenge. Ask upper management to promote the challenge and participate in it as well. When employees see that even the top executives of the company are taking time out of their busy schedules to tackle challenges, they'll realize that they can make the time, too. It's also a good idea to have upper management make company-wide shout-outs to praise participating employees.
Use marketing materials. Post eye-catching flyers in break rooms and popular areas of the company to promote the challenge. If you're getting your wellness challenge from a provider, they might have promotional materials that they will share with you for free. For example, TotalWellness offers every material you'll need to promote the Real Food Challenge, 30-Days of Gratitude Challenge, and the "I Am Healthy" challenge. Be sure to hand out and post promotional materials a few weeks before starting the challenge to help spread awareness.
Host a launch party. Get employees excited to start a new wellness challenge with a launch party! If you're hosting a nutrition challenge, kick things off with a healthy potluck. If you're hosting a step challenge, start the challenge with a team walkathon. Think of ways to incorporate the theme of your challenge into a fun party that will get employees excited to participate.
Challenges are arguably one of the most exciting aspects of corporate wellness. Making wellness fun is one of the best ways to get employees involved in their health. So, take a break from your usual wellness initiatives and introduce a new challenge!
What wellness challenges would you like to host at your workplace? Let us know in the comment section below!
Like this blog post? Share it with your employees or co-workers with this printable version of the blog!
Image created by Schantalao - Freepik.com