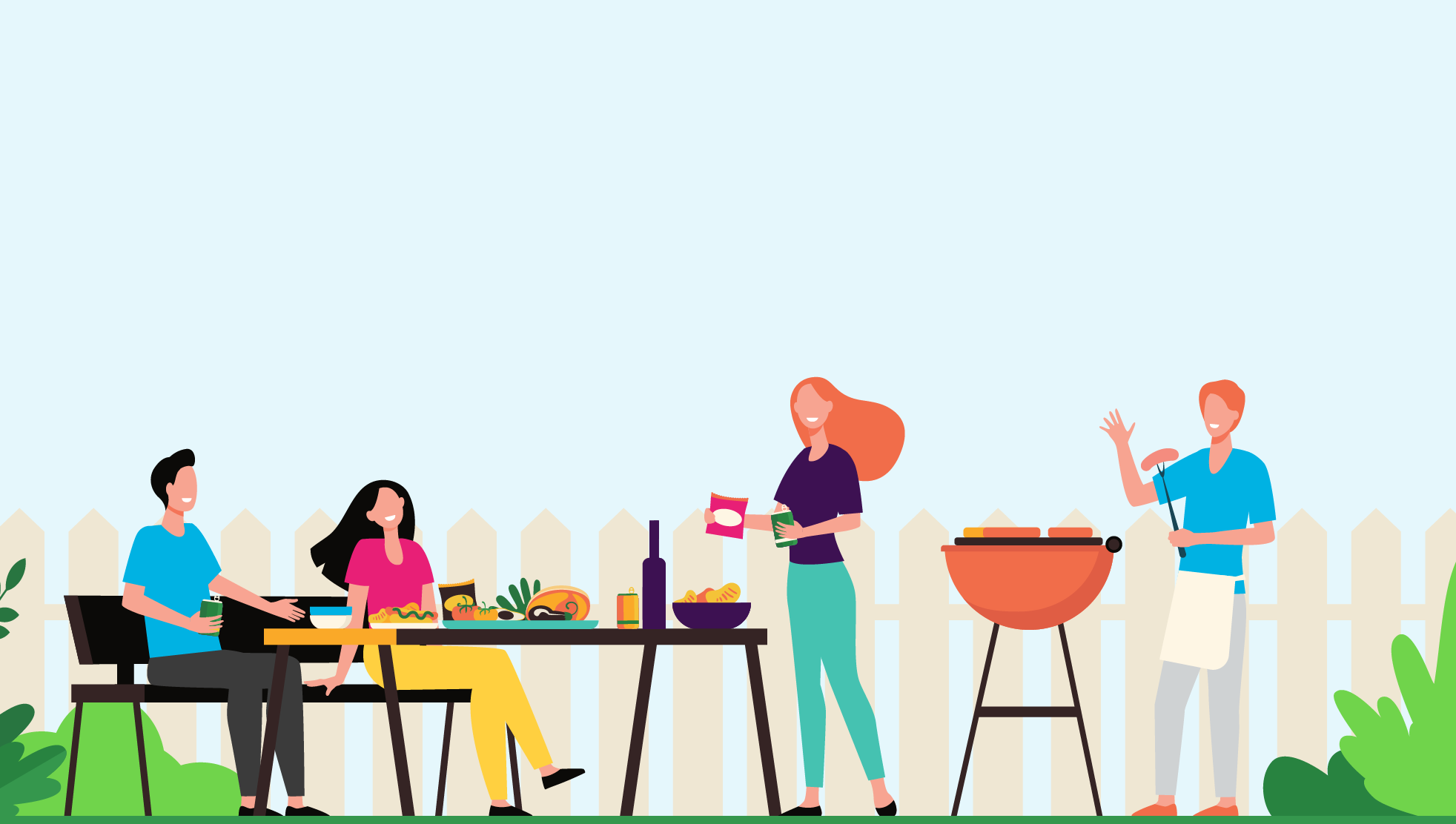 Ah, team engagement.
If it's one of the areas your business does well in during every season except summer, you aren't alone. Studies report between June and August, workplace productivity dips by about 20 percent!
Certain industries tend to experience a summer slowdown when more workers and leadership take vacations and generally soak up the short-lived summer season.
While your workforce may be ready to hit the road for multiple vacations and long weekends, that doesn't mean it needs to disrupt your regular programming for wellness at work. Keep employees excited about wellness by making it engaging and exciting to focus on their health.
Here's a look at 11 fun and easy summer team engagement ideas!
11 Simple Ways to Keep Your Team Engaged This Summer
Summertime is when things tend to slow down a bit. The days are longer and most people are itching to get off of work and out to do the activities they love. But what if you could engage your team enough that they're excited to come to work daily during the summer?
With some planning and a pre-planned budget, wellness campaigns can be even more lively and fun in the summer while still offering team engagement opportunities.
Here's how to do it:
1. Team BBQs
Everyone loves a good summer barbecue. To keep healthy food as the main attraction, have a contest to see who can incorporate the most healthy ingredients in a potluck dish. One way to really keep your team engaged with the BBQs? Plan for a group gathering for lunch on a Friday and offer for them to take off early once lunch is wrapped up. Folks will also linger around if there is good music, games (think bocce ball, cornhole, etc.), and plenty of good snacks.
2. Give Away Summer Kits
With staff taking vacations left and right, let them know you're thinking of them by having summer gift bags on hand. You can opt to set a budget and give out a new goodie every Friday — like sunscreen, hand sanitizer, SPF lip balm, bug spray, etc. Or, just give away baggies of travel-sized items like sunscreen, bug spray, and fun company-branded sunglasses. Consider creating an ultimate summer basket giveaway, too. Sell raffle tickets and give the proceeds to charity. Items to consider: Grill marinade sets, restaurant gift cards, farmer's market gift cards, Frisbees, beach balls, and other fun summery items.
3. Work on a Community Garden
Whether your company has the space on its site or you go to a local community garden, get outdoors and get dirty! Research shows getting in the dirt is good for alleviating depression symptoms and anxiety. Working together as a group in a garden offers insights on everything from the types of foods your coworkers like to how easy it is to start a home garden.
RELATED: Start a Community Garden with Your Employee Wellness Program
4. Work Outside
Outdoor time is a must for humans looking for better health. This summer, when the weather is more beautiful, encourage your staff to get some time outdoors. This is especially easy for workers who have laptops and can take their "office" with them. Being outside in nature is proven to be relaxing and reduces muscle tension, heart rates, and even cortisol levels. It also offers a natural boost of vitamin D!
RELATED: The Powerful Health Benefits of Spending Time Outside
5. Family Fun Days
For many workers, family time is important. As an employer, one of the most endearing activities you can do is to include an employee's family in big events, especially in the summer when many kids are home. Consider hosting a family day that brings colleagues together for a sense of community. It can be a potluck at the company headquarters, a day out bowling, paintballing, go-karting, putt-putt golfing, or any other variety of activities. Be sure to get a headcount before booking and ensure the site you're going to can host your group's size.
6. Outdoor Fitness Challenges
Keep the wellness element alive and well this summer with outdoor fitness challenges. Market any events well in advance to keep participation and team engagement up. A variety of activities works well when the weather is warmer. Sign your team up for a 5K, surf lessons, or head to an outdoor challenge course to test your team. Whether you host a field day or a 5K run around the neighborhood, the more, the merrier — just make it fun!
7. Incentivize Goals
Nothing creates a healthier sense of competition than team goal setting and incentivizing those who hit the goals. Ask your team members what some of their favorite leisurely activities are to do outside of work. Then, make it clear what your company's major summer goals are and how teams or individuals can make that happen. In turn, the winners who hit the goals can get some self-care winnings in return: Gift certificates to a spa, a private chef-cooked meal for two, or an evening out at a local painting studio for some art therapy. The ideas are endless!
8. Try Yoga Outdoors
If your employees love yoga, head outdoors to a local park and treat them to a special yoga session led by a certified teacher. Yoga is excellent for stress relief, and pain reduction, and may reduce inflammation, too. Make the day even more engaging and enjoyable by having a picnic or catered lunch waiting nearby after the yoga session.
9.

Offer Farmer's Market Goodies
Summer is a perfect time to enjoy nature's bounty in full. Hit the farmer's market and bring back items to the office for your team to enjoy. Slice up fresh melons, cucumbers, and other produce items for them to eat in the break room. Gifts of canned veggies, jams, jellies, or even local honey with a handwritten note of appreciation will no doubt make your employees smile.
10. Have a Picnic
Is it one of those lovely summer days that it would just be a shame to sit inside all day? Gather your staff for a catered picnic. Better yet, turn it into a lunch and learn event by inviting a special guest to come and speak on a specific wellness topic. Picnics offer exposure to beautiful green spaces and offer amazing health benefits like fresh air, vitamin D exposure, and enhance opportunities for team engagement and interaction.
11. Host a Leadership vs Employee Kickball Game
Remember those fun school events where students would play kickball against their teachers? Channel the inner kid in your team members and get outdoors for a playful game of kickball. Not only is it simple to set up a kickball game (just find a big field or a local park!), but it offers the perks of exercise, laughter, and a good time had by all. Best of all, it engages your team in an active manner and provides a memorable summer work experience.
Why Team Engagement is Important
Actively keeping your team engaged is a strategic business move that takes time, planning, and ongoing idea generation. Workers who are engaged in what they do are more likely to stay loyal to your company, keep productivity levels up, and stay motivated when things get tough.
Plus, having the cooperation and enthusiasm of your team members make your business operations run smoother. Retain your best people by keeping them on their toes with enticing engagement opportunities.
Don't Let Team Engagement in Wellness Slide This Summer
With good weather days ahead, take advantage of the variety of wellness activities you can do to actively keep your team engaged this summer. The summer season doesn't last long, but creating fun memories while doing healthy activities will stick in your employees' minds.
It can be tough to work when most people would rather be outside, which is why engaging your employees in exciting ways is important. You can also keep them motivated with friendly competition, flexible working hours, and time off to enjoy the season more fully.
Don't forget to ask your team what would help them make smarter health choices this summer. Additionally, ask them to offer input on any creative ideas they have for wellness events or topics that your company can cover. Now is a great time to plan out the rest of the year's wellness events if things slow down for your organization during the summertime. Plan smartly by asking your workers what they need and want.
How do you plan to keep team engagement up during the summer? Share your ideas in the comments below!