According to the Environmental Protection Agency (EPA), the average American spends 93% of their life indoors. 87% of that time is spent inside, while the other 6% is spent in automobiles. This means that only 7% of the average American's life is spent outdoors. This is unfortunate considering that spending time outdoors is one of the easiest ways to improve your overall health and wellbeing.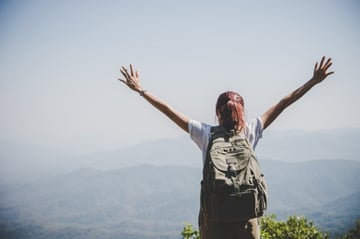 Research suggests that spending time outside can function as a natural medicine. It can help improve your physical, mental, and emotional wellbeing. Spending more time outdoors is also linked to a lower risk of early death. Besides helping you live a longer, healthier life, spending time in nature can help you live a happier life, too.
We know that being a full-time employee can make it difficult to spend time outdoors. But even a few five-minute outdoor breaks a day can have a positive impact on your health. Keep reading to learn about some of the amazing health benefits of spending time outdoors. Plus, we include a few tips to help you get outside more often!
Happiness. Science backs it: spending time outside makes you happy! While researchers still aren't exactly sure what causes this link between outdoors and happiness, many studies have shown that our moods take a positive shift when we spend time outside. Research also suggests that spending in nature can also fight reduce the risk of developing depression and anxiety – and even help improve symptoms.
Improved memory. Studies have found that spending time in nature can help improve memory functions – especially short-term memory. Research from the University of Michigan found that walking in a park or even viewing pictures of nature helped improve both memory and attention span.
Stress relief. Spending time outside has been shown to lower stress levels and has similar effects on your brain and body as that of meditating. Although the exact science behind it is unclear, being in a natural setting shows evidence of lower stress levels through a lower heart rate and lower blood pressure.
Reduced inflammation. Spending more time outside could help naturally reduce pain! A 2012 study found that students who were asked to spend time forest bathing had lower levels of inflammation than their counterparts who spent time in the city.
Energy boost. According to research from the University of Rochester, 90% of people experience increased energy just by participating in outdoor activities. This boost of sudden energy can help inspire you to be more active, too!
Better brain function. Research has shown that spending more time outdoors is linked to higher levels of concentration, creativity, and improved mental clarity. All of these perks lead to better work performance!
Vitamin D boost. It's no secret that spending more time outside will help you soak up the sun. Vitamin D is essential for bone growth and helps regulate your immune system. Those who spend very little time outdoors can be at a higher risk of developing vitamin D deficiency.
Stronger immune system. Becoming one with nature might have some amazing effects on your immune system. One study showed that adults who hiked twice a day for three days increased their white blood cell count by 40%.
You don't have to completely change your lifestyle to achieve some of the awesome health benefits of spending time outdoors. The following are a few simple tips to help you spend less time inside and more time enjoying nature:
Work outside while working from home
Read on your porch or deck
Do daily activities outside (cutting coupons, checking your email, making phone calls)
Start a garden in your backyard (extra health points for the fresh produce!)
Go for a daily morning walk
Eat dinner outside when weather permits
Pick-up an outdoor hobby (photography, hiking, biking, outdoor yoga)
Take your kids to the park after dinner
Become a dog walker (you'll even make some extra cash!)
Take your lunch break outside
Start a walking club at work
Plan at least one outdoor activity each weekend
Spending more time outside is arguably one of the easiest ways to improve your health and wellness. Now that it's finally warm outside, we challenge you to spend at least 15 minutes every weekday and one hour each day of the weekend outside. Start tracking the amount of time you spend outside each day, and see if you feel healthier and happier!
How much time do you spend outside on a weekly basis? Let us know in the comment section below!
Like this blog post? Share it with your employees or co-workers with this printable version of the blog!
Image created by Jcomp - Freepik.com