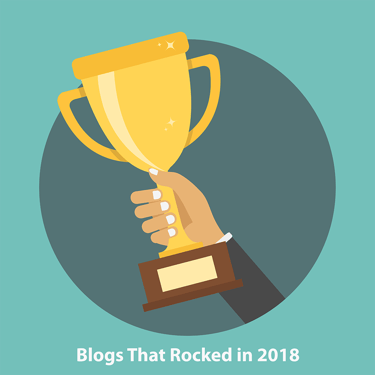 The final month of the year is here. We hope you're feeling happier and healthier than when 2018 started, especially if you read our blog.
It's our goal to spread well-researched health information and wellness tips. So far, we've got blog subscribers in all 50 states and across the globe.
Our readers are dedicated to learning more about healthy living in countries like France, Turkey, Saudi Arabia, Uruguay, Kenya, Italy, Chile, Brazil, Sweden, Finland, Switzerland, and beyond.
In 2019, we look forward to inspiring even more readers.
Until then, we've collected your favorite blogs this year and put them in one spot.
Here are our 10 most popular blogs of 2018:
1. 8 of the Best Mental Health and Self-Care Apps You Need to Download

Mental health is an important topic any time of the year. With nearly 48.3 million adults in the U.S. experiencing mental health issues, it's no surprise more people are leaning ontechnology for self-care and mental health improvements. Our most popular post of 2018 shares eight of the best mental health and self-care apps to use.
A few of the apps featured:
Headspace

Lantern

Happify
Click here to read about the rest!
2. 7 Tips to Help You Have Your Best Biometric Screening Yet
Biometric screenings are a key component of a successful workplace wellness program. These yearly screenings may stress employees out, but it offers valuable insight to your employees' overall wellbeing. The screenings give a good look at key health numbers like blood pressure, cholesterol, and body mass index (BMI). Leading up to the test, there are a few things employees should do to get the most accurate results.
Some suggestions:
Fast

Stay calm

Pay attention to sugar intake
Want more details? Read the rest of the post here!
3. In a Rush? Here Are 9 Healthy Meals You Can Whip Up in No Time
Think eating healthy is boring? Think again! This post shares the importance of a well-balanced diet to keep you healthy and energized, along with yummy recipes for breakfast, lunch, and dinner.
Snag quick recipes like:
Banana Zucchini Oatmeal Cups

Vegan Buddha Bowl

One-Pot Spiralized Zucchini Noodle Miso Soup

15-Minute Healthy Roasted Chicken And Veggies
Find the rest of the delicious recipes here.
4. 12 Habits of Employees Who Handle Stress Like a Boss
If you have a hard time managing work stress, this one is for you. Chronic stress leads to health problems like digestive issues, chronic aches and pains, and much more. Consider trying to incorporate daily habits to handle stress; you may be surprised by how much more zen you feel.
Some tips to keep stress away:
Stay active

Practice positive thinking

Eat a balanced diet

Prioritize sleep

Say "no"
Want more tips? Grab them here.
5. 21 Summer Wellness Challenges for Your Employee Wellness Program
Everyone loves a good challenge, right? Here's our collection of 21 of the hottest challenges to try out in the heat of summer. Wellness challenges are an easy way to pump up employees to make lifestyle changes for the better.
Challenges to take:
Biking challenge

Get outside challenge

Healthy grill-out challenge

Meditation challenge
6. Tackle These Mini Wellness Challenges for a Healthy and Happy Spring
Our readers love a good challenge! This was our sixth most-viewed blog for 2018. This post encouraged readers to boost health and happiness factors for the spring with a number of mini wellness challenges.
Mini wellness challenges included:
Start a walking club

Try new recipes

Grow your own produce

Volunteer
Check out the full blog post here for even more mini challenges.
7. 14 Creative Ways to Promote Breast Cancer Awareness Month at Work
October is Breast Cancer Awareness Month, which is the perfect time to educate employees about the disease that kills almost 41,000 women yearly. This post offers 14 different ways to creatively promote Breast Cancer Awareness Month in your workplace.
Some ideas to spread awareness include:
Host a pink fashion show

Create a breast cancer awareness bulletin board

Organize a walk/run event

DIY fundraiser
To get even more inspiration, check out the rest of the post here.
8. Foolproof Tips for Staying Mentally Healthy at Work
One in four Americans identified work as being a source of anxiety. Do you? Prioritize your mental health as a core component of your overall well-being.
Here are just a few tips to prioritize mental wellness:
Check-in with yourself

Take a mental health day

Socialize

Be kind
Want more tips? Read the full post here.
9. Gratitude Challenge 2018: What Are You Thankful For?
November is a month dedicated to giving thanks. This year, we posed a month-long gratitude challenge to our readers to think of all they're grateful for throughout the month.
In the blog, we offered a daily challenge like:
Send a Thank You Card

Write a Nice Review

Pay it Forward

Write Letters to Troops

Read About Gratitude
Plus, we offered a free printable gratitude challenge calendarto keep readers inspired throughout the month.
10. Answers to Your Top 10 Questions About Planning a Corporate Flu Shot Clinic
Every year, the flu knocks employees down. That's why we encourage flu shot clinics to ensure your workforce gets the right protection for the season. It can sometimes be confusing to know just what questions to ask about planning a corporate flu shot clinic.
We rounded up answers to questions like:
When should employees receive their flu shots?

How does TotalWellness staff onsite flu shot clinics?

Is there a minimum number of shots we need to order?

What's required for setup?
Curious about the answers? Read more here!
Cheers to a Healthy and Happy 2019
We hope you felt inspired and motivated after reading our blog this year. Our goal is always to share the best tips and research when it comes to health and wellness. Thank you for being a loyal reader of our blog and dedicating time to reading about healthier living.
Here at TotalWellness, we wish you and your employees a happy and healthy 2019!
Which one was your favorite 2018 blog post? What topics would you like covered in 2019? Share in the comments below!