Eating healthily can be difficult. Eating healthily while being a full-time employee with a hectic schedule can sometimes seem next to impossible. However, it's so important to maintain a healthy diet – especially when you're feeling overly stressed. A balanced diet will keep you energized, focused, and help reduce your risk of chronic disease.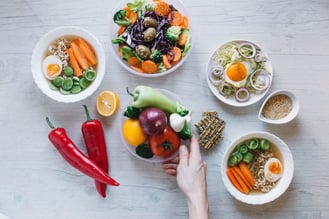 Since we know you're busy, we rounded up nine delicious, healthy recipes that are perfect for a busy workweek. With how quick and easy these recipes are, there's no excuse to opt out for fast food! Try out some of these meals the next time you're in a rush:
Breakfast
What's deemed as the most important meal of the day can sometimes be the most inconvenient meal of the day. It's hard enough getting to work on time, much less spending thirty minutes in the kitchen cooking a nutritious meal. You might be tempted to grab a greasy breakfast burrito on your way to the office, but all the fat, sugar, and calories of a fast food breakfast is one of the worst ways to start your workday! Check out these quick, healthy breakfasts that you can whip up in no time:
Healthy Single-Serving Blueberry Microwave Muffin
In the mood to start your day off with something sweet? This healthy spin on a blueberry muffin has all the taste of a traditional muffin, but without all the refined flour, butter, white sugar, and oil. Plus, it's low in fat, high in fiber, gluten free, and vegan. In just three short steps, you can whip up this grab-and-go breakfast in about 10 minutes! Get the recipe here.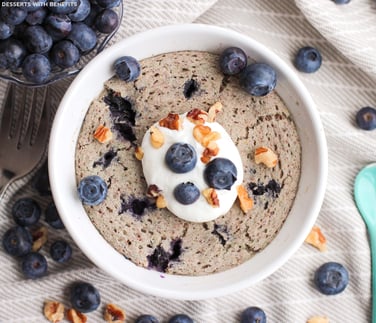 Healthy fun fact: The fiber content in blueberries helps reduce the total amount of cholesterol in your blood – decreasing your risk of heart disease!
5-Minute Spinach and Cheddar Microwave Quiche
Warm and savory quiche is a great way to start your day. This single serving of quiche only takes about five minutes to prepare before you hit the road. It's a high protein, veggie-packed breakfast that is sure to keep you full and energized throughout your busy morning. Get the recipe here.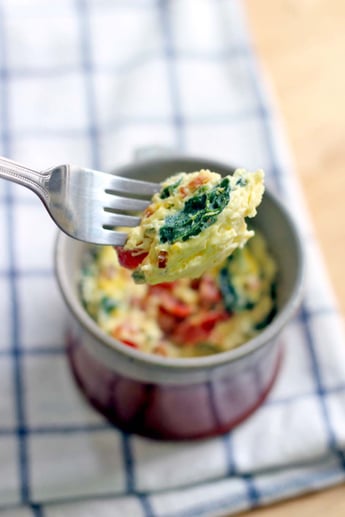 Healthy fun fact: Eggs are extremely nutritious and raise your HDL cholesterol (the good type of cholesterol).
Banana Zucchini Oatmeal Cups
Tired of ordinary instant oatmeal? These banana zucchini oatmeal cups take a delicious spin on a classic favorite. The oatmeal cups are loaded with fiber and help you eat more veggies. Since this recipe makes a batch of oatmeal cups, it's best to whip them up the night before and simply grab a couple on the way out the door in the morning. You'll have breakfast ready to go all week long! Get the recipe here.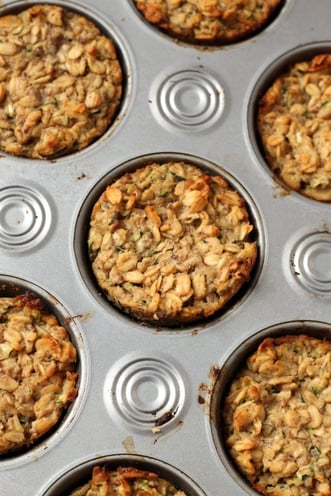 Healthy fun fact: Zucchinis contain anti-inflammatory properties that can improve heart health.
Lunch
Workday lunches are one of the best meals to make ahead. That way, you can grab your meal out of the fridge and have it ready to go for lunchtime. Eating a nutritious meal for lunch helps keep your energy levels steady for the rest of the workday. Indulging in a fatty, highly-processed meal for lunch will cause an afternoon crash that will decrease productivity. Check out some of these quick, healthy lunch ideas:
Vegan Buddha Bowl
This nutritious, easy grain bowl is loaded with sweet potatoes, chickpeas, creamy avocado, and homemade tahini dressing for extra flavor. The bowl is high in fiber and contains immunity-boosting properties. Try making it on Sunday for a hearty lunch all workweek long. Get the recipe here.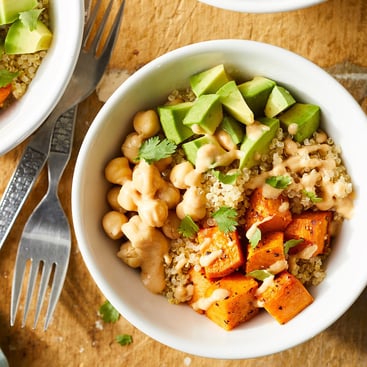 Healthy fun fact: Chickpeas help control blood sugar levels and improve digestive health.
Chicken Club Wraps
Enjoy a classic lunch favorite with a healthy twist! This tasty wrap is made with a whole-wheat tortilla for extra nutrients. Plus, the homemade dressing is much healthier (and just as tasty!) than using ranch or mayo. Try adding even more of your favorite veggies for an extra dose of energy. Get the recipe here.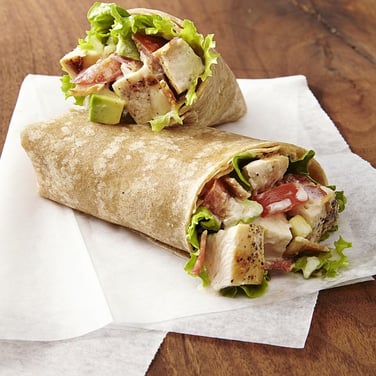 Healthy fun fact: Swapping out store-bought condiments and dressing in lieu or homemade versions is an easy way to save calories and reduce the amount of processed food you're eating.
One-Pot Spiralized Zucchini Noodle Miso Soup
This soup recipe goes from stovetop to tabletop in under 10 minutes! Filled with four different veggies – including zucchini and asparagus – and flavored with Sriracha chili sauce, this soup packs a ton of nutrients with a spicy kick! Store in your fridge or freezer until you're ready for lunch! Get the recipe here.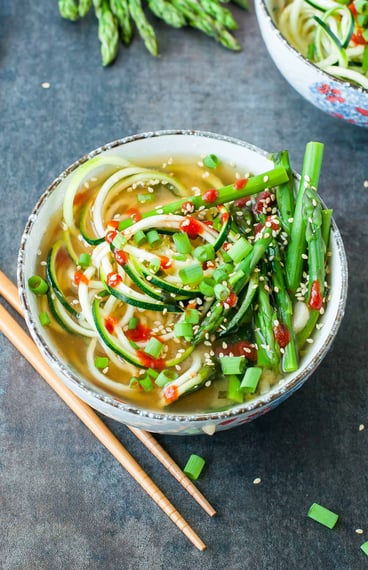 Healthy fun fact: Asparagus has been shown to help fight cancer.
Dinner
At the end of a busy day, the very last thing you want to do is spend time in the kitchen. It's a tempting time to call for takeout. However, there are many easy, quick recipes that you can whip up without having to take a cooking class or spend hours in the kitchen. Check out some of these easy and delicious dinner ideas:
15-Minute Easy Margherita Naan Flatbread Pizza
Pizza for dinner? Yes, please! The amazing thing about this pizza is you won't feel guilty (or bloated!) after eating it. This margherita flatbread pizza can be whipped up in just 15 minutes – making it the perfect dinner for a busy weeknight. Get the recipe here.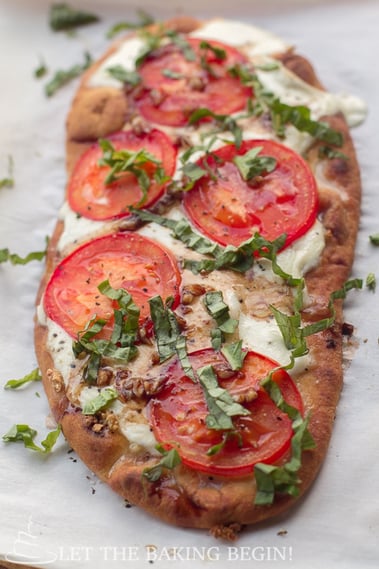 Healthy fun fact: Naan is an excellent source of protein and fiber.
10-Minute Soy Ginger Salmon
This delicious salmon dish is incredibly easy to make. It packs a lot of flavor that the whole family will love. Serve with a side of your favorite veggies, a light salad, or a sweet potato for a nutritious, balanced meal. Get the recipe here.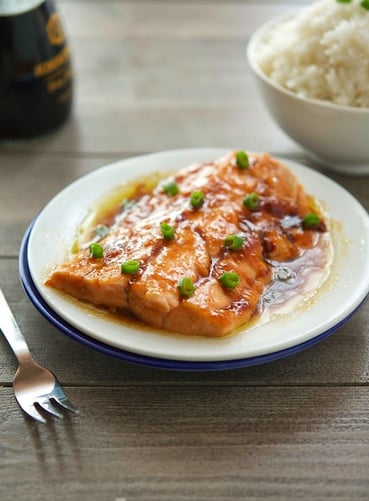 Healthy fun fact: Salmon is considered a super food because it's packed with omega-3 fatty acids, protein, potassium, and more. It's known to improve heart health and can help you maintain a healthy body weight.
15-Minute Healthy Roasted Chicken And Veggies
This simple meal is perfect for meal-prepping. It's also low in calories and packs a lot of nutrients with its veggie content. The recipe calls for zucchini, broccoli, bell peppers, onions, and grape tomatoes, but you can swap out any for your favorite veggies. Get the recipe here.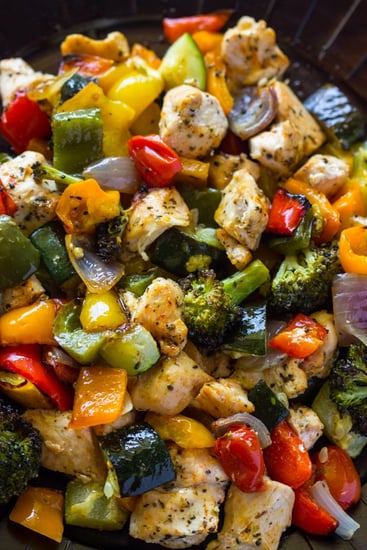 Healthy fun fact: Because chicken is loaded with protein, essential vitamins, and minerals, it can aid in weight loss, regulate cholesterol and blood pressure, and help reduce your risk of cancer.
Eating healthily during a busy workweek doesn't have to be impossible. Try out some of these quick, healthy, and delicious meals to maintain a balanced diet – even when your schedule is crazy. Let us know which meal is your favorite!
What healthy eating tips do you practice for a busy workweek? Share in the comment section below!
Image created by Freepik