With approximately 48.3 million adults in the United States experiencing a mental illness each year, prioritizing mental health and practicing self-care is essential. However, finding time to prioritize your mental health and practice self-care can be difficult for most full-time employees. Busy schedules and long hours can make it difficult to schedule therapist appointments or find the time to read a self-help book.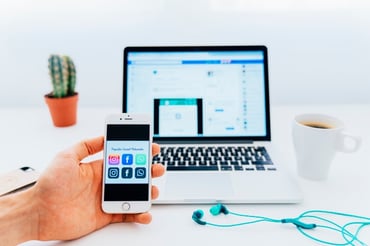 Luckily, you can now use your phone to boost your mental health. Technology has come a long way in the last decade, and there's now an app for almost everything – including mental health and self-care. Using apps is an easy, convenient, and affordable way to boost your mental and emotional health. Plus, it's not nearly as time-consuming as other alternatives.
Below are eight of the best mental health and self-care apps that you should utilize to feel less stressed, improve your mood, and feel happier and healthier.
Headspace
Meditation is a powerful and easy way to boost your mental wellbeing. Research has shown that meditation can help reduce stress, lower blood pressure, improve your mood, and promote better sleeping habits. But for some people, learning to meditate can be a bit tricky. That's why Headspace is such a wonderful app. It teaches you how to meditate with fun, guided sessions and animations. It also teaches you how to apply mindfulness techniques in different areas of your life.
You can use this up to schedule daily mediation reminders at a time that is convenient for you. By enabling its push notifications, Headspace will also send you mindfulness tips and positive affirmations throughout the day. Plus, the 10-day basics series is completely free!
Pacifica
Pacifica is an app designed to help you manage stress and anxiety to live a happier life. The app uses cognitive behavioral therapy and mediation to help you achieve your goals. When you first download the app, it will prompt you to choose up to three goals, including: increasing happiness, building confidence, meditation, health, and more. The app is filled with psychologist-designed guided self-help paths, mood/health tracking, relaxation techniques, and community support. You can even track your progress, too!
Each day, the app will suggest activities based on your current mood and overall goals. These activities are intended to help you feel calmer or get more motivated to boost your wellbeing. The makers of Pacifica understand that it's not about quick fixes or false promises. The app is designed to help you develop healthy habits that will help you progress one day at a time. To top it off, the basic plan is free!
Lantern
Lantern is the one-stop shop for cognitive behavioral therapy and mindfulness techniques to help with anxiety, depression, and body image – all with the support of a coach! Your assigned coach is a real person that will help encourage and support you on your journey to a healthier and happier life. According to Lantern, all of their techniques are evidence-based and supported by research from the country's leading research universities and experts.
Lantern starts with a short quiz to better understand your life so that it can create a personalized experience for you. The creators behind Lantern strive to remove the stigma that prevents people from strengthening their emotional wellbeing. The holistic program offers many different plans, so it's easy to find the right one for you!
Happify
This app will help you feel happier in no time! Many of us don't feel like our happiest selves due to negative thoughts. But this negativity can be really harmful to our physical and mental health. Happify uses fun weekly activities to help you break old patterns and form new healthy habits. This app allows you to set goals including coping better with stress, conquering negative thoughts, fueling your career success, and more!
According to Happify's website, 86% of users who use the app regularly report feeling happier (as defined as positive emotions and increased life satisfaction) within two months. All of Happify's techniques are evidence-based from seasoned scientists who've studied positive psychology, mindfulness, and cognitive behavioral therapy. The app is loaded with activities and games to boost emotional wellbeing. The app will even give you a "happiness score" that can be used to track your progress. Plus, it's free to download and use!
Talkspace
Talkspace is one of the most popular online therapy apps. It's perfect for busy full-time employees who can't find the time to meet with a therapist in person. The app is guaranteed to be secure, private, stigma-free, and only host licensed and experienced mental health professionals. Since this app provides 24/7 access, you can talk with your therapist whenever and wherever.
You can choose to text, voice message, or video chat with your therapist one to two times per day. When you first download the app, you'll be matched with a therapist based on your specific situation and preferences. The app comes with different affordable plans to choose from, and anyone can start with a free consultation!
Grateful: A Gratitude Journal
Plenty of research has shown how beneficial it is to practice gratitude on a daily basis. Gratitude has been shown to reduce stress, improve life satisfaction, and help you feel more positive. Practicing gratitude can also help you feel happier and perform better at work, too! This app makes it easy to practice gratitude every day. Grateful is a prompt-based gratitude journal designed to make reflection and expressing gratitude a joyful and easy process.
The app greets you with a question like, "What made you smile today?" to help you start writing and spark ideas. You can respond with one word, a paragraph, or even a picture – it's up to you! Grateful lets you look back at your past entries with a user-friendly timeline to help remind you of everything you're grateful for.
SuperBetter
This fun game app helps you play your way to better mental health! SuperBetter is designed to increase your resilience and optimism and help you overcome difficult obstacles. You'll be challenged to complete different wellness tasks each day in the form of a game. The app claims that you can expect proven results in as little as 10 minutes a day. SuperBetter takes a holistic approach to help with depression, anxiety, chronic illness or pain, and PTSD. Plus, it covers a wide range of topics including divorce, workplace issues, grief, and more. There's even a version available for the workplace.
Stigma
Stigma acts as "the journal to improve your mental health". The app provides a safe way for users to build their mental health support network, journal, and keep track of their moods. Stigma hosts thousands of users to create a community of support without judgment. The main features include a support group with 24/7 access, reminders for daily journal entries, visual mood calendar, mood graph, word cloud, and advanced mood analytics. Stigma is free to use, but also includes subscription plans for even more features.
Taking care of your mental wellbeing should always be a top priority. Poor mental and emotional health can lead to a lot of health issues in your personal and professional life. Taking just a few minutes every day to use a mental health or self-care app is an easy and fun way to be sure you're taking care of yourself.
What is your favorite mental health or self-care app? Share some ideas in the comment section below!
Like this blog post? Share it with your employees or co-workers with this printable version of the blog!
Image created by Freepik