Flu season is approaching faster than you think! That means it's time to start figuring out your game plan. But how early is too early to start discussing corporate flu shots? Well, it depends who you're talking to.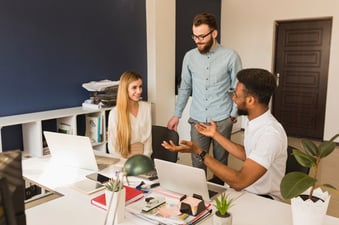 Part of your role as a corporate flu shot coordinator at your company is getting the flu season conversation started. After all, flu shots are most likely the last thing on upper management's mind during the summer months.
You know you need to protect your workforce in the fall, but how early should your planning start? Let's break it down:
The Experts: Late Spring
Alright, we'll admit it: it can be difficult to get actual flu experts on the phone. We're sure the head of the CDC is pretty busy. However, it's still important to do your research and learn what the experts have predicted for this year's upcoming flu season.
While it might seem early because the previous flu season is just starting to wind down, some of the world's best and brightest flu experts get together early in the spring to make recommendations. They consider which flu strains should be covered in the vaccine for the following year and provide helpful insight to flu shot vendors. They usually base their predictions on the flu trends found across the globe.
Even though you probably can't chat with experts directly, be sure to pay attention to what they're saying starting in late spring. Keep an eye on the recommendations they announce, and note any major changes in manufacturing. Following along with the experts will help you determine which flu vaccine will be right for your workforce.
Corporate Wellness Leadership: Early Summer
Once you have a good idea about this year's flu season predictions, it's time to start discussing corporate flu shots with your wellness team. There are a few things you and your team will need to go over:
First, you'll need to choose a vaccine. Take a look at the needs of your employees, do some research and pick which type of vaccine is right for your workforce.
Next, you'll need to look into logistics. There are various ways you can provide flu shots for your employees. You could bring an on-site flu shot clinic right to your office, provide flu shot vouchers for local pharmacies, or even do some combination of the two.
Finally – with all that information in mind – you'll need to choose a vendor. Corporate flu shots are about the needs of your workforce. So be picky. Ask questions, and find the flu shot vendor that's right for you.
Your Employees: Early Fall
When it comes to discussing the flu with your employees, you'll want to stay ahead of the game. Don't wait until the first cases of the flu emerge in your office – and definitely don't wait for the media buzz.
Communicate early. Communicate often. And be sure your communication includes:
Instructions about your corporate flu shot options
Information on company PTO options for sick employees and employees with sick children
Guidance on personal hygiene to avoid flu germs in the office
Credible trend information on the corporate and personal impact of past flu seasons
Ultimately, your employees are the most important stakeholders in your flu conversations. The whole point of corporate flu shots is to protect your employees from getting sick, and to protect your company from an office epidemic.
The bottom line is that it's almost never too early to start discussing corporate flu shots. The earlier you discuss, the earlier you can start planning – and the easier the process will be for you!
Here at TotalWellness, we talk about flu season all year long. We're firm believers in early flu communication. Think about your flu season game plan early and get these conversations started to help your workforce stay healthy this fall.
When does your company start discussing corporate flu shots? Let us know in the comment section below!
Like this blog post? Share it with your employees or co-workers with this printable version of the blog!
Editor's note: This blog was originally published in June 2016 and has been updated for freshness, accuracy, and relevance.
Image created by Freepik