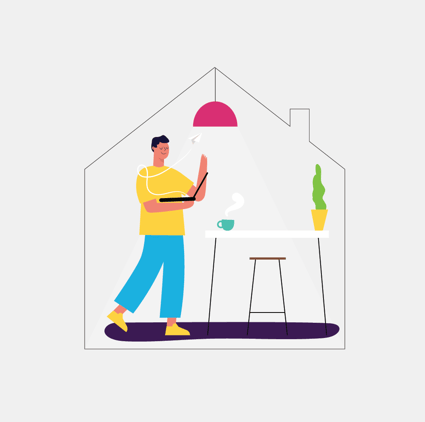 Employees and employers across the world are getting a taste of working as remote teams.
In the age of social distancing, employers are learning fast that working from home — while a necessity — can also be challenging. Aside from setting up the technology to do it, the biggest challenge employers and employees face now is learning how to communicate effectively.
Plus, working from home can get lonely. That's why it's important to make sure you're creating time for your team to emotionally connect during the day.
But you also want your employees to stay focused and productive, right?
It's a balancing act.
Below we share how to tackle staying connected to your remote team in the most efficient way possible.
Staying Connected as a Remote Team
If you're used to working closely with team members, a sudden move to a home office can be a shock. Your employees lose the sense of camaraderie, in-person collaboration, and spontaneous water cooler chats.
After all, no one was expecting a virus to shut down in-person working environments worldwide until further notice.
Ideally, before going remote, your team was self-disciplined and motivated. With a little oversight, deadlines were met and projects moved along just fine. Now in the era of more remote work, it's important to show your team how to stay connected — and get the job done — via reliable tools and techniques.
A few ways to stay effectively connected:
Schedule "coffee breaks" with random team members - Brew a cup of coffee or tea and have a casual meeting via your favorite online meeting tool. Spend this time catching up and talking about other things than work. Just be sure to set time limits.
Set-up fun threads - This is a great opportunity to still be "social" by getting to know each other better and relieving stress. Share a pic of your home office, bring your pet to a meeting, or share a fun fact about you or a hobby you're good at.
Offer one-on-one time - If you're a team leader, schedule chats with individual team members. Have a way for them to reach out privately if they need to discuss health concerns, childcare issues, work stressors, etc.
Be patient and don't read between the lines – This goes for emails, texts, IMs and other forms of communication. These methods of communication may not tell the whole story. Don't add emotions that may not be there.
Be respectful - Everyone is stressed and dealing with different situations.
Listen and be supportive – Leaders have the opportunity to lead with hope during this time. Be as positive as possible. You're not alone in your inconvenience.
Honor working hours – Working from home does not mean you — or your team members — will or should be working 24/7.
How to Handle Remote Meetings Effectively
Thankfully, technology allows us to meet anyone anywhere in the world right where they're at. That's the beauty of being able to work from home with the proper tools — you can still connect face-to-face with your team.
It comes down to more than just sending out a Zoom link and telling everyone to be there, though.
With some planning and training on tools, you can host remote meetings as efficiently as you did your in-house, in-person meetings.
Here are some tips to improve your remote meetings:
Schedule and confirm it - Make sure the key players can be there at the time you're setting. Sending out a Google calendar invite is a quick way for individuals to RSVP. It also provides reminders for the invitees.
Have an agenda - Set an agenda and stick to it. Try to keep meetings less than an hour, when possible.
Introduce everyone - If there are new team members or guests joining your call, make sure to introduce them so everyone is acquainted. If everyone knows the team, have a meet and greet for a few minutes.
Let everyone know how to ask questions - At the start of the session, inform everyone of "housekeeping rules." For example, let folks know if they should use the chat box or raise hands for questions. Determine who will control mutes (organizer or users) and how to share files, etc. before the meeting starts to minimize confusion.
Consider creating a policy for online meetings –

Like every aspect of the workplace, online meetings should also have policies. Some options to consider:

How many people should join at once?

How long will the meeting be?

Who needs to join in?

Who in the team can organize meetings? What's the approval process?

Does the organizer need to send out an agenda before and summary after?

Does anyone on the team have a condition that makes online meetings difficult? (vision, hearing, attention, etc.) If so, how will they be included or updated?

Will you record meetings?

Test, test, test - When hosting, remember to test the program first. Make sure you know how to mute/unmute participants, start chats, and share screens or files. That way you're not stumbling through the meeting and wasting time. Schedule test runs before an actual meeting with a co-worker or manager to get familiar with the program.
Be respectful and kind – Implement a policy of no snarky or judgmental remarks allowed.
Wrap-up with a Q-and-A - Make sure to ask if anyone has any questions when you


Helpful Tools to Make Remote Working a Breeze
Finding the best connection tools for your team can be the difference between productive workdays and frustrating workdays. Communication tends to be the biggest challenge for remote teams, so setting yourself up with the right tools can increase your team success.
Some tools are free, while others offer free trials. You may also find you want to upgrade and pay for premium services, too, depending on your team's needs.
Here are a few helpful tools your remote team can use:
For informal communications, don't forget text messages, FaceTime, WhatsApp, and Voxer. Set boundaries with acceptable hours of communication when using casual methods.
Final Tips on Making Your Remote Workplace a Success

For many companies, remote working is a foreign concept. The biggest aspect is ensuring your communication lines are open and working well. If a certain tool doesn't work for your team, ditch it and find a new one — there are plenty out there and more being developed.
A few final tips on making this remote work thing work:
Stay in touch - Ask your team members to check-in once a week with you via email, if you have a small enough team. Even if you can't talk with them daily, encourage a check-in to see how they're doing remotely.

Continue to encourage collaboration - Part of the joy of working on a team is the collaboration efforts. When possible, ask your team to utilize tools (like the ones above) to connect and work together.
Be crystal clear - If a message seems to be getting misinterpreted, take the time to pick up the phone or set up a video chat. Reading body language and hearing inflections is much easier over visual communication tools.
Keep live meetings lively - We all need social connection and interaction. Switching gears to remote so quickly can be hard on your team members. Break the ice and have some laughs at the start of every meeting. Have a team member read off a corny joke for each meeting or swap ridiculous stories of your kids, pets, etc. Add some life to your video calls.
Encourage team members to focus on health - Above all, make sure your employees are staying healthy. Send out healthy newsletter tips, remind them to wash their hands, and keep them emotionally connected. Getting through hard times is easier when you're healthy.
Staying connected in a positive and regular manner will help your team succeed. Who knows, if it works out well enough during this quarantine time, maybe you'll go fully remote when it's all said and done! Just remember to keep in communication, collaborate, and enjoy the freedom of being able to work from home.
What are your must-have tools for remote meetings and remote work? Share your favorites in the comments below!
Business vector created by Freepik