Even the staff here at TotalWellness is guilty of skipping a lunch break now and again. When the projects pile up and emails are popping up left and right, it's tempting to just eat at your desk and try to get out of work on time. We know we're not alone – according to a 2011 survey by human resources consulting firm Right Management, 65 percent of employees either eat at their desks or don't eat at all.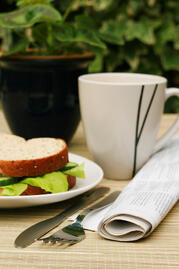 While the idea of employees engaging in a working lunch may seem like a plus for employers, studies show that the opposite is true. The absence of a true lunch break can lower productivity, increase fatigue and cause tension in the office.
Here are a few reasons why you should take a healthy lunch break away from your desk every day:
It boosts productivity. Although in the short-term it seems like you're losing time, you can often gain focus by stepping away from your desk. Letting your brain rest for a bit while help recharge your creative abilities and prevent that dreaded mid-afternoon slump.
It can create stronger relationships with your coworkers. Inviting your colleagues to grab a bite to eat is more than just a good excuse to step out of the office. Research shows that friendships among coworkers can boost productivity and can make employees feel a stronger connection with their employer, making them less likely to quit their jobs.
It can give you valuable alone time. If you choose not to opt for an out-of-office lunch with your desk buddies, you can use your lunch break to detach and gain valuable alone time. Long meetings or exhaustive conversations with coworkers can drain you. Taking 30 minutes to recharge your batteries can allow you to return to the meeting or conversation with fresh ideas.
Many employees choose to bring their lunches to work as an effort to eat healthier and control their meals. We absolutely encourage healthy lunches regardless of where you eat them. If you do bring your lunch to work each day, consider eating it in the break room or outside to get that valuable time away from your desk.
How many times per week do you eat at your desk? Comment below.