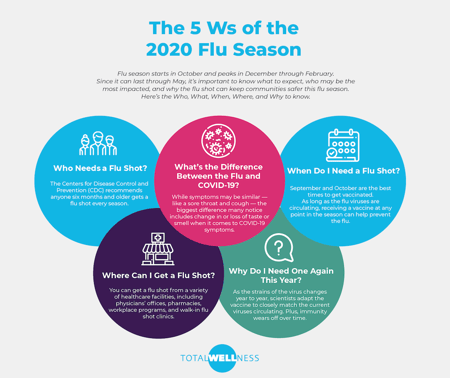 As the cooler weather starts to come around, so does the 2020 flu season.

Add the COVID-19 pandemic on top of it, and this flu season could be a challenging one for workplaces and healthcare facilities alike.

This year, health officials are urging individuals to get their flu shots not only to stay healthy, but to also minimize the burden on healthcare systems. During the 2019-2020 flu season alone, up to 740,000 individuals were hospitalized due to the flu and its complications.

This post will cover the 5 Ws of what everyone needs to know about flu season including who needs the vaccine, what the difference is between COVID-19 and flu symptoms, when it's needed, where you can get one, and why everyone needs one.

Here's a look at the 2020 flu season details every employer needs this year.
Who Needs the 2020 Flu Season Shot?
Because of the ongoing complications of the COVID-19 pandemic, health officials are urging the public to get the flu shot for the 2020-2021 season.
The Centers for Disease Control and Prevention (CDC) recommends anyone six months and older gets a flu shot each and every season. That especially includes high-risk individuals who may become severely ill if they contract the flu.
Those who are at high risk include:
Adults 65 and older
Adults with chronic health issues
Other high-risk individuals include pregnant women, young children, asthmatics, and diabetics. Anyone with chronic kidney disease, heart disease, cancer, or HIV/AIDS are also encouraged to get a flu shot.
What's the Difference Between the Flu and COVID-19?
With the current COVID-19 pandemic and flu season overlapping, it's important to understand the similarities and key differences between these contagious respiratory illnesses.
This flu season, the moment you start getting the sniffles and a sore throat, you'll want to have a firm grasp on your symptoms to share with your doc.
Because COVID-19 is a new virus, there's still much to be learned about it. Symptoms alone aren't always a tell-tale sign of either, which is why COVID-19 testing may be required to confirm diagnosis.
Signs and Symptoms to Know
For those infected with COVID-19, it sometimes takes longer to develop symptoms versus the flu. Once infected, a person can show flu-like symptoms four days after infection. For COVID-19, it can appear as late as 14 days after being infected.
Similarities
Once you start feeling ill, it's important to take note of the signs and symptoms you notice. You may also have no symptoms to severe symptoms.
Common symptoms of both COVID-19 and the flu include:
Cough

Fatigue

Headache

Sore throat

Runny or stuffy nose

Muscle pain or body aches

Fever or feeling feverish/chills
Shortness of breath or difficulty breathing
Key Differences
One of the most important aspects to note is that COVID-19 appears to be contagious for a longer period of time than someone infected with the flu, according to the CDC.
Flu viruses may cause mild to severe illness like the common signs and symptoms listed above.

COVID-19 is an emerging virus with new symptoms being documented all the time. The biggest difference many notice includes change in or loss of taste or smell when it comes to COVID-19 symptoms.
When is Flu Season?
Flu cases start up around October and peak in December through February. It can last until May. The colder weather months make it easier for the flu to spread as more people are indoors. Plus, the influenza virus thrives in dry, cold weather.
Technically, the flu circulates year-round, but as mentioned above, the colder weather makes it more prone to spreading quickly.
So you may be wondering, "When is the right time to get the flu shot?" As soon as you can get the flu shot in your area, it's best to get it done. Just remember that the sooner, the better. On average, it takes around two weeks for the vaccination antibodies to develop and protect you against the flu.
September and October are the best times to get vaccinated. But as long as the flu viruses are circulating, receiving a vaccine at any point in the season can help prevent the flu.
Where Can I Find the Flu Shot?
Luckily, it's relatively easy to get the flu shot. Most insurance companies cover the cost and consider it a preventative immunization to reduce higher costs in the event you were hospitalized with the flu.
Here are a few places you and your employees can get a flu shot:
Physicians' Offices - Check in with primary care doctors about their flu shot shipments. Because October gets to be a busy time for doctors' offices, there is a chance of vaccines running out. If the flu shot shipments have been delayed, they may recommend you visit a pharmacy or another clinic.
Pharmacies - Pharmacists are trained to give flu shot vaccinations. Best of all, it's convenient and many pharmacies are adhering to COVID-19 guidelines to protect customers. Call ahead to schedule your appointment with a local pharmacy and ask how the process works to ensure your comfort and safety.
Workplaces - If you're an employer, consider setting up a flu clinic for all of your employees to make it even easier for them to get their vaccination done right on site. Employers can still host flu shot clinics this year while maintaining social distancing. Check out our post on Indoor or Outdoor Flu Shot Clinic: Which Should You Pick?
Remote flu shot options - Is your team working remotely? You can still keep them healthy by providing a flu shot voucher program for them to use at a flu shot distributor in their hometown like a national in-network pharmacy.
Why You Need It
Nobody enjoys being sick. The flu is no exception. Not only does it make you feel crummy, it cuts into work time and productivity. If you could minimize the severity — or chances of getting it — wouldn't you? The flu can cause congestion, headache, fatigue, and aches. Those who do get the flu shot can potentially skip all that this season, along with a potential trip to the ER.
A few other reasons to get vaccinated:
It takes one shot

Less time off work

Protects those around you

Lessens the flu's severity if you get it
Best of all, most insurances will cover the flu shot vaccine. Before you head out the door to get one, call your insurance or your local pharmacy to get the details. Most times it's covered 100% by insurance companies. Start getting the word out to your employees now if that's the case with your company's insurance.
Prepare Now for the 2020 Flu Season
Now is the time to start preparing for the cold and flu season. Stock up on tissues, hand sanitizer, face masks, and vitamin C. And, of course, get a flu shot yourself and encourage your team to do so too.
Resources to help you and your team through flu season:
Most importantly, if you or your team members are sick, stay home. You can still successfully connect and collaborate remotely. And if you're already all working remotely, take the full sick day off and rest. It will get you to feel healthier sooner when you can relax and rest the way your body needs.