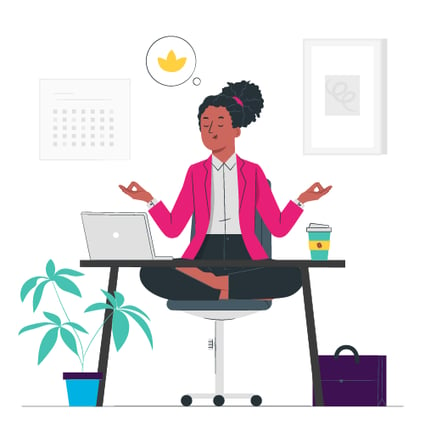 Want to make a healthier and positive work environment?
Research shows when leadership puts effort into creating a positive work environment, it benefits both the workers and the company. A third of most people's lives are spent working, leaving no doubt that the working environment plays a huge role in health and well-being.
Good health = good business. Happy employees also = good business.
It's a two-way street that leaders play a huge role in. If your company is ready to revamp its health offerings or simply spend more time focusing on employee well-being, that's a perfect first step.
Here are nine more steps to consider as you reevaluate what a positive work environment looks like for your company.
Signs of a Healthy and Positive Work Environment
There are a variety of ways companies can create a more uplifting and healthy work environment for employees. With the toll the pandemic has taken on both mental and physical health, it's essential to offer resources and a workplace experience that keeps both in mind.
Mental Health America surveys indicate that workers who are mentally sound tend to be more loyal, happy, and productive. An unhealthy, negative workforce, however, loses in big ways, including losing workers and increased sick time off.
Additionally, a healthy workplace will have:
Mental health programs and perks

A strong, balanced workplace culture

Benefits and health insurance options

Leadership and community engagement
Below are ways to make a commitment to your team in developing a workplace where workers can thrive and use their talents to the best of their abilities.
1. Focus on Growth
"The swiftest way to triple your success is to double your investment in personal development." — Robin Sharma
When was the last time you encouraged your team to focus on their growth? Both professional and personal growth goals are essential to leading a fulfilled and enjoyable life. Personal development can easily tie into professional development and vice versa.
Offering employees ways to grow can:
Increase their confidence

Reenergize your team

Improve retention rates

Make your team more efficient
No one ever wants to feel like they're missing out on essential skills in their industry or life. Keep your team thirsting for knowledge by giving them valuable opportunities to grow in a variety of ways. Whether that's offering monthly webinars, business retreat experiences, personal and professional self-help book clubs, or another development experience, it all benefits your employees and the workplace.
2. Celebrate
Our brains like celebrating rewards. Even small accomplishments — like completing one piece of a huge project — should be celebrated as it leads to getting bigger goals done. Those who track small achievements daily also enhance their motivation, research from Harvard Business School reports. Celebrating other wins or life events makes the office more inviting, too.
What can your office celebrate today? A few ideas:

Birthdays

Work anniversary

Project completion

Wellness achievement

Professional work advancement
It's no fun to celebrate life's biggest milestones alone. Whether it's a massive work achievement or something else, take the time as a team to celebrate life wins.
3. Reduce Burnout Opportunities
Life is hard enough without adding more stress to your employees' plates. While stress at work is inevitable, the chronic ongoing pressures at work can lead to burnout. Now that we're nearing the two-year mark of the pandemic start, employees are more on the cusp of burnout than ever before. Many, in fact, aren't afraid to walk away from companies that don't focus on burnout reduction.
Ways to reduce burnout:
Check-in on workloads -

Are your team members taking on too little work? Too much work? How can more collaboration get projects moving more efficiently?


Make workers break -

Sitting for hours on end isn't good for one's health. It's also a fast track to feeling stuck or less creative. Ask your workers to move their bodies, even if it's only for a short walk across the office.


Encourage vacation time or make it unlimited -

Longer breaks are even more essential to positive work experiences. Let your workers take the vacation they've earned. It gives them something to look forward to — a big plus — and it also helps them to physically and mentally unwind when they experience the vacation.


Listen to your team's concerns -

Take feedback as your team gives it. More importantly, do something with that feedback. There's nothing more frustrating to employees who all offer the same valuable feedback only to see zero changes.
Don't let your employees feel like they're constantly running an emotional work marathon. Give them time to break, refresh, and renew their perspective. Take time to listen to their concerns when it comes to burnout, too.
4. Offer Gratitude Regularly
You've heard it before, but giving thanks is one of the best ways to create a positive interaction in the workplace. Studies show that not only does expressing gratitude create a positive experience for the recipient, but it also does good for the one giving thanks.
Research proves offering gratitude:
Improves health

Improves relationship quality

Increases positive emotions
Who can you thank at the end of a long work week? Dash off an email with a specific situation you're grateful for in which a colleague helped you or the team out. Want to make it even more personal? Write a handwritten note for delivery.
5. Increase Your Wellness Culture
Consider your wellness culture simply the way things are done around the workplace. These are the aspects of your workplace that an employee would notice as available to them even on the first day of the job.
This includes healthy habits like:
A group stretch every hour

Exercising as a group outdoors

Weekly

team-building gatherings

Offering stress-relief classes or webinars
Skip the in-your-face marketing methods, though. Nobody likes that. Instead, offer your wellness activities, events, and promotions as a way for individuals to enhance their workday.
Related: Foolproof Advice on How to Improve Company Culture in 2022
6. Invest in an Employee Assistance Program (EAP)
Your employees are your best asset, so investing in them regularly is one of the best ways to keep them loyal and happy. Not to mention, when people are happy, they're more productive. Feeling balanced and being able to have a one-stop resource can help workers feel less overwhelmed.
Find a program with a variety of options to cover the bases. Options like:
Text therapy

Financial counseling

Childcare referrals

Mental health resources

Life outside of work can feel overwhelming. And given the limited number of hours many employees have outside of work, an EAP program is an ideal opportunity to help them manage life's chaos in a simpler way. By making resources more easily accessible, employees may feel more open to taking advantage of them. Consider a platform like CuraLink to kickstart your EAP.
7. Offer Health Insurance
Around 28 million individuals were without insurance in 2020. Imagine being at the height of the pandemic and catching COVID without insurance. Or even needing to do a wellness visit. Ensure your employees stay healthy — mentally and physically — by offering affordable health insurance.
By providing affordable insurance options, you help employees:
Receive regular prevention screenings

Maintain contact with health specialists

Provide continuous care for chronic conditions
Take the time to get feedback from employees ahead of open enrollment to see where benefits could be improved. Additionally, it's never a bad idea to shop around and see what other insurance companies provide.
8. Do Good Together
Want to keep a truly healthy and positive work environment vibe going? Look at ways your team can do good together. There are a ton of volunteer opportunities that can be done both in-house and remote for teams of all sizes.
Consider:
Picking an online fundraiser to support -

From GoFundMe to Donorbox to Kickstarter, there are plenty of fundraisers for people in need. Your team may want to find a local individual or organization to support. Set a financial goal together and brainstorm ways to meet the goal. From spaghetti dinners to cash donations and merchandise sales to crowdfunding, your team can have a blast working together for the good of your community and the world.


Supporting a local school -

Many school districts deal with major budget cuts every year. Because of that, educators rely on donations, volunteers, and other generous gifts from the community to keep classrooms well-stocked. Consider volunteering at a local school. Options may include organizing files, tutoring students, helping at festivals, and more.

Supplying a homeless shelter -

Call a nearby homeless shelter to see what they may need. Have your team collect items or opt to purchase goods like sleeping bags, toiletry items, socks, and easy-to-carry snacks. Your shelter may also have a food pantry or soup kitchen that may need the help of volunteers to run.
Volunteering allows employees to forge deeper friendships while also making new friends in the community. Additionally, it provides a mental health boost and a physical one, too, if your volunteer work is physical in nature.
9. Get Feedback
Talk with your employees. They are your greatest asset and your strongest feedback team. Leadership can only be in so many places at once. Luckily, you have a variety of team members who see different aspects of your company day-to-day. Let them be your eyes and ears for giving sincere, useful feedback.
Ways to do this:
Offer regular, anonymous pulse surveys -

Once a month or quarter, send out pulse surveys to check on the general attitude of your workers. Ask them questions like "Do you feel supported in your role? If not, how can our company offer more support?" and "Where do you feel our company thrives when it comes to showcasing a positive, healthy work environment?
Check-in with new hires -

Do new hires feel they're walking into a healthy and positive environment? Send out follow-up surveys about the onboarding process. Did they feel welcomed? What could be improved?

Show open communication is valued -

It's essential that your team knows they have a point of contact to discuss highs and lows with when it comes to their role. Make an open-door policy and stick to it. Make time for one-on-one conversations with workers and keep those ongoing for the best feedback.
Workers want to know they have an opportunity for their voices to be heard. One of the best ways to do this? Ensure they have access to both direct managers and executives to have those conversations.
Keep Working at Building a Healthy Work Environment
No one wants to go into a place they dislike working. Whether it's toxic energy or unhealthy work practices, there is always an opportunity to change the work dynamic. Otherwise, negativity can outweigh any positive work being done by your company.
Depending on where your workforce is energy-wise, you may need to rework the above steps or keep revisiting them. Or, you may want to start all over if there was a negative and unhealthy disruption to the workplace.
If you're seeking lower health insurance costs, a more collaborative work atmosphere, and less absenteeism, examining the work environment's quality is always key. Take exit surveys seriously and look to see if there is a common theme among those who leave the company.
When leadership focuses on caring for the people who run their companies, the return on investment is progress instead of workers running themselves into the ground. Where there's trust, support for risk-taking, autonomy, and team cooperation, a workplace will thrive.
Whether your organization is big or small, keeping a healthy and positive work environment is worth both large and tiny investments. The benefits of taking the time to invest in what employees need to thrive will always come back with a big return on investment if you listen to what they really need and want.
How does your company keep the workplace a positive, happy, and healthy place to thrive in? Share your secrets below!