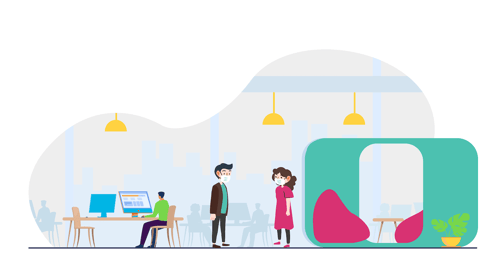 The average person will spend 90,000 hours of their life at work. That's a lot of time on the clock, giving employers a good reason to maintain a healthy work environment.
In fact, it's essential.
If you've ever walked into a toxic work environment, you can spot the signs nearly immediately: Unengaged workers, zero communication, dim lighting, a lack of general camaraderie, and more. On the other hand, those workplaces with a focus on health promotion thrive.
For organizations with healthy environments, the benefits include:
Workers who are subjected to unhealthy work environments have more stress, get sick more often, and have a decreased production output. They also tend to suffer from more mental health issues, too.
Even if your company isn't operating at toxic levels, there's always an opportunity for improvement, right?
Here's a look at how your company's leadership can create and maintain a healthy, safe work environment employees enjoy.
The Importance of a Healthy Work Environment
No one wants to hate coming into work.
When workers spend time in a positive work environment, it shapes their mindset about wellness in a variety of ways.
Employees have enough anxiety as it is when it comes to coming back into the workplace this year.
As such, managers and supervisors have a unique challenge to reassure and show employees that they're coming back to a healthy work environment. Not just one that's sanitized, but one that will contribute to personal and professional growth and wellness.
If you've ever been in a work environment where it feels heavy, negative, and unproductive, you know what it's like to be in a mentally and physically draining place. It's not healthy in any way, which is why it's of the utmost importance company leadership and workers come together to maintain a good work culture and environment.
This type of environment is where workers will thrive and feel happy and motivated to do well.
What is a Healthy Work Environment?
A healthy workplace is one where both employees and management work together to promote healthy actions and behaviors to keep everyone safe and well.
A non-toxic, healthy environment leads to an opportunity for open discussion, strong professional relationships, and increased productivity.
Quite a few factors go into what makes a healthy work environment. For right now, the obvious one is an actual physical space that is safe and clean — well sanitized, socially-distanced workspaces, clean air filters, etc. — but it goes beyond that, of course.
A healthy workplace is one where employees thrive in their work projects and feel fulfilled while also staying physically and mentally healthy. They're productive and feel supported, which leads to reduced absenteeism, illness, conflict, and, ultimately, turnover.
Signs of a healthy work environment:
A variety of aspects play into the above, including the incorporation of healthy lifestyle practices (i.e. wellness programs), along with a safe workplace culture, minimal occupational hazards, and an overall supportive workplace.
Easy Ideas for Creating a Healthy Work Environment
It doesn't need to be expensive to create a healthy workplace. Part of it is promoting what's ingrained in your company's culture. When leadership is consistent in attitudes and activities around workplace wellness, it catches on.
When it does catch fire, there's a noticeable difference in workplace attitudes, productivity, and even workers' compensation and medical claims.
Here are a few ideas for keeping work a healthy place:
Keep Your Workplace Healthy All Year Long
Now more than ever, employees need to know they're coming into a safe, healthy workplace.
Reassure them without blowing smoke by maintaining open communication policies, a supportive work environment, and healthy activities to help them stay well — emotionally and physically.
Below are resources to maintain a positive work environment:
Healthy work environments are about much more than access to an on-site gym or a few quarterly activities. It's a well-rounded approach that's a key component of your company's culture.
Keep your employees happy emotionally, physically, and mentally, and they'll be able to show up and do their best day in and day out — even in challenging and overwhelming times.
In these unusual times, how are you keeping your team healthy and well? How does your company's leadership maintain a healthy work environment year-round? Let us know in the comments below!