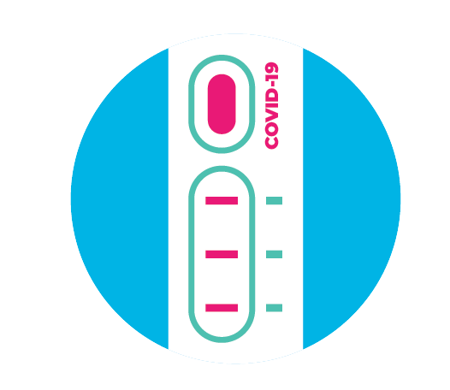 Are your employees reporting more positive at-home COVID tests?
It's probably no surprise. With the recent arrival of the at-home test options, more individuals are testing themselves if they're feeling ill. More people will be traveling this summer across state lines and hanging out with large crowds and with loved ones, making catching COVID more likely.
So, what does that mean for workers coming back from vacation? When can they come back to work if they do test positive at home?
Below, we share the details on the at-home COVID tests and the most updated Centers for Disease Control and Prevention (CDC) guidelines for isolation after that positive test comes back.
When Should You Take an At-Home COVID-19 Test?
Feeling the sniffles coming on? Dealing with body aches and a low temp? Don't think about the worst-case scenario just yet, but you may want to test yourself for COVID. With the availability of at-home tests now, it's easier than ever to confirm if you're dealing with a cold or COVID.
Test yourself if:
You have any COVID-19 symptoms (fever, cough, shortness of breath, fatigue, etc.)

You were exposed to someone with COVID

You're going to an indoor event or gathering
Note: It's important to consider testing yourself if you're going on vacations, visiting the elderly, seeing those with immunocompromised systems, or around those who are at risk of getting seriously ill.
Related: How Coronavirus Long-Term Effects Wears on Your Workers
Where to Get COVID-19 Tests
These days, it's relatively easy to find a test kit for COVID. These allow you to conveniently test yourself at your home. If you're sick, stay home. Ask someone to purchase one for you and drop it off at your door or have a home delivery service bring one by so you don't spread the virus if you are positive.
Here's where to get tests:
Get free tests -

You can stop by your local pharmacy and often get a free test by showing your insurance card. Order them online for free delivery to your home on the

gov website.


Buy online or in nearby pharmacies -

Can't wait for a free test to arrive? Your nearest pharmacy or retail store is another option where you can purchase a self-test. Prices vary by test. Learn more about FDA-authorized at-home tests

here

.
Have an expired test? Toss it. You want to ensure your results are accurate.
Positive At-Home COVID Test? Here's What to Do Next
One of the best perks of an at-home test is the convenience and quick turnaround compared to the previously popular community testing sites. With an at-home test, you can get results in as little as 15 minutes.
While most everyone is pandemic weary, it's still essential for community health to isolate if you are sick or test positive. If you've gotten a positive at-home COVID test, it's time to isolate, even if you don't have symptoms.
First things first: After a positive test, be sure to let others you've been around 48 hours prior to symptoms showing that you tested positive. That way those who haven't been vaccinated know they should stay home and quarantine.
According to the Centers for Disease Control and Prevention (CDC) the following information is what you should do post-positive testing.
Exposed to COVID and tested positive? Here's what to do:
Stay home - Even if you are vaccinated, if you have symptoms or tested positive, it's advised you stay home at least five days in isolation.

Wear a mask - If others live with you, it's advised you wear a well-fitting mask to keep the virus from spreading.

Don't travel - If you're positive and/or have symptoms, don't travel to other places. Stay in isolation for the full five days.
Ending isolation:
Must be fever-free and improving - If you experienced COVID symptoms, you can end your isolation after five full days only if you're fever-free for 24 hours without medication.
No symptoms still require five days - Remember, even if you don't have symptoms, you're advised to end isolation only after five full days after you tested positive.
Very sick? Double your isolation time - If your immune system is weak or you get very sick from your infection, isolate for at least 10 days and talk to your doc before venturing back out.
Play it smart - Be cautious as you re-enter the workplace and community. Even if you've been vaccinated, wear a well-fitting mask indoors for 10 full days after you test positive.
Note for calculating quarantine: Exposure starts at day 0. The first full day after your last contact with someone with COVID counts as day one. Please consider staying home and away from others for at least five days.
Stay Safe This Summer
As the "fifth wave" of COVID cases surges, it's important for both employers and employees to stay vigilant this summer when it comes to staying healthy. One aspect of this new wave is that death rates are staying relatively low, but it's still important to stay cautious, experts say.
For companies, that means mandating ill employees stay home and not come into the office, especially if they get a positive at-home COVID test. Additionally, inside the workplace, consider posting and sending reminders about proper handwashing and not touching the face with hands. You can also remind employees about how getting vaccinated (and staying on top of boosters) can be helpful in stopping the spread in workplaces and the community.
And, as a courtesy to everyone in the workplace, ask employees to only come back into work if they're symptom free without medicine and test negative — just to be sure it's safe for everyone.
Here's to a healthy, happy, and (hopefully) COVID-free summer for your team!
Want to have some COVID-19 Test Home Collection Kits on hand for your staff? Contact us today to learn more about how to get yours!