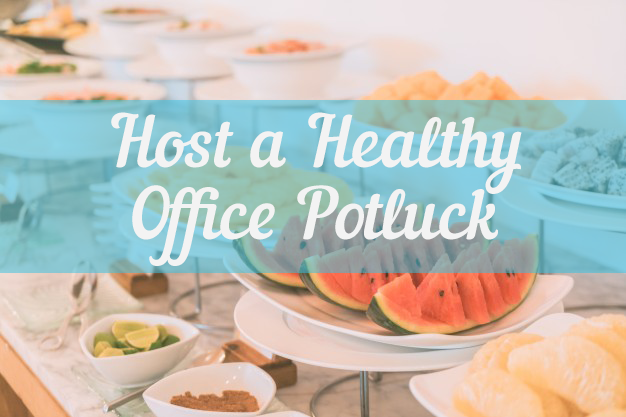 Office potlucks are a great way to bring your employees and team together – who doesn't love to bond over food? Unfortunately, regular potlucks, birthday celebrations, and holidays aren't the best for healthy choices at the office. With cupcakes, soda, chips, and other junk food filling up most of the table, employees are tempted to overindulge.
However, an office potluck doesn't have to be synonymous with unhealthy eating. Hosting a healthier version of an office potluck is an excellent way to encourage healthy eating among employees. Read on to learn how your employees will benefit from a healthy potluck and some ideas on how to make it healthy and delicious:
Perks of a Healthy Potluck
A healthy office potluck is a great way to encourage healthy eating among employees. By bringing in tasty, healthy foods, employees get the chance to try new things and discover that they might like healthier foods more than they thought. After all, not all of your employees know just how delicious eating healthy can be!
And how about that afternoon crash? Ever notice that your employees seem to be in a bit of a slump after an office feast or party? Hosting a healthy office potluck won't cause productivity to plummet. Unlike foods high in sugar and sodium, nutritious food will actually give your employees an energy boost.
Hosting a healthy potluck will also help promote a culture of wellness in your company. Shifting from regular office potlucks to a healthier version is one small step you can take to promote a culture of wellness at your workplace by helping your employees enjoy healthy eating.
What to bring?
It might be hard to think of dishes for a healthy potluck because we are conditioned to bring sweets and unhealthy dishes. While bringing in fresh fruits and veggies is always a great idea, it can get boring after a while. Here are some delicious (and simple!) ideas and recipes that will help you think outside of the typical store-bought fruit or veggie tray:
Two-Cheese Veggie Nachos. These crunchy nachos will provide employees with a serving of veggies! Find the recipe here.
Happy-Hour Hummus. There are many different versions of homemade hummus to play around with. This healthy recipe will only take you five minutes. Serve with sliced veggies or 100% whole wheat crackers. Find the recipe here.
Five-Bean Chili. This is a great healthy take on everyone's favorite comfort food. Find the recipe here.
Jalapeno-Lime Slaw. This light side dish is a fresh, citrusy take on coleslaw. It goes well with everything! Find the recipe here.
Pesto Pasta Salad. This pasta salad is low in calories and full of flavor. Find the recipe here.
Grilled Buffalo Chicken Tacos. This dish brings all of the flavor of traditional hot wings – without the empty calories. Find the recipe here.
Zucchini Muffins. Your employees will love these fluffy, chocolate zucchini muffins. Find the recipe here.
Skinny Smoked Salmon Bites. These look fancy but are a breeze to whip up! Find the recipe here.
Tip: Be sure to provide small plates, bowls, and cups to encourage healthy portions.
Stay away from these dishes and snacks:
Greasy chips
Cookies
Baked goods and sweets
Heavy cheese dips
Pizza
Anything fried or processed
Check out this list of 50 Healthy Dishes to Bring to a Potluck for even more ideas!
Communicate a Healthy Theme
Communicating a healthy theme to your office potluck might be a bit challenging at first. You can start by announcing a healthy potluck as a treat to your employees. Have employees to bring in their favorite healthy dish if they wish to participate.
Ask employees to bring in healthier alternatives or healthier versions of their favorite potluck dishes or treats. You can even try a hosting a healthy dish competition! Be sure to send out yummy healthy recipes and ideas to get employees excited. You can make healthy potlucks a company tradition by hosting one every month or so, and use the success to create a healthy theme for all office parties, luncheons, and outings.
Use potlucks or any employee get-together to show that eating healthy doesn't have to be boring or unenjoyable. Encouraging your employees to eat well is one of the best things you can do for their health and happiness.
What are some of your favorite healthy dishes to bring to an office potluck? Share some ideas or recipes below!
Imaged created by Mrsiraphol - Freepik.com