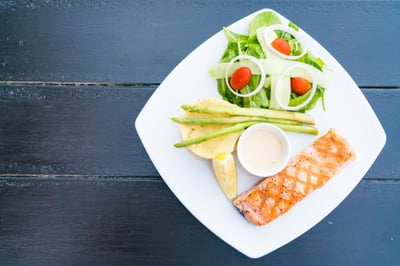 Leading a busy life can make eating healthy challenging. After all, eating well takes time and effort that might seem like too much to fit in your schedule. But what if we told you that this effort would only cost you about two hours a week or less? Meet your ultimate workweek solution: meal prep.
Meal prepping is a total game-changer when it comes to eating healthy. It makes positive nutritional choices convenient and appealing throughout a busy workweek. Plus, it will keep you from picking up fast food over a lunch break because you'll already have a fresh, delicious meal ready to pop into the microwave!
If meal prepping isn't currently part of your routine, it probably seems like an inconvenient and daunting task, but we promise it's not! Once you get into the swing of things, meal prepping will become a weekly routine that you won't be able to live without, and it will help you eat well during and after a chaotic day at the office.
What is Meal Prep?
You've probably heard the term "meal prep" a lot lately due to its rising popularity. Simply put, meal prepping is the process of planning, shopping, cooking, and storing weekly meals and snacks. Its purpose is to make eating healthier throughout the workweek easier and more convenient. You can meal prep for breakfast, lunch, dinner, or all three. Meal prepping is different for everyone, so do what fits best with your needs and schedule.
Why Meal Prep?
Meal prepping is beneficial for multiple reasons, including:
Portion control. You won't be able to overeat! Since your meals and snacks are already pre-portioned out, you won't be able to eat more than what you need to feel full and satisfied.
You'll save time in the kitchen. Meal prepping isn't as tiresome or time-consuming as you might think. While the actual meal-prepping itself may take anywhere from 40 minutes to a couple of hours (depending on what and how much you cook), you won't have to visit the kitchen for the rest of the week – besides the microwave, of course!
You'll save money. Eating out adds up, even if it's from fast food restaurants. While sometimes fresh produce and quality protein may seem a bit more costly when buying in bulk at a supermarket, the food will provide you with meals all week long!
It makes healthy choices easier. Once your weekly meal prep is completed, your healthy meals and snacks will become a convenience. It's easier to grab your fresh meal out of the fridge on your way out the door than it is to pick up an unhealthy breakfast burrito on your way to work or pick up fast food over your lunch break.
Plan and Shop
The first step in meal prepping is planning your week's worth of meals. There are many websites and nutrition blogs with simple recipes and ideas for meal prepping to help get you started. If you're new to the world of meal prepping, be sure to start simple. Choose meals that don't require as many ingredients or any complicated cooking techniques.
It's essential that you develop a complete list of ingredients and determine the quantities you need to purchase. Keeping an organized list will help make grocery shopping easier and it will keep you from aimlessly wandering around the store – which can easily lead to temptation!
Part of planning also includes picking your meal prep day. You can pick one day per week to dedicate to meal prepping or spread it out for nightly light prepping. Sunday is a popular day for meal prepping, but it's up to you to pick a day that fits the best with your schedule.
Get Yourself Prepping!
Focus on simple meals at first. Chicken with roasted veggies and brown rice is always a delicious, simple choice when first starting out. Look for healthy one pan meal recipes or Crock-Pot recipes that will make meal prep a breeze.
Remember that you don't have to cook and prepare all of your food at once. If you want to cook throughout the week, a great option is to simply prep your ingredients after shopping. Chop up your produce and prep your protein for the fridge or freezer. These steps will make nightly cooking faster and more enjoyable.
Don't Forget About Storage
Having proper storage utensils is a must. Be sure to stock up on microwave and dishwasher safe containers. Use containers that are meant for lunch boxes and hold no more than one meal to make sure your portions are under control. Look for containers that will easily stack in your fridge, that way you'll have enough room to keep all of your meals.
Meal prepping can get you back on track to a healthy lifestyle and help you take control over your eating habits. Making healthy nutritional choices ahead of time will save you from making bad choices for your diet throughout the week. Try out some of these simple lunch meal prep ideas to get started!
Share some of your favorite meal prep ideas or recipes in the comment section below!
Image created by Mrsiraphol - Freepik.com