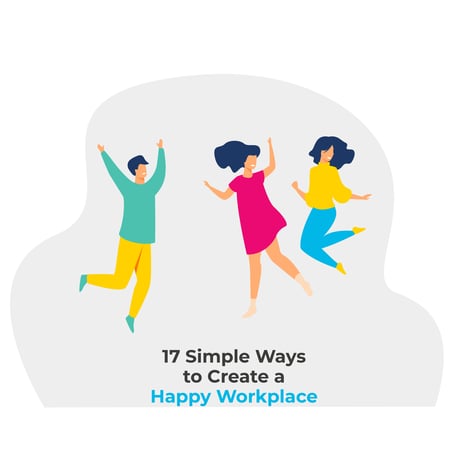 Work doesn't have to be a drag.
In fact, striving for a happy workplace is a near guarantee of productivity and loyal employees. Research confirms workers are indeed 13% more productive when they have a reason to smile at work.
As a leader, looking for ways for employees to enjoy — not just endure — work is a priority that can easily get overlooked for daily business operations, especially in survival mode. Making time to ensure employees are feeling happy and fulfilled goes a long way. Plus, the perks are good for companies, too.
Happy workers are:

Loyal

Motivated

More productive

More successful
The happiest of workplaces are ones where employees feel appreciated, productive, and have a sense of control over their own work goals. A workplace where they feel well taken care of is one where most employees will happily thrive.
This article covers 17 different ideas to make that happen.
1. Show Forgiveness
Everyone makes mistakes. It's part of the human experience. If you want your employees to learn from their mistakes, allow them to create them without fear of shame. As a manager, aim to offer forgiveness when looking at an employee's performance. In doing so, they feel they have some room for error and will likely make mistakes less often as a result. Don't encourage laziness, but also be sure to allow for creative risk-taking to lead the way to innovation.
2. Bring Nature Inside
The benefits of being outside are well documented. For employees who spend their days under fluorescent lighting, bringing nature indoors is a great way to create a healthier, happier space. Certain plants are known to improve air quality and moods, which is why allowing plants indoors can make everyone happier! Consider giving your office a mini makeover with live greenery.
A few plant options to consider:

Spider plant

Snake plant

Chrysanthemums

Fibrous rooted begonias
Working remotely? You can easily send a pre-packaged succulent like the ones from Lula's Garden to your employees. Not only will it brighten up their office, it will brighten their day!
Check out this full list of plants that offer health perks to bring into the office!
3. Don't Be So Serious
There's a time and place for everything. That includes humor, which can certainly elevate the happiness factor in your workplace. Humor is a simple way for colleagues to quickly connect. As leaders, practice laughing at yourselves, cracking jokes, and generally look for ways to have a good laugh with your team. Laughter is always good for the soul and the workplace.
4. Host Engaging Gatherings
These days, gathering together is a real treat. Make sure your employees feel that way, too. Whether you're meeting in person or virtually, you can still have fun and enjoy one another's company.
Host engaging gatherings like:
BBQs

Digital charades

Virtual coffee chats

Lunch and learn events
Consider sending off coffeehouse gift cards in a thank you card to remote employees to enjoy a cup of java on you. You might consider gifting in-house employees options like mugs and gift cards to a favorite local coffee shop.
5. Pay Fairly
This probably seems basic, but that's because it is. All employees want to be paid fairly for the time they put in. Appropriate compensation is one way to keep workers happy, especially if they've taken on additional duties or projects. Money isn't everything, but it can keep employees grinding and loyal when business gets tough.
6. Focus on Positives
Positivity breeds positivity. Don't allow negativity to fester in the workplace or it spreads like germs. Especially during anxious times, it's paramount for leadership to focus on the good. Help the team to start their days off right with a gratitude circle, team workout, meditation, or other feel-good activity. Praise hard work efforts. Offer recognition and be proud of what your team is working on.
Focus on:
Press recognition

Group achievements

Individual achievements

Company financial gains
Don't let feedback sessions become gripe sessions. Complaining only goes so far. Break the habit as a leader and try a positive sandwich. That's one positive thing offered first; then a criticism/critique followed by another positive. Your team will eat it up.
Check out our 7 Tips for Promoting Positivity in Your Workplace!
7.

Be Honest
Secrecy breeds fear and worry. Let employees know what's going on. Even if there are a lot of company changes and concerns, now is the time to be open. Be realistic with what you need from your team and what they can expect from you. Effective leaders will showcase honesty which encourages trust in the company and leadership. Keep employees happy by keeping them out of the dark on big workplace changes and what needs the company has.
8. Bring Wellness to the Workplace
Investing in the wellness of your employees is one of the smartest moves a company can make. Employees need their optimum health to function well and be productive. Prioritize employee health in a variety of ways to encourage them to look after themselves to stay happy and well.
Ways to bring wellness in:

Provide useful wellness discounts

Do random raffles of

self-care items

Host wellness-centered

lunch and learns

Bring in massage chairs or massage therapists
Take employee well-being seriously. Anyone who has been sick — short or long term — can say that their health definitely plays a role in their happiness factor.
9. Prioritize Face-to-Face Time
COVID has quite effectively knocked down what used to be a traditional workplace setting. Now there are hybrid work environments, fully remote options, and some companies still fully in-office. No matter what the work setting is now, creating a new work world where facetime is still important can keep employees feeling connected. Leaders must work in ways to connect with their team — even if briefly — to let them know they're still there.
10. Encourage Professional Relationships
Now is the time to create time blocks — online or in-person — for moments of connection that are essential to the development of team culture. While many are enjoying the benefits of remote work, there is too much of a good thing. Pre-pandemic research has proven that loneliness is a real concern for those working from home. There are also higher rates of disengagement, burnout, and turnover.
Ways to encourage professional relationships:
Develop a mentor system

Host virtual games and

events

Create time blocks for coffee chats

Pair new hires with an experienced mentor
Remember, technology doesn't always increase connections, especially if there isn't intention behind the connections. Ask your team about ways they'd like to stay connected.
11. Focus on a Higher Mission
A clear mission can help your team focus on the right goals while also feeling professionally fulfilled. Remind your team of the overall values of the company and how everyone working together achieves that common goal. Whether the end goal is as prolific as getting third-world countries clean water or as invested as providing high-quality customer experiences, keep everyone on the same page. Create the mission statement and then help your employees fulfill that mission.
12. Invest in Personal Growth
Stagnant employees get bored and also tend to look elsewhere for fulfillment. Work isn't always about the paycheck. By investing in your employees' personal growth, it shows them you believe in them expanding their skills.
Ways to invest in employee growth:
Giveaway self-help books

Offer life coaching sessions

Share networking opportunities

Offer personal development retreats
Allow for opportunities for personal development at all levels to keep employees striving. When employees are given the opportunity to improve themselves overall, they can thrive in the workplace, too.
13. Show Recognition
Remind your team of how they are respected and appreciated for their hard work. When employees feel unappreciated, they end up becoming disengaged and quick to leave. Create ways to recognize team players for a job well done.
Ways to offer recognition:
Peer recognition

Shout-outs via email

Create quarterly awards

Write a handwritten note
Never underestimate the power of recognizing team efforts along with individuals, too. As a leader, it's important to take note of different personality styles to ensure you don't embarrass anyone, so if you're unsure of how someone may react, consider a quieter recognition option.
14. Offer More Vacation Time
After a year of lockdowns and nowhere to go, people are yearning to take a break. Even if it is just a trip to local camp sites or to visit family, it's an opportunity for your employees to break away from the monotony of working. Weekends off are just as important, too. Plus, studies show the physical and psychological benefits of time off can reduce stress, lower blood pressure, and reduce heart disease risk. It's a win-win.
15. Provide Fulfilling Moments
Allow your team to have moments that really highlight your company's culture and mission. Most people don't want to work in a job long term that doesn't feel fulfilling. Host a workshop twice a year to remind your team why your company exists. Then have individuals map out ways they feel their role impacts that mission.
Ways to offer fulfilling moments:
Volunteer together as a team

Offer achievement luncheons

Create a standing gratitude wall

Ask employees to share inspirational company stories
Employees need a reason to wake up and come to work daily. Look for ways to help them feel satisfied and useful while also being excited and passionate. It'll boost their happiness factor way up.
16. Create a Healthier Space
No one wants to go to work in a dull, dreary office. While everyone needs different attributes for their best work environment, it's no secret that a healthier space is top of the list. That includes the options for a quiet, private workspace, plenty of social distancing space, touchless technology, and improved cleaning systems. Help employees feel at ease in their work environments by creating one that's healthier overall.
17. Always Say "Thank You"
A job well done deserves kudos. Whatever that looks like for your leadership team, make sure to say thank you often. Appreciation goes a long way.
Easy ways to thank employees:
Gift cards

Random PTO

Public recognition

An email shout-out

Handwritten thank you

Employee of the month parking spot
Give thanks to your team! No matter your company budget, remember the words "thank you" are always free.
Happy Workplaces Make Work Easier to Wake Up For
Let happiness motivate your employees.
When people spend as much time as they do at work — like one-third of their lives — it should be a place that is about more than a paycheck. When leadership focuses on creating a happy workplace, it makes it easier on employees to show up and do their best. They'll be eager to tackle their work each day and to spend time with their colleagues.
The average person works 90,000 hours in their lifetime, so why not make it as enjoyable as possible?
Check out our free guide, The Power of Positivity at Work, for tips to keep employees optimistic and happier!