When people say that the best ideas are often the most simple, I often think they must be referring to Nilofer Merchant. Her TED Talk about walking meetings last year offered us one of the most profound yet straightforward corporate wellness solutions I've ever heard. (If you haven't yet viewed it, click here to watch.)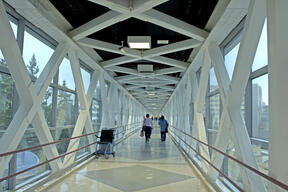 In a nutshell, the walking meeting is an active replacement for your typical one-on-one cup of coffee or conference room chat. Instead of sitting still, the participants are able to add anywhere from 10 minutes to an hour of physical activity to their day simply by taking a stroll. The benefits aren't confined to the body, however; proponents of walking meetings suggest that they enhance creativity and problem-solving skills, resolve conflicts, and build social skills, as well.
Of course, a walking meeting can't be all things to all people. It's likely not the way to go for your yearly shareholders meeting, and is typically much more difficult for larger group sizes. We find, however, that it is the go-to suggestion for one-on-one meetings, status updates, brainstorming sessions and more informal gatherings of small groups.
Here a few tips we've learned from hosting walking meetings:

- Use a park or outdoor setting whenever possible.
- Ask participants to turn off their cell phones before the meeting begins.
- If you still need that cup of coffee, grab it to go (or bring a water bottle!).
- Try holding your walking meetings in the afternoon, when your energy levels are lowest. The fresh air will revive you!
- Avoid noisy roads or crowded areas.
- If you're dealing with a group size of six or more, you're likely going to deal with multiple side conversations. This is fine for brainstorming or problem-solving, but stop and gather back up as a group to keep the meeting productive.
- Plan indoor meetings in your office space, or have a local route planned in the event of bad weather.
- Set a goal for walking meetings each week. Start small (maybe replacing your weekly status update with your supervisor with a walking meeting) and work your way up.
- Purchase a pedometer or FitBit to track your steps. You'll see how much additional physical activity you'll get just by having a few walking meetings a week!
- Wear comfortable shoes to work or keep a pair at your desk for impromptu meetings.
- Plot out a few walking routes that work out to the typical length of your meetings. Consider paths that take 15, 30 and 60 minutes to complete.
- Do you spend a lot of time on the phone? Forward your calls to your cell and use that verbal meeting time to pace/walk around instead of sitting at your desk.
- As with any meeting, still consider sending out a formal agenda to keep everyone on track.
- If it seems beneficial, consider taking a digital recorder (or just using an app on your iPhone) to tape the meeting.
Have you ever tried a walking meeting? Tell us about it in the comments.