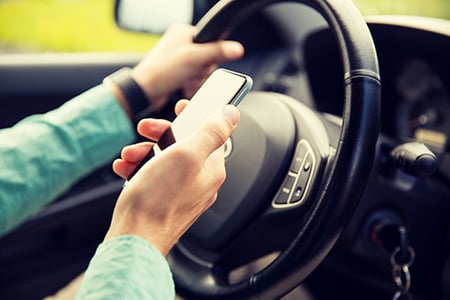 April is Distracted Driving Awareness Month and the ideal opportunity to address employee cell-phone usage while driving.

By the end of today, at least nine Americans will die in a distracted driving crash.

100 will be seriously injured.

Unfortunately, employers can (and have been) held liable for employees who crash due to distractions. For employees doing frequent off-site work trips, this increases the chances of an employer getting pulled into crash liability issues.

Now is the time to start with employee safety talks about cell phone use — on and off the clock — before an accident occurs.

Below, we share why and how your company should implement a cell-phone policy to protect both employees and the organization.
A Look at Distracted Driving
Cell phones and other in-vehicle technologies are proving to be quite distracting for drivers everywhere. Next time you're out driving (and are stopped, of course), take a look around and see how many drivers are on their cell phones. Take up a tally, and then share it with colleagues during a safety meeting.
Need more stats to share?
As of 2017, 2.9% of drivers use handheld cell phones
In 2016, 40% of workplace fatalities were related to transportation
3,166 people were killed by distracted driving in 2017
Most states have laws against texting and driving, including fines for lawbreakers
Distracted driving isn't just texting. It's using voice commands, in-vehicle technology, and even touchscreens. Anything that can lead to taking a driver's eyes or attention off the road is a distraction.
Can employers be liable?
Depending on the situation, an employer can be held liable for an employee's car accident. This is true if the accident occurs during the confines of employment or if the employee is in a company vehicle — clocked in or not. If for some reason your employees must use cell phones while driving for business, consider that doing so increases crash risk. Such policies may need revision to minimize company liability.
Implement Company-wide Safe Driving Policies
At your next leadership meeting, consider covering the topic of distracted driving, especially if a cell phone usage policy isn't in place. Here are some options of how to create the ideal company-wide policy that's not too strict, but covers your bases:
Create a "Just Drive" policy: Instruct employees to not use their phone for work-related tasks while driving. Make sure it covers personal and work vehicles.


Set alerts: Use the phone's "I'm driving" alerts, if available.


Work can wait: Stress that employees can respond to emails from their desks or when they've arrived at their destination — not while driving.
Additionally, remind employees that leaving early is a great way to help them slow down. It will reduce the need to distractedly text or call while en route, and it creates a sense of calmness as employees hit the road. If they need to notify you they'll be late, ask that they do so only while safely parked.
If you're ready to create a cell phone policy, include:
All company cell phone devices
All company vehicles
All employees
Handheld and hands-free devices
All work-related communications (including in a personal vehicle on a personal phone)
Creating an all-inclusive policy protects your employees as well as your company. Make the policy clear, and be sure to educate employees and monitor compliance. The policy should also include how to address violations as well.
Promote Safe Driving All Year
Distracted Driving Awareness Month is a great opportunity to open the discussion about safe driving all the time, not just in April. This includes following the speed limit, eliminating distractions, wearing seat belts, and looking ahead while driving.
A few ideas to keep the conversation going:
Take a pledge: Host office pledges and challenges to drive safely
Make information displays: Tack up posters in break rooms with safe driving information
Provide access to apps: Share handy apps to keep drivers from using their phone while driving
Host an officer: Bring in local law enforcement to build awareness during a lunch and learn
Most employees drive somewhere, and sometimes need a friendly reminder of how quickly distracted driving can change their life or another person's life.
Take Action Against Distracted Driving
Whether you create a specific or general cell phone policy, it's a step in the right direction of building awareness about distracted driving. Employers can and do pay the cost associated with crashes on and off the job caused by employees.
Before the month is over, challenge yourself to implement your employee use of company vehicle policy and cell phone policy now. Protect your staff and company by creating a policy that could stand on its own in court.
And, help keep your employees — and their families — safe today and everyday.
For more details on creating a full ban, get a free toolkit from the National Safety Council.
Want to have a calmer commute that will help you focus on the road? Here's a list of 8 ways to make your daily commute a little more enjoyable!