Flu season is almost here! If you keep up with our blog and social media pages, you'll know we've been talking a lot about the negative effects of the flu lately. That's because we hope more employees get vaccinated this year. The flu is really nothing to leave up to chance. Without receiving an annual flu shot, your employees significantly raise their risk of falling ill with influenza.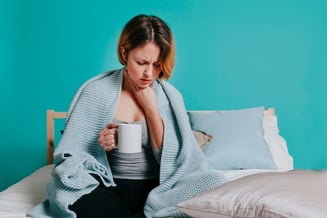 But why does this matter to employers? Well, for one, all employers should care about the general health and wellbeing of their employees. Secondly, your company can't perform it's best when employees are sick with the flu. In fact, approximately 17 million workdays are lost due to the flu each year. And according to the Centers for Disease Control and Prevention (CDC), this equates to $7 billion lost per year in sick days and lost productivity.
However, through advanced education, proper planning, and corporate flu shots, you can help protect your employees and shield your business from taking a major hit this flu season. To minimize the effect of the flu on your business, there are seven key ways you can help protect your employees:
Now is the Time to Get Your Worksite Ready For the Flu:
#1 Employee education
It's essential that employers educate employees about the symptoms and spread of the influenza virus. Without proper communication, employees are less likely to receive their annual flu shot – which leaves your company at risk for an office flu epidemic.
#2 Office hygiene
Office hygiene is important all year-round, but it's even more crucial before and during flu season. Employers should ensure their office is thoroughly cleaned and sanitized on a regular basis. They should also educate employees on proper hygiene practices – especially proper hand washing techniques.
#3 Review PTO/telework policies
Flu season is an important time of the year to re-visit your PTO/sick leave/telework policies. Employers should never allow an employee with the flu to come into the office. Make sure this is properly communicated with your employees, and be certain they are aware of all company policies regarding sick time.
#4 Create a flu season communication plan
Effective communication is essential! Without flu communication, employees are less likely to receive their flu shot and more likely to come into the office sick. Start flu communication early and continue to communicate often. And don't forget about communicating with your remote employees!
#5 Develop flu season strategies
With sick employees out of the office during flu season, employers need to ensure that proper communication plans are in place. Identify critical tasks and develop a strategy to guarantee they are completed. It's also important to cross-train employees before flu season strikes. That way, it's not a big deal when employees take time off to recover from the flu. The last thing sick employees need is more stress!
#6 Review insurance policies
Your employees should always be in the loop with your company's health insurance policies, but it's even more important they understand these policies before and during flu season. Ensure your employees are educated about their health insurance coverage.
#7 Host an on-site flu shot clinic
An on-site flu shot clinic for your employees is the easiest and most convenient way for your employees to receive their flu shot. Be sure to plan your event early so that you have plenty of time to prepare for and promote the clinic.
We've compiled a FREE guide built on these seven steps to help you prepare for flu season.
This guide will allow you to:
Find out how seasonal flu impacts your business
Learn the seven key steps to take to protect and educate your employees
Print off a convenient checklist to keep you on track
Understand the right questions to ask and the best information to provide to your staff during flu season
Organize your strategy before the flu severely impacts your business
Download your free copy of our guide today! The best way to prepare your office for flu season is to start preparing early.
When does your company start preparing for flu season? Leave a comment below!
Like this blog post? Share it with your employees or co-workers with this printable version of the blog!
Editor's note: This blog and guide were originally published in August 2014 and has been updated for freshness, accuracy, and relevance.
Image created by Freepik