When it comes to flu season, you want all of your employees protected. The flu can lead to some serious health risks and put an employee out for a full workweek. Hosting an on-site flu shot clinic is one of the best ways to help protect your employees and prevent an office flu epidemic.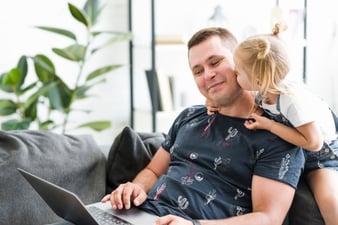 However, things can get a bit tricky if you have remote employees. These employees should have the same opportunity to receive a free flu shot, just like your on-site employees. Just because these employees aren't physically in the office doesn't mean it won't harm your business if they get sick.
While a sick remote employee can't necessarily spread the flu around the office, a sick employee is still a sick employee. Their productivity will plummet, and they'll likely need at least a couple of days to fully recuperate from the flu.
So, if you don't want your remote employees falling ill with the flu this year, here's what to do:
Choose an employee flu shot vendor with a voucher option.
When choosing your flu shot provider for your annual on-site flu shot clinic, be sure to select a vendor that provides a voucher option for remote employees. A flu shot voucher allows remote employees to conveniently receive their flu shot from a variety of pharmacies, no matter their location.
Here at TotalWellness, we offer employers a voucher option in addition to our on-site clinics. Our flu shot voucher program can be used as a stand-alone service or in conjunction with an on-site clinic. Employees can visit any pharmacy in the network (which includes national retailers and 99.9% of independent pharmacies in the nation) to receive their flu shot. Pharmacy chains include:
CVS Health
Walgreens
Walmart
Rite Aid
Kroger
Costco
Hy-Vee
Publix
Giant Eagle
Vouchers can be distributed to employees via a secure voucher website, email, or sent to site contacts for distribution. Our voucher program allows employers to only pay for the number of vouchers that are actually redeemed (above the minimum order) and choose their own program dates. We recommend running your voucher program from September 1st – December 31st for optimal flu protection.
For more info on our flu shot voucher program, click here!
P.S. These vouchers can also be used for any employees who might be out of town during your on-site flu shot clinic or for those who can't make it to the event for other reasons.
Communicate, communicate, communicate!
Even if you have a flu shot voucher option for remote employees, it doesn't mean they'll actually use them! This is why effective flu communication is so important. Be sure to include your remote employees in any and all flu conversations you have with on-site employees. Consider crafting personalized emails to send remote employees that detail why getting vaccinated is so important – even if you don't work on-site.
Provide an incentive.
Many companies provide employees with some type of incentive for receiving their annual flu shot – whether it be a free lunch, an afternoon treat, or a jeans day. The problem with these types of incentives is that they work well for on-site employees, but not for remote employees. Brainstorm some ideas for incentives that will work for remote employees as well. Consider sending remote employees gift cards, movie passes, or providing a free half-day of PTO when they redeem their flu shot voucher. Incentives are an excellent way to get employees motivated to receive their flu shots!
Include remote employees in your wellness program.
When it comes to any wellness initiative – including corporate flu shots – it's essential that remote employees are included in the workplace wellness program. Without participating in their company's wellness program, it's difficult for employees to stay in the loop. Be sure to include employees in wellness challenges and activities, and create some options that better fit the health needs of your remote workers. This might mean thinking of some wellness activities that can be done independently, or that don't require a designated time and place.
With remote employees becoming much more common today, it's essential for employers to adopt new methods to ensure these employees stay healthy and protected from the flu. Don't forget about your remote employees this flu season!
Does your company offer its remote workers flu shot vouchers? Let us know in the comment section below!
Like this blog post? Share it with your employees or co-workers with this printable version of the blog!
Image created by Freepik