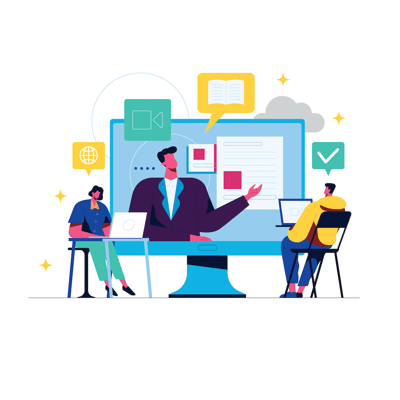 Looking for a simple way to bring more workplace well-being topics to your employees?
There's no better way than with a webinar.
These seminars are online, so there's no need to travel or make workers come into the office. It's an ideal way to spread wellness content without interrupting the work day unnecessarily. Plus, you can include remote workers, too. Whether your team members and leadership are interested in intuitive eating, mental health strategies, meditation, or some other topic, there is something for everyone!
Below, you'll find valuable upcoming wellness webinars to register for throughout the year. Best of all, they're free! Here are 11 workplace wellness webinars to consider attending this year:
1. Mental Health and Well-Being for Leaders and Managers
Date: February 22, 2023
If your workplace is looking to increase awareness around mental health, this one's for you. Allow your managers to take the time out to learn about mental health, the stigma and discrimination it often brings, and how to best support your employees.
Highlights include:

What is mental health?

Stigma and discrimination

How to support team members

What stops people from speaking up

Common signs and symptoms to look out for

Best practices to create a mentally healthy workplace culture
This online course is ideal for both leadership and managers in companies of all shapes and sizes looking to offer a better mentally healthy workplace culture. Register here.
2. Outing the Imposter
Date: March 4, 2023
This webinar is a reminder that imposter syndrome is real and can keep employees from doing their best work. Mark Nutting, the presenter, is the founder of Fitness Business Specialist and author of The Business of Personal Training.
Highlights include:
Uncovering the causes of imposter syndrome

Learning how to tackle imposter syndrome

Discovering how to move toward set goals
For a confidence boost, send your employees to this webinar! Be sure to register before the live presentation to watch it for free! Register here.
3. Self-Care 911
Date: March 7, 2023
Self-care is a must these days when it comes to taking care of physical and mental health. This webinar offers insights into just how important it is for overall good health.
Highlights include:
Insights from a mental health counselor

Exploration of the nervous system

Information on how to regain balance and prevent burnout
This webinar would benefit anyone looking to reduce stress and learn how to reset their nervous system. Reserve your spot here.
4. Safety Culture That Sticks
Date: March 8, 2023
This webinar is led by Cory Worden, who has over 16 years of safety experience and is the Safety Advisor for the City of Houston Health Department. Learn how to keep your team safe with this 1-hour webinar.
Highlights include:
Learn to identify the major components of a safety management system

Discover three leading indicators to proactively measure safety performance
For any manager who wants to have a safer work environment, this one's for you! Register here to secure your spot.
5. Beyond the Plate: A Stay Well Workshop Series
Date: Ongoing
This six-part workshop is hosted by registered dietitian and certified intuitive eating counselor Mary Balog. For those who watch the webinar, it will offer a variety of ways to learn about health and nutrition through a more holistic lens.
Highlights include:
Evaluating your diet history

Learning about your relationship to food and the body

Discovering a shift in eating habits and behaviors

Uncovering ways to use food to express your identity
This series is ideal for a wellness committee looking to offer an engaging way to promote nutrition in the workplace. Each webinar comes with a workbook to follow along with, too, making it a no-brainer to give this program a try. All series and workbooks are available here.
Related: How Should Employers Promote Nutrition in the Workplace?
6. The State of Workplace Mental Health: 2023
Date: May 17, 2023
Thanks to the pandemic, mental health is now on the radar for most organizations. Mental health in the workplace matters because it impacts everyone. Employers focused on offering mental health support often find their workers are more successful and lead healthier lives. This webinar brings experts Taylor Adams, Director of Workplace Mental Health at Mental Health America, and Craig Kramer, co-chair of the UN-affiliated mental health innovation working group and the US National Action Alliance for Suicide Prevention, to share their wisdom in addressing mental health.
Highlights include:
The state of workplace mental health in 2022/2023

Best practices from small and large employers who focus on workplace mental health

How the Black, Indigenous, and People of Color (BIPOC) community is impacted by workplace mental health
This webinar is a good fit for leaders looking for better ways to support their team members' mental health. Register here to participate.
7. Intuitive Eating: What Is it and Should You Try It?
Date: Ongoing
For workplaces interested in talking about nutrition in a way that isn't focused on dieting or weight loss, check out this webinar. Known as the "anti-diet" , intuitive eating is a great topic for healthy eating discussions in the workplace.
Highlights include:
Insights from a registered dietician

Beginner tips for intuitive eating

Discovering the key impacts of intuitive eating
This is an ideal webinar for those looking to cover nutrition and healthy eating in a new way. It's also only 30 minutes long! Check it out here.
8. Supporting Workers with Chronic Conditions
Date: November 16, 2023
Sadly, 60% of US adults have a chronic health condition. Whether it's diabetes, depression, gastroparesis, or another health issue, these can have a major impact on an employee's life. This webinar offers employers insight into how to better support chronically-ill workers.
Highlights include:
Understanding how chronic conditions impact your workforce and employee medical plan

Building a support plan for workers with chronic conditions in your workplace

Supporting workers with chronic conditions through evidence-based programs/resources
This webinar is ideal for those looking to have a better understanding of how chronic health conditions impact employees. Additionally, it will offer ways to navigate complex social issues such as stigma, disclosure, and communication. Register here.
Related: Illness in the Workplace: How to Support Chronically Ill Workers
9. Zest for Life: Eating Well for Health and Vitality
Date: Ongoing
This one-hour presentation is led by registered dietician Laura Creek Newman. In it, she offers tools and strategies to eat well while aging. Newman has worked with adults of all ages using nutrition counseling to help with chronic disease management.
Highlights include:

Navigating food affordability

How to better meet nutrient needs

Discovering diet needs for health management
This webinar is ideal for those interested in good nutrition and how to eat well now and in the future to keep their health vibrant. Check out the webinar here.
10. Meditation: Listening From the Heart
Date: Ongoing
During this look at the psychology of "self-study" and meditation's power, participants will learn how to become more present and grounded. Dr. Paula Christian-Kliger offers her 30 years of experience specializing in working with patients with histories of severe adversity, crisis, and trauma. This presentation is for those looking to reduce stress and learn how to better handle life's demands through meditation.
Highlights include:
Learning where pain & suffering come from

How to shift mindset through meditation

Discovering how to practice meditation
This 3-part series is ideal for workplaces looking to offer a deeper look at meditation and its benefits. Get the presentation here.
11. Virtua Thursday Health Series
Date: Monthly
Every month, Virtua Health offers free webinars called Real Talk! Women's Health Chats Events. From healthy cooking to listening to your gut and emotional eating to heart health, the topics vary each month. On February 16, the topic is "For Better Heart Health, Sleep on It!"
Highlights include:
Real women discussing health topics

Health field experts to dive deeper into topics
Registration opens two weeks prior to each event. Be sure to sign up to enjoy the webinars live. Register here for any event you're interested in.
Will you be attending a workplace well-being webinar this year? Let us know down below!