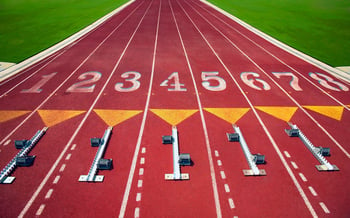 Starting a wellness program—or majorly changing your current program—can be overwhelming and scary. Your best reference might be the wellness programs of huge companies like Google or Camelbak. Those companies are doing great things! But they have the resources to back up those crazy wellness perks.
You might be thinking about the different elements of a wellness program, and adding up the costs in your head. Maybe you're starting to wonder if wellness is even right for you and your company.
The very first thing you need to know about starting a wellness program is that it is absolutely right for you and your company! Every type of company—no matter the size, industry or experience—can benefit from a wellness program.
Here are a few other nuggets of knowledge that might ease your mind as you get your wellness plans rolling.
There's No "Right Way"
There really isn't any rule book when it comes to building a wellness program. In fact, there isn't even a formal definition of "workplace wellness program." Your program can and should be customized to your company and the needs of your workforce.
As long as you're getting the conversation about health started where you work, you're on the right track. A great first step can be talking to your employees. Find out what they want and need on their health journeys. Then cross-reference that with the resources you have, and put together some relevant and useful wellness solutions.
Inclusivity is Important
Many people are wary of wellness because they believe it only applies to those who are already healthy. Unfortunately, that negative perception has stemmed from wellness programs that don't focus on inclusivity.
An effective wellness program should be useful to all employees—no matter their current health status. It needs to focus on goals and progress, which means it needs to be customizable for each employee.
Because the truth is everyone has some healthy improvements they can make. On the same note, everyone has healthy habits they already do in their lives. Your wellness program should capitalize on both to help your employees build up a healthy lifestyle that works for them.
Adaptability is Key
Wellness isn't a "one and done" event. It's not something you can implement and then forget about. It's an ongoing process—because health is an ongoing process.
That means your wellness program needs to be adaptable. You need to be able to make changes and adjustments based on the needs and progress of your workforce. Continuously monitor your program, and be adaptable if needed.
Studies Support It
Studies continually show that wellness is working in all types of businesses. Not only do wellness program helps contribute to happier employees and healthier company cultures, but they have actually been linked with positive returns on investment.
As more and more companies start wellness programs, we'll have more and more data illustrating their successes. At your company, that means building your program with evaluation in mind. How will you determine if your program is successful? Don't be afraid to think outside the box to include attendance records, employee satisfaction and workplace productivity.
It's Becoming the Norm
A majority of large companies have wellness programs, and most smaller companies don't doubt that a wellness program would valuable. Positive attitudes toward programs are increasing—and that's a great thing!
If you're a smaller business looking to start a wellness program, it's time to take action. Stay ahead of your competitors and beat the rush by strategizing your program now. Differentiate yourself and begin growing your business by building up a healthy, happy workforce.
There can be a lot that goes into a wellness program, and that can definitely be overwhelming. The most important part of wellness, though, is getting started. Wellness will work where you work—so don't be scared to dive right in!
Looking for more ideas to start your wellness program? Check out 121 Employee Wellness Program ideas from SnackNation.
What questions do you have about starting a wellness program at your company?