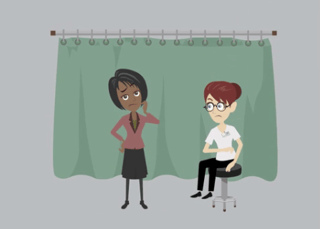 Biometric screening events are an excellent preventative service for your employees. They're designed to help your employees learn the status of their health so they know where they might make some changes. A screening is an excellent first step on the journey towards better health.
If your company is new to biometric screenings (or if you're new to being in charge of your screenings), you might not know exactly what to expect. We know it can be a bit nerve-wracking to welcome a team of health professionals into your office, so we want to do everything we can to ease some of your uncertainty.
Before the Event
There are a few things that will happen in the time right before your screening event is to start. First, our staff will arrive. They usually get to the event about one hour before start time. They'll be arriving with all of the supplies they'll need to perform you're screening. All you need to do is make sure you're available to greet them and direct them towards the room you've reserved.
After our staff gets into the room, they'll begin the setup process. Again, they'll have all the supplies they need, and they know how to set those supplies up. During the setup process, you can take a deep breath and relax! Just make sure you're around in case our people need more tables, chairs or trash cans.
We ask that our staff be ready to go with at least ten minutes to spare. If you have any early bird wellness participants, they're welcome to get started as soon as our staff is setup. If not, you'll be ready to go with participants at the event start time.
During the Event
Throughout the event, you shouldn't feel the need to hover around or jump in on any of the services. Our staff has that handled! Depending on the layout of your event, it might look a little differently from a participant perspective, however. All of these details would have been figured out with your account representative beforehand, though!
If you're doing a "Station-to-Station" setup…
This means your event is set up with each screening service as a separate station. Participants flow from one station (or one screening) to the next. For example, a participant might begin by getting his or her finger stuck for blood tests. While the machine is coming up with the results, he or she might head over to the blood pressure station for that test.
If you're doing a "Pod" setup…
This means your event is set up with pods at which your employees will receive all of their screenings. It's more of a "one stop shop" approach to biometric screenings. In a pod setting, the health professional will usually start with the fingerstick. While the machine is reading results, they'll perform the other services ordered. Then they'll discuss all of the results with the participant when they've been completed.
Both setups are just fine. It's entirely dependent on the space available, the number of participants and the services ordered. Here at TotalWellness, a standard biometric screening includes the following tests:
Fingerstick or Blood Draw for a Cholesterol & Glucose Test
Blood Pressure
Height/Weight/Body Mass Index (BMI)
Waist Circumference
We can adjust what screenings your employees receive, though. You can choose any of the standard tests, but we also have the capability to do bone density tests, carotid artery screenings, sun damage tests, physical fitness tests and much more. If you have something in mind, just ask your account representative for more details!
After the Event
After the event, our event staff will pack up the supplies and head home. We've asked them to leave your room just as they found it (if they don't, let us know!), so there should be no additional stress for you.
They'll take all of the paperwork, supplies and biohazard materials with them. All that will be left behind are happy, educated participants—and maybe some regular trash like Band-Aid wrappers and uncontaminated gloves.
Once the data from your event has been safely delivered back to our corporate office, you'll receive an aggregate report detailing the overall health of your workforce.
A biometric screening event shouldn't be difficult or intimidating for anyone involved. The event should be something your employees can enjoy. But it should also be something you can enjoy and feel proud of organizing!
If you're new to biometric screenings, we know you might be nervous. Hopefully we've eased a bit of your uncertainty, but if you have any other questions, get in touch with your account representative. You can also ask questions in the comments below!