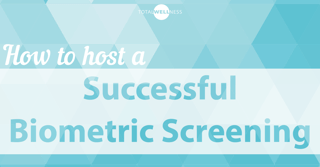 Biometric screenings are one of the most interactive component in an employee wellness program. When done right they are a great opportunity to encourage healthier lifestyles. So it's important you make the most of that opportunity by hosting an awesome screening event.
But we all know planning any large employee event, and especially a biometric screening event, can be stress inducing.
That's why we've put together a guide of things to keep in mind as you plan your most successful biometric screening event yet. Be sure to check out the guide, share it with your wellness team, and put the ideas into action!
In our guide to a successful screening event, you'll find:
Tips to keep in mind before, during and after your event.
With the logistics involved, a list of important to-do's is a must. These things will help you get started on your path to a successful screening.
An action plan for employee engagement.
Getting employees to take part in your screening can be the hardest part. Our action plan is full of engagement ideas you can work into your screening event.
The secret ingredient to a successful screening.
Positivity is key here. Host a biometric screening your employees want to attend by changing your corporate mindset to something a bit more positive.
A handy checklist to keep it all in order.
It's easiest to keep track of the details when you can physically cross them off the list. With our help, your checklist is short and easy to manage!
Putting together a successful biometric screening event really doesn't have to be as hard as it sounds. Check out our handy guide to a successful screening for all the details!
What planning have you done for your biometric screening this year?