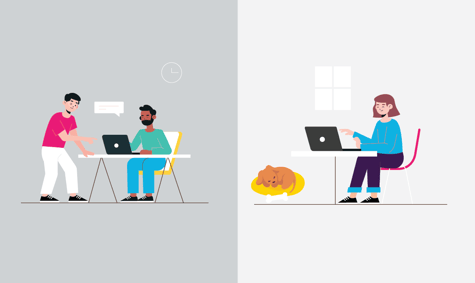 How is your wellness program looking these days in today's hybrid world?
More than ever before, being able to reach employees about their health in an engaging way is an essential part of healthy companies. When staff members aren't always in the office all the time, it can make it challenging to keep wellness campaigns feeling cohesive. That's one reason why employers must get creative in their approach to modifying current wellness programs.
There's no doubt that employees are reevaluating their priorities around work-life balance. In fact, 53% of employees are more likely to prioritize health and well-being over their work than before the pandemic.
A wellness program that crosses successfully over into the hybrid realm is one focused on more than just fitness programs or on-site workplace wellness. The most impactful programs take employee needs across all aspects of wellbeing.
Read on to learn how it's done.
The Eight Aspects of Wellness
Wellness goes beyond just taking care of the human body. In actuality, it goes beyond even the physical and emotional aspects of the body. Researchers have found there are eight areas of wellness that must be balanced for true well-being.
Those eight areas of wellness are:
Body

Mind

Work

Spirit

Finances

Community

Emotions

Environment
By incorporating all of these areas and challenging individuals within each category, it creates a more "well" human being who feels healthier overall. It can be hard to achieve ideal satisfaction in all areas and is certainly a balancing act. By providing opportunities for employees to improve themselves within each of these categories, you can offer them a better wellness program — whether it's hybrid or fully in-house.
Adjusting to a Hybrid Wellness Strategy
Moving into a hybrid workplace hasn't been a cakewalk for everyone. With the adjustments that were mandated by the pandemic, new stressors also arose. Those stressful changes may still be lingering, especially for wellness coordinators or wellness committees trying to better serve employees through wellness programs.
Even if several areas of the workforce changed as your company shifted into hybrid mode, one crucial area shouldn't: focusing on employee well-being as a priority. Healthier individuals make a better impact on your company. They stay more energized and focused, which often leads to higher levels of productivity.
A few efficient moves can make your hybrid wellness strategy thrive:
Make it simple -

There's no need to overcomplicate your wellness programs. Sometimes less is more and employees are thankful when they don't have to add more burdensome tasks to their to-do lists.



Don't force it -

The ones who willfully and authentically participate are the ones you want to invest time into your wellness campaigns. If it wasn't mandatory before a hybrid work environment, don't demand it now, either.



Show leadership support -

For employees who are involved, there's nothing more meaningful than seeing leadership practicing what they preach. Show images of leadership participating in wellness activities, events, etc. Have them be a part of key wellness discussions, too. When leadership gets involved, it makes it easier to "sell" your program, campaign, challenge, etc. to the employees.
Employees want to feel and experience support from their employers when it comes to wellness initiatives. Being well isn't just a part-time experience or a half-hearted venture; it's an important aspect of living fully. Richly experiencing work, friendships, community, and other areas of life in a healthy, lively way is enough for most people to keep with their wellness goals. Make it easy for them to do so.
Smart Investments For Your Hybrid Wellness Program
If you want to enhance and deeply engage your employees in a hybrid wellness program, it starts with checking in with what your employees need. Once you've held a focus group, taken surveys, and gotten appropriate feedback, your company can better tailor an appropriate program.
Once you've gotten the input needed, consider investing in these areas:
Create Balance
For hybrid workforces, there is the challenge of too much screen time. This is especially true for wellness programs focused on using wellness apps. Mix it up for the best of both worlds. Get outdoors with your team — screen-free — when everyone is in the office. For individual health goals, like water challenges, offer up the best apps alongside simple paper trackers to be inclusive of all who want to join.
Related: Water Challenge - Hydrated Employees Are Happy Employees
Be Diverse and Inclusive
Diverse companies not only reward themselves with a better culture but also receive 2.3 times higher cash flow per employee, according to Deloitte. When creating your hybrid wellness campaigns, ensure employee benefits are accessible to everyone. That all starts with your focus groups and employee feedback.
Follow Science and Research
It's easy to follow the latest trends when it comes to getting on the wellness train. But, the best wellness practices are ones rooted in science and research. One great example of research-based but not dry content: Real Food Whole Life, run by Robyn Conley Downs and her husband, Dr. Andrew Downs.
Offer Holistic Health Benefits
What would the cost be to offer some alternative and holistic therapies for your employees? That might look like having a massage therapist stop in once a month to offer chair massages to workers. Or perhaps it means offering membership to a floating lounge for your team. What would offer them a unique but useful wellness experience? Go beyond the usual basic health, vision, and dental.
Provide More Involved Healthcare Options
This is an investment that requires a lot of effective communication with your team. Before your benefits person goes down a rabbit hole of research, invest in several focus groups with your team. This may mean meeting some in-person and a separate meeting for all remote individuals in a group video conference. These types of options might include fertility treatments or help with adoption. Disney, for example, expanded its employee adoption benefits that offer a $ 75,000-lifetime maximum benefit that can be used for adoption services, fertility treatments, and even surrogacy.
Ready to Invest in Your Wellness Program?
Whether your employees are all back in-house, or you're experiencing a hybrid work model, a focus on employee wellness will never steer you wrong. Employees need to stay healthy wherever they may be. As their employer, your wellness offerings just make it easier to obtain that healthy lifestyle.
Remember, the new hybrid work style has added new barriers to staying healthy for employees who once engaged regularly in onsite wellness campaigns. Finding new ways to re-engage and shift the focus to a deeper level can make all the difference in how they keep up with their healthy habits.
Need a turnkey wellness portal? Check out Beata, our employee-friendly portal to engage employees in wellness activities and healthier behaviors. Learn more here.