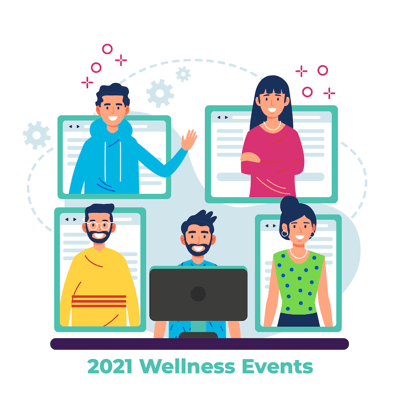 2021 is here and it's time to start planning epic wellness events for your employees.
The start of the year is the best time to pull out your calendar to coordinate events for yourself and your employees to attend in the coming months.
Our list below includes all virtual events — with the exception of one that requires travel to sunny Florida — making it even easier to attend!
Wellness events like conferences, expos, and workshops are a great way to network with like-minded individuals while soaking up all the new trends, news, and wellness ideas out there. Plus, it provides a great chance to hear from wellness thought leaders and innovators who have a finger on the pulse of the well-being industry.
Whether you've got a big budget or need a free option, the listing below of this year's wellness events include both. Ready to learn about the newest health trends and inspire wellness in the workplace like never before? Get your calendar and begin planning.
Here are 10 wellness events to attend for a healthy 2021.
2021 Wellness Events and Conferences to Consider
Since many in-person events took a hiatus last year, now is a great time to start looking at revamped wellness conferences, expos, and workshops to attend. If you want to further increase your team's interest in your company's wellness programs, here's one way to do it. Most conferences offer team discounts, so be sure to ask when you register if you would qualify for a discount.
Here's a look at wellness-centered events to consider attending this year:
January 30, 2021, 8 AM - 1:30 PM (PST)
Cost: $47-$97
Virtual
The 4th Health and Wellness Conference will be held over Zoom, making it easy for companies across the globe to attend in the comfort of their own offices — remote or not! Hosted by Health and Wellness University, the Online Health and Wellness (OHW) Conference will include speakers covering health and wellness topics in the holistic wellness realm.
Highlights:
Raffles

Live yoga

Globally-recognized speakers
This event will include a variety of speakers, including a reflexologist, yoga instructor, celebrity coach, wellness thought leaders, and more.
January 31- February 14, 2021
Virtual
Free
This online event provides access to free wellness content over a two-week period. This year's theme is on healthy living with a special focus on being healthy at home. The Wellness Show At-Home is ideal for anyone interested in fitness, nutrition, physical, and emotional well-being.
Highlights include:

Celebrity cooking demos

Online fitness, movement, and stretch classes

Seminars from leading experts in health & wellness
Attendees can expect over 30 online demos, seminars, and exhibitors to learn from over the two-week event.
February 3-5, 2021
Cost: $350-$850
Virtual
This event is co-presented by The Culinary Institute of America and Harvard T.H. Chan School Of Public Health with a theme of "A Continuing Medical Education (CME) Conference Bridging Nutrition Science, Healthcare, and the Culinary Arts." The goal of the event is to educate attendees to become advocates for healthy food and lifestyle choices.
Highlights include:
Culinary demonstrations

Healthy cooking strategies

Interactive kitchen sessions and workshops

Who is this conference ideal for? It's an annual gathering of physicians, registered dietitian nutritionists, nurses, hospital staff, and other healthcare professionals and executives, along with healthcare food service directors and executive chefs. Continuing education credits are available for this event, too.
Through April
Cost: Free
Virtual
This special series started back in October 2020 and is still providing value to its participants through April 2021. Each session offers a different topic, allowing you to pick and choose which ones are most applicable for your workplace. The virtual workshop series is free but requires registration for each session you plan to attend.
Upcoming workshop highlights:
A New Year: 7 steps to re-focus on mental health in 2021 (Jan. 14)

Building Psychological Safety and Wellness at Work (Feb. 11)

Supporting Your Decentralized Workforce (March 11)

Innovations in Worksite Wellness (April 8)
Can't attend live? No problem. Each session is recorded and available for those unable to participate live.
April 8, 2021
Cost: TBA
Virtual
This conference is perfect for those who want to know about trending corporate wellness topics and employee well-being. This will be the second year the event is virtual, giving attendees access to nationally recognized health and wellness experts. Speakers at prior conferences include professionals from Harvard University, New Balance, Plus One/Optum, Wyndham Worldwide, Cornell University, Putnam Investments, The Denver Broncos, and Brown University.
Highlights:
Keynote speakers

Interactive sessions

Networking opportunities
This event is best for those interested in well-being trends, including senior executives, human resources professionals, benefits managers, registered dietitians, and other health professionals.
October 31 - November 7, 2021
Cost: TBA
Captiva Island, Florida
For those in need of an escape, this all-inclusive program is focused on those looking to improve their mind, body, and spirit. Cleveland Clinic experts share their best health tips and the latest fitness and nutrition research at this week-long event in Florida.
Highlights:
Unlimited fitness classes

Anti-inflammatory daily meals and snacks

Health talks by Cleveland Clinic physicians and specialists from the Wellness & Preventive Medicine and Women's Health Institute
This event is the 41st annual Women's Wellness Week and is ideal for female employees interested in improving their health and well-being through hands-on experiences and educational programs.
Ongoing
Cost: Varies by workshop
Virtual
Whether you're looking to help your team better manage stress, build resilience, or improve mental health, you might consider a quarterly training or webinar like the ones offered through Interpersonal Wellness Services, Inc. run by Joyce Odidison.
Workshop options include:
Building Resilience

Stress Management

Preserving Mental Wellness
Each of the webinar times varies, depending on the needs of your organization. You can book a session as short as 90 minutes or as long as 2 days.
Expand Your Wellbeing Knowledge With a Wellness Event
Continuing education at specialized wellness events is a fun way to discover wellness program ideas to revitalize your employee health initiatives. It's also an excellent way to inspire your employees with exciting new content and ideas to live their healthiest lives. This year, you don't even have to travel to get a comprehensive experience, either!
Other conferences that will release details soon:

Here's to your success with 2021 wellness event planning! Which health and wellness events will you attend in 2021? See one not listed? Let us know in the comments below.