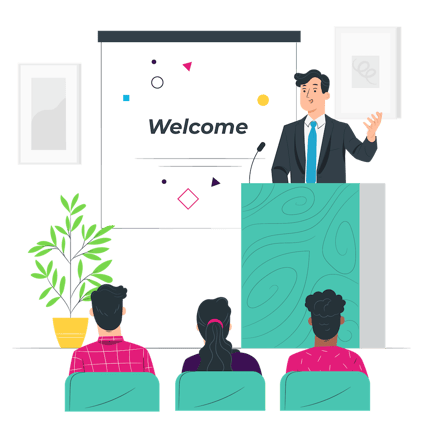 Need some inspiration for your 2022 wellness campaigns?
You'll find plenty of ingenuity if you head to a wellness event — whether online, in-person, near or far — to gather the latest trends, insights, and ideas for workplace wellness.
Wellness events and conferences are the perfect way for HR reps, benefits directors, wellness committee members, and health directors to network and learn about upcoming wellness trends to bring into the workplace.
After the last few years, wellness programs at work need to look a lot different. Attending innovative wellness events can help you get the inspiration you need to revamp yours.
If you've been looking for a way to increase interest in your company's wellness programs, attending wellness events together is one way to do it! Below, you'll find the dates for national and international wellness events, the highlights of each event, location, and all the details to get your team pumped up.
Here are 11 wellness events to consider sending your team to for a healthier new year:
January 13-14, 2022
San Diego, California
Want to hear about how top organizations like U-Haul, Chegg, Gallup, and the like tackle workplace wellness solutions? Then this summit is for you. This event is aimed at benefits professionals, CEOs, CMOs, health coaches, and others interested in creating wellness programs in a new era of remote working. Attendees can expect a two-day conference, including a workshop as a wrap-up to the summit. For a peace of mind experience, all attendees and speakers will have access to free COVID-19 testing, too!
Highlights:
Networking breakfast

Keynote speech: Humanizing Business. Igniting Human Potential.

Engaging Employees in their Health and Wellness

by Kent Carter

Why Corporate Wellness Programs Need to Address Mental Health

by Tracy Clemente, Manager, Benefits and HR Operations at Chegg, Inc.
When booking, if you're planning to stay at the Hilton San Diego Bayfront, be sure to mention "BRI Network" to get the discounted rate of $269 per night.
March 9-10, 2022
London
This event is broken down into three series: Business Revival Conference, Corporate Well-Being Expo, and the Remote Working Expo. Sponsored and supported by brands like Google, TikTok, and The British Business Club, this event will connect you with reputable brands,big ideas, and ways to revamp your corporate wellness plan in no time. Best of all, it's free!
Highlights:
Breakout Q-and-A sessions

Free event for professionals to attend

More than 10,000 businesses under one roof

Discover new employee benefits and resources for your employees

Exhibitors like Abstract PR, Bengbis Airlines, CEO Today, Big Box Creative
Attended by over 2,000 visitors, attendees are bound to enjoy the face-to-face networking, idea generation, and workshops available to improve upon corporate wellness.
March 9-10, 2022
Lynnwood, Washington
Health professionals, safety and risk management pros, and wellness coordinators will find this two-day event helpful in discovering the latest trends in workplace health promotions. If you're looking for inspiration from health promotion thought leaders, training experiences in workshops, and an opportunity to network with other health promoters, Healthy Worksite Summit is for you. Stay tuned as more details come out in the upcoming weeks.
Highlights:
Check out exhibitor resources for ways to enhance employee health

Get continuing education credits from the National Commission for Health Education Credentialing, Inc.
Planning ahead to next year already? Save the date for the Healthy Worksite Summit's March 29-30, 2023 event now!
March 11-20, 2022
Austin, Texas
This Texas-based wellness expo is open to the public and offers an opportunity to engage with others interested in healthy living, along with wellness companies. The event can be attended both online and in-person, making it easier for companies to "send" employees to a major wellness event.
Highlights:
Free admission

Health and MedTech sessions

​​Fitness stage to explore free workout classes

"Conscious Conversations" chat area
Stay tuned for an updated list of sessions and speakers in early 2022!
March 16-17, 2022
Salt Lake City, Utah & Virtual
Learn what you need to rejuvenate your wellness program on an organizational and personal level after attending this event. If you're in HR or on your company's wellness committee, attend this event if you're looking to refresh, refocus, and reconnect on what is important when it comes to your worksite wellness programs. Both in-person and digital options are available.
Highlights:
Explore employee wellness industry trends

Speakers like Blake Cason (Pivot Wellness); Brighid Sullivan (Wellable Labs)

Exhibitors like Get Healthy Utah, Salt Lake County Health Department

Keynote addresses The Unfortunate Truth About Wellness Surveys and Culture
Download the Whova app once you've registered to keep all of the event's agendas, sessions, details, and activities in one spot. Learn more here.
April 11-13, 2022
Washington, DC Metro Area
The need for mental health help in both the workplace and our world has never been more essential. If you're a mental health clinician or involved in the mental health world somehow, this event is for you. Hear from influencers and health care experts and dive into topics, including mental health at work. Sixty-five percent of those who attend NatCon are C-Suite or Executive Level decision makers.
Highlights:

250+ conference  sessions and workshops

Continuing education credit opportunities

In-person networking with health care colleagues

Immersive exhibits showcasing the latest innovations in health care

Featured speakers like Marshall Goldsmith, Dr. Miriam Delphin-Rittmon, Kevin Hines, Jenniffer Moss, and more
Note: Groups will receive a discount for purchasing tickets together. By purchasing two registrations at full price, you get $50 off the full conference rate for each member of your group registered thereafter.
May 11-13, 2022
Atlanta, Georgia
Returning to a post-pandemic world has been challenging, new, and enlightening. As the workforce returns, how will your company guarantee employee wellness? This 3-day conference creates conversations and practical ways to use wellness and ergonomic strategies to expand organizational efficiency. Attend and interact with fellow professionals from industries including real estate, risk management, safety, and human resources.
Highlights:
Conference excursions including golf and/or World Series game

Hear from Mark Victor Hansen, co-author of Chicken Soup for the Soul

Speakers like Dr. Melissa LaMarche, Dr. Jess Goodman, Dr. Peter McCullough, and others
Topics will include insights on influencing remote wellness, working less while doing more, staying positive, chronic stress impacts, posture and brain function, and more.
May 16-19, 2022
Atlanta, Georgia
Attendees can expect the agenda to tackle today's most prominent workplace issues, including but not limited to: The Great Resignation talent exodus; navigating hybrid/distributed/flexible workforces, and new ways of leading, managing, collaborating, and cultivating culture.
Highlights:
Additionally, you can enjoy talks on topics like "Letting Go and Getting Real. The Power of Love and Laughter in the Workplace"; "Messaging and Mattering: How Feedback Fosters Well-being at Work"; and Building Psychological Safety into the Future of Work.
October 19, 2022
Virtual
Looking for ways to keep your employees mentally and physically in the game? This virtual event is for you. Long gone are the days where employees must check their personal lives at the door. The pandemic proved that work and life are deeply intertwined and that wellness programs need to support stressed-out, overwhelmed employees in more ways than one.
Highlights:
No travel required

Virtual networking

30-day access post-conference to digital resources
Want to attend a variety of series throughout the year? Check out the full package to access series like Engage Your People, Develop Your Workforce, Acquire the Right Talent, and more.
June 13-15
Singapore
Fitness and wellness junkies, rejoice! You can finally come together at this massive wellbeing gathering. This event is made for those in the health, fitness, and wellness industries looking to network, see product launches, and learn about new trends, products, and innovations. From networking receptions to chill lounges and leadership summit events, this event unites wellness professionals from around the globe in one spot.
Highlights:
1000+ companies in attendance

3,000+ business owners, managers & investors

75+ expert speakers like Dr. Jason Wersland, George Flooks, Greg Oliver
Interviews, masterclasses, panel discussions, and networking are just a sampling of the event's jam-packed schedule.
August 22-24, 2022
Gold Coast, Queensland, Australia
Mental health awareness is more than a buzzword these days; it's essential to workplace wellbeing. This symposium focuses on ways to create a mentally healthy workplace where all employees feel safe and supported. Attendees will tackle this tough topic and break down the signs of mental distress, how to effectively respond to colleagues with mental illness, the cost of poor mental health at work, and more.
Highlights:
Discuss the workplace wellbeing process

Share best practices and real solutions for all types of work budgets

Explore technology to provide better mental health and wellness outcomes for employees
As the event date gets closer, the Symposium Program Advisory Committee is seeking presentations of varying styles, whether case study examples, emerging research, project or program analysis and learnings to present. If interested, reach out and apply to present.
Which health and wellness conferences will you attend in 2022? See one not listed? Let us know!