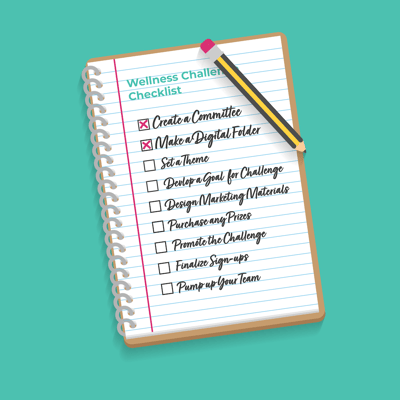 Ready to host your next work wellness challenge?
Before you dive headfirst into planning, an organized approach can ensure the wellness budget and time are used effectively.
Wellness challenges are an excellent way to bring teammates together for a fun, common goal. It's an opportunity to bond over well-being instead of work projects. This post defines a wellness challenge, the benefits of hosting one, and the step-by-step approach to take to make sure it's done well.
Read on and you're off to the wellness challenge races!
What is a Wellness Challenge?
A wellness challenge increases employee engagement in health and wellness campaigns in the workplace in an exciting way. These challenges generally spur a healthy competitive spirit and camaraderie among colleagues while focusing on creating positive lifestyle changes.
Challenges are one of the best ways to bring your team together over a common lifestyle topic everyone can get on board with — getting healthy!
The Benefits of a Work Wellness Challenge
If you're looking to shake up your wellness campaigns at work, a wellness challenge is a simple way to do it. Best of all, these can be done with both in-house and remote employees so no one will feel left out!
Here are a few reasons to invest in planning one:
Offers healthy competition

Adds to work satisfaction

Further improves teamwork

Builds confidence for individuals

Provides actionable health ideas

Creates a sense of camaraderie
Setting up a wellness challenge can be a little bit time-consuming, which is why you might decide to opt for a mini monthly challenge over a larger-scale challenge. It's up to you!
Your Checklist for Creating a Wellness Challenge
If you're feeling a little overwhelmed with getting started planning your wellness challenge, fear not! Below, we have a list of action items to consider as you start developing your wellness challenge ideas further.
Create a Committee -

If you'd like to plan an effective wellness challenge,

forming a wellness committee is a helpful first step. An initial brainstorming session is a great way to spitball and bounce ideas off a variety of team members for creating an inclusive wellness challenge. Ask volunteers from various departments to add their thoughts and get feedback from employees to bring into planning sessions.


Make a digital folder -

Since planning a wellness challenge usually involves more than one individual, stay organized by giving anyone involved access to the file folder, Dropbox, Google Drive, etc. to allow digital files to be dropped into any time. This is also a great place to keep those initial brainstorming notes to refer to later when creating the next challenge.


Set a theme -

Themes are the perfect way to narrow down your challenge goal and boost engagement numbers. An employee may be well-educated when it comes to nutrition, but they may not have a firm financial IQ that they're comfortable with. Creating a variety of themes throughout the year ensures participation from a variety of individuals and that there's an interesting option for everyone at some point in time.

Develop a single goal for the challenge -

Think of a singular goal you'd like your participants to experience by the end of the challenge. For a shorter mini-challenge

, a single goal makes it less overwhelming and easier to track.

Design marketing materials -

Once the theme and goal are picked, it's time to start designing marketing materials. If you have a creative person in the office, they can design a variety of free materials on sites like Canva that make it simple to pop in text and photos.

Purchase any prizes -

Ahead of the challenge, purchase any special prizes, giveaway items for raffles, etc., and keep track of each item in a spreadsheet. Keep this spreadsheet in the shared digital folder.

Promote the challenge -

A month or so before the challenge starts, it's time to begin marketing your event. You'll want to soft market via email, fliers, social media, intercommunication channels, etc. leading up to the event. Two weeks before, increase your marketing efforts and finalize any sign-ups.

Finalize sign-ups -

Set a deadline for your employees to sign-up for the challenge. This gets them to commit to the challenge and enforces in their brain that they're actively getting ready to make a positive lifestyle change.

Pump your team up -

This step goes along with your marketing plan. The week leading up to your challenge, send out friendly reminders. Encourage your staff and remind them about giveaways, raffles, and the ultimate prize — good health. Give them any trackers, printables, books, etc. the day prior to the challenge start date.

Start the challenge - Once everyone is good and pumped up, it should be simple to get the challenge going.

Do check-ins -

See how your wellness committee can encourage fellow employees. Accountability partner check-ins can be useful to keep engagement high until the end of the challenge.

Gather feedback -

Once the dust has settled from all the excitement of a wellness challenge, take a moment to gather important insights.
The Most Important Checklist Item

Above all, have fun. That's what challenges are about. If it's getting too serious, you'll know by any complaining and/or engagement rates dropping off rapidly. Get feedback as you go and ask employees how to up the fun factor.
Simple Wellness Challenge Ideas to Consider
There are a ton of different options for themes and topics you can cover with your workplace wellness challenges. Wellness committees can opt for mini monthly challenges, quarterly challenges, or larger annual challenges. A theme is certain to simplify marketing efforts.
Here are some ideas to consider tackling:
Water challenge

Steps challenge

Eat clean challenge

Self-help reading challenge

Financial wellness challenge
Whatever theme is chosen, enlisting the thoughts and opinions of employees will guarantee more engagement and overall participation. Ask for critical feedback before planning to save time, money, and limit disappointing turnouts!
Kick-Off Your Next Mini Wellness Challenge Today!
Now that you've got the insight, inspiration, and checklist, it's time to start planning your next wellness challenge! Regular wellness steps are the key to productive, healthy, and happy workplaces.
If tackling a once-a-quarter or annual wellness challenge seems too daunting, consider downloading our mini workplace wellness challenges! These should take less than a few hours to put together and create inspirational opportunities for your employees to improve their lifestyles.
If you love them, you can do one every month for a full year — it's all planned out for you.
Download our mini wellness challenge idea guidebook here!