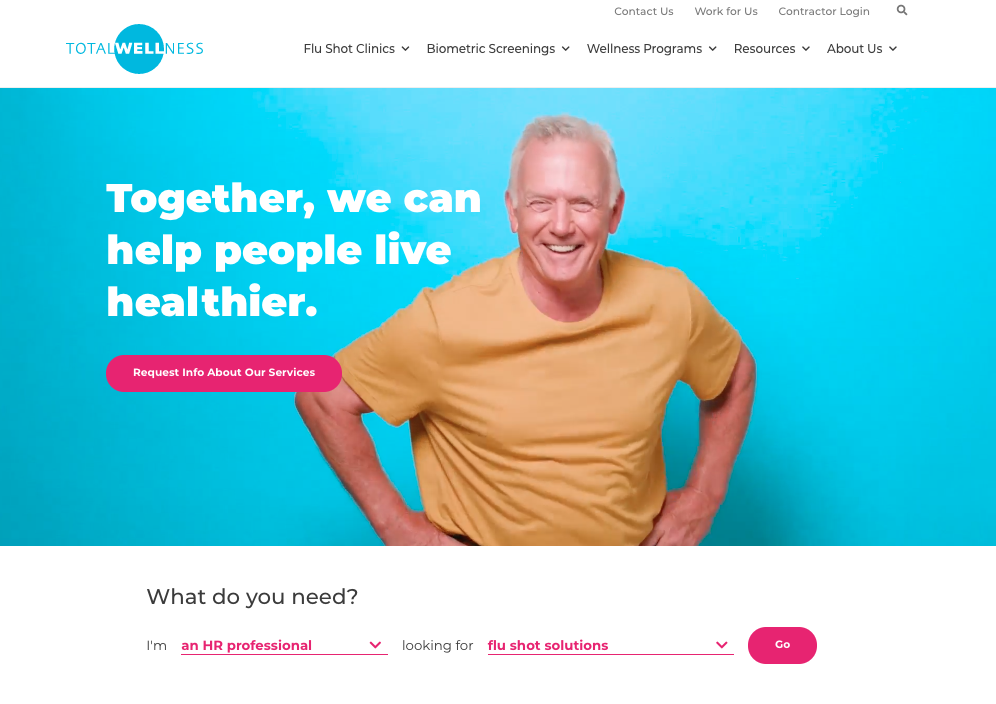 You may have noticed things look a little different around the TotalWellness website these days.
On August 15, we launched our brand-new website redesign.
While our navigation is new, our mission is still the same: to help people live healthier lives. To keep you updated, we're sharing the details of what's new and exciting around these parts of the web.
Read on to learn about what's changed and where your favorite content now lives.
Here's to Empowering Your Healthy Living Experience
At TotalWellness, our goal is to empower people to live healthier, longer lives. We love connecting employers to useful content, resources, and services that help create a stronger and more productive workforce.
Because you trust us to be your source for reliable content and relevant services, we felt it was time for a little makeover with how we present wellness insights to you. While we may have made a few tweaks to our website, you'll still find all the health news, resources, and services you've come to know and love.
We hope you'll take the time to explore the new navigation and discover our new look. You can still expect the same type of content and services with just a slightly new look.
Here's to your new TotalWellness experience! Take a closer look at what's new:
Real Friendly Faces Greet You
Upon landing on our home page, the first new detail you'll notice is our reel with live people smiling and jumping right onto the page. We want you to feel welcome as soon as you open the TotalWellness home page. After all, you're here to learn how to be happier and healthier, right?
What Do You Need?
At TotalWellness we're interested in catering to our customers' needs. Since each company we work with has different wellness concerns, it's important for us to know how we can best serve you.
Our new drop-down menu focuses on:
HR professionals

Wellness participants

Wellness providers

Healthcare professionals
Whether you're looking for details on flu shot clinics, wellness program solutions, or biometric screenings, our drop-down menu will put you in the right place to get the information you need fast.
Easy Access to All the Resources You Need
One of our goals at TotalWellness is to educate our readers on the latest health trends and ways to keep employees healthy and happy. Our old site hosted the blog and resources like free e-books under two separate tabs. You'll now find our blog, podcast, and FAQs happily living under a single tab known as "Resources" at the top of our home page. This is where you'll find information on everything from "How to Host a Successful Flu Shot Clinic" to "52 Energy Boosters for Every Week of the Year".
Beautiful, Bright Imagery
Perhaps one of the biggest changes you'll see throughout our new site is the use of bold imagery. We kept our signature vibrant blue — we're still the same brand after all — but added in crisp, fresh images that practically pop off the page. Our goal was to provide a visual experience that is both eye-catching and inviting all at once.
Testimonials Section
We've got some happy, happy clients. We work hard to get our clients what they need. And because of that, we have some pretty terrific testimonials to share. Check out our new testimonial section from the companies we serve like BarkBox, HSBC, and eBay.
A New Design for a Better Experience
It will take some time to get used to the new website, sure.
But once you know your way around the site, we think you'll find it's exactly the update that was needed — less tabs, better graphics, and easier-to-find content all aimed at creating a better user experience.
We believe you'll agree.
From flu shots to healthy living advice, we're still the same TotalWellness brand you've come to know and love. We just look a little different now. We hope you love it.
What do you think about our new look? We'd love to hear your feedback on Facebook and LinkedIn!