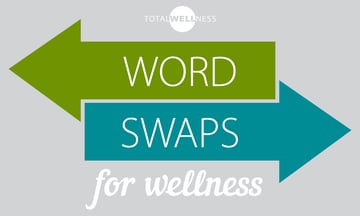 It might seem like an obvious statement, but the language and words you use play a role in how effective your communication with your employees is. When it comes to employee wellness, you need to choose those words wisely!
Health and wellness can be a challenge for many employees. It's an intimidating process that some people don't like to talk about. It's also a long-term challenge that relies on constant and consistent motivation.
Positive messaging is important for this type of long-term change. Communicating positively about employee wellness makes living a healthy lifestyle seem more "do-able." It can also help aid in relationships—and any healthy journey is easier with a strong support system by your side.
Transitioning to positive messaging in your wellness program doesn't have to mean a complete overhaul of your wellness communication plan. In fact, it can start with the simple, interpersonal interactions you have with your employees at work.
Some words bring about automatic negative thoughts and feelings—whether we recognize it or not. When you're talking to your employees about wellness, swap out these negative words for something a bit more positive!
| | | |
| --- | --- | --- |
| Swap… | With… | Because… |
| You | We | Health can be hard, and it's important employees feel like they're not alone. |
| Should | Can/Could | Words can empower, so don't let words like 'should' shame or guilt your employees. |
| Problem | Challenge/Situation | Nobody wants to face a problem. Present tough situations as challenges to be overcome. |
| Always/Never | Often/Seldom | Extreme words not only bring about extreme feelings, but they're oftentimes untrue. |
| Try | Commit | Encouraging employees to make a commitment is much stronger than asking them to try. |
| Impossible | Possible | Nothing is truly impossible. Use the word possible to get employees to think outside the box. |
| Criticism | Advice | Everyone needs a little help here and there. Be sure to frame that help as advice for more positive results. |
| Hate/Dislike | Prefer | Communicating the options you prefer is a more positive message than talking about the things you don't like. |
It might not always be obvious, but the words you use make a difference in your employees' health journeys. Avoid using language that brings about negative thoughts and feelings. Instead, focus on empowering your workforce with more positive word choice.
What words do you focus on when it comes to employee wellness communication?