Summer is finally here! That means tropical vacations, outdoor BBQs, and plenty of time under the sun. While this beautiful season offers employees the chance to get more active outdoors, it also comes with a few potential dangers if they're not careful.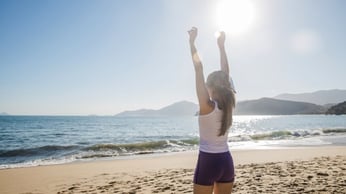 Too much time in the sun can lead to wrinkles, premature aging, and even skin cancer. It's important that your employees understand the importance of sun safety, as skin cancer is the most common type of cancer in the United States. In fact, according to the Skin Cancer Foundation, one in five Americans will develop skin cancer by the age of 70.
While skin cancer is the most common form of cancer, it's also the most preventable form of cancer. By practicing safe sun habits, your employees can significantly reduce their risk of developing sun cancer. We created this free guide to help you educate your employees on how to stay safe in the sun this summer.
In this guide your employees will learn:
Best practices for sun safety
How to choose the best sunscreen
Common risk factors for skin cancer
Tips for skin cancer prevention
Here's a sneak peek of what you'll find when you download the Summer Sun Essentials guide:
Sun Safety Habits
Everyone knows that they should be lathering up on sunscreen before leaving the house. But unfortunately, sometimes wearing sunscreen just isn't enough to fully protect against the sun's harmful rays. In addition to wearing sunscreen, you should also:
Wear protective clothing
Check the UV index for the day
Limit time spent outside during peak sun times (typically 10 a.m. to 4 p.m.)
Add some antioxidants to your diet
Stay aware of your medications and how they could react with the sun
Protect your eyes
Properly treat your sunburn
Tips for Choosing the Best Sunscreen
Applying (and reapplying!) sunscreen is one of the most effective ways to protect your skin from sun damage. However, not all sunscreens are created equally. With so many different lotions and sprays on the market, it can be tricky to decide which sunscreen is the best choice. The U.S. Food and Drug Administration (FDA) recommends following these guidelines when it comes to choosing your sunscreen:
Choose a sunscreen with "broad-spectrum" protection
Choose a sunscreen with a sun protection factor (SPF) of 15 of higher (SPF 30 or higher for those with fair skin tones)
Stay mindful of ingredients
Even effective sunscreens won't fully protect you if they aren't be used properly. Be sure to follow these sunscreen tips:
Always rub in spray-on sunscreen (if not, you'll be left with streaky protection!)
Apply sunscreen at least 30 minutes before sun exposure
Reapply sunscreen every 2 hours, or every 40-80 minutes when swimming
Pay attention to expiration dates – sunscreen loses a lot of potency when it's expired
Apply SPF under your makeup every day
Use sunscreen even when it's cloudy out
Use a lip balm that contains sunscreen with an SPF of at least 30 to protect your lips
Skin Cancer Risk Factors
Although skin cancer can be a difficult topic to discuss, it's vital that your employees understand the risk factors, warning signs, and prevention practices of skin cancer. Staying informed will help your employees better protect themselves from the most common type of cancer in the U.S.
Along with sun exposure, there are other common risks of skin cancer. According to Cancer Treatment Centers of America, some risk factors of skin cancer include:
Older age
Gender (men are twice as likely to develop basal cell carcinomas and three times more likely to develop squamous cell carcinomas than women)
Skin tone
Amount of moles
Family and personal history
Smoking
Chemical exposure
Previous medical treatment
Skin Cancer Prevention
While skin cancer is the most common type of cancer, the good news is that it's also the most preventable type of cancer. In most cases of skin cancer, the cancer is caused by sun exposure and skin damage from UV rays. To help reduce your risk of developing skin cancer, you should:
Always practice safe sun habits
Stay away from tanning beds
Perform self-exams
Schedule regular checkups with a dermatologist
Our guide also includes a printable tip sheet to pass around at the office to help employees stay safe in the sun this summer!
We know that many full-time employees look forward to the summer season all year long. After all, it's the perfect time to explore the outdoors, go on new adventures, and enjoy a well-deserved vacation. By educating your employees on the importance of sun safety, they can enjoy their summer without worrying about damaging their skin.
Click here to download the full guide! We hope it helps you and your employees have a healthy summer.
Which sun safety tips do you practice? Let us know in the comment section below!
Like this blog post? Share it with your employees or co-workers with this printable version of the blog!
Image created by Freepik