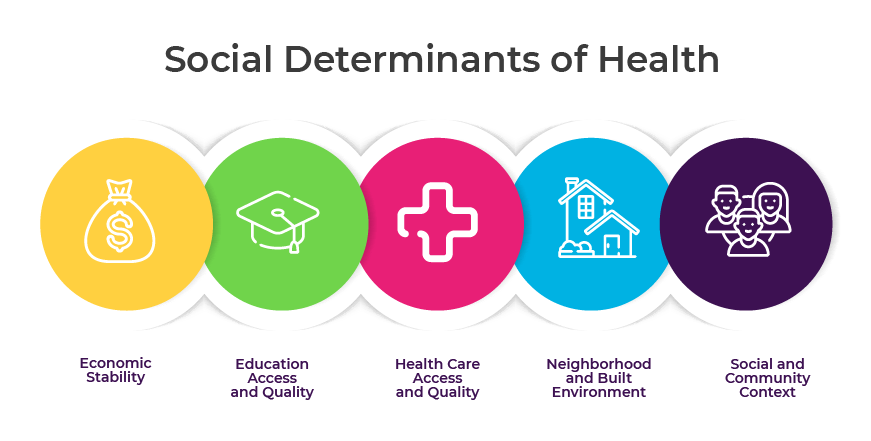 Healthy workers don't just appear.
It takes resources, knowledge, and investment for employees to maintain their well-being.
Unfortunately, some may be way behind the starting line for healthy activities, knowledge, and well-being resources, making it feel like an unreachable goal. This may be the result of a term called Social Determinants of Health (SDOH), which includes the environmental conditions people are exposed to regularly through work, play, and more.
In fact, social determinants have a huge impact on health outcomes, especially for vulnerable populations.
That's why making the workplace a safer, more inclusive environment can make all the difference to workers, especially for those who may not have equal access to healthcare and well-being options.
Below, we share all you need to know about SDOH, what it means to companies, how it impacts well-being, and practical strategies to ensure your company isn't missing the mark.
​What are Social Determinants of Health?
Social determinants of health (SDOH) are the environmental conditions where people are born, learn, live, work, play, age, and worship. These conditions impact a variety of health ranges as well as quality-of-life outcomes and risks, according to the Office of Disease Prevention and Health Promotion. Five areas make-up SDOH.
These environmental conditions are grouped into five domains including:
Economic stability

Education access and quality

Health care access and quality

Neighborhood and built environment

Social and community context
Why Social Determinants Of Health Matter for Workplaces
Research indicates SDOH has a huge impact on individuals, including their quality of life and overall well-being. The above five factors also are known for contributing to health inequities.
For example, if someone lives in an area where the water is unsafe to drink, the air is polluted, and there is limited access to physical activity and nutritious meals, it makes it much more difficult for them to thrive. This raises the risk of conditions like diabetes and even heart disease.
A recent report also found social determinants are often where employers' health investments aren't made enough. The report, published in February 2022 by the Northeast Business Group on Health, revealed how SDOH is often an overlooked contributor to employee health as well as total healthcare costs.
Despite many workplaces offering better benefits and more health "perks", it's obvious from the struggles of those with chronic health conditions like obesity that something is missing.
Here's how the report breaks it down:
Health and well-being -

Happy and healthy employees are what all companies desire. But, if employers are blindly offering healthcare (more than 50% of the U.S. population is covered under employer insurance) without considering the way their workers' social determinants may negatively impact care and well-being, it's not going to be well optimized.


Health outcomes -

According to the report, 80% of health outcomes like life expectancy and healthcare spending are impacted by SDOH.


Cost management -

How will a wellness program help those who really need it (like the employee living in a poor area of town without access to healthy food options) and avoid expensive medical interventions (which often falls onto the employer if they provide healthcare) if SDOH isn't discussed and considered? Employees negatively impacted by their social determinants are more likely to have issues from chronic conditions because their healthcare access is limited.
Additionally, the health effects of work stressors contribute greatly to whether an employee can maintain a healthy sense of well-being. Research shows that a variety of health issues crop up, including issues like high blood pressure, cardiovascular disease, depression, acute injuries, substance abuse, and more. This, in turn, impacts businesses due to turnover, absenteeism, workers' compensation, and beyond.
Work as a Social Determinant of Health (SDOH)
For the workplace, it's important to remember how different aspects can impact the health of employees. This includes everything from employee wages to work environment and job security. Income is probably considered one of the most important SDOHs because of the access it grants to products and services that have the biggest impact on health-related behaviors.
Other ways the workplace impacts SDOH:
Often a source of health insurance

Provides prestige and power

Working conditions and/or exposures

Social support networks
Those individuals who can't hold a job, whether due to disability or other reasons, can miss out on opportunities to improve their health and well-being by not being employed.
But, even for those who do have the opportunity to work, the workplace isn't necessarily always a healthy place to be.
Two examples include:
Work is not always physically healthy -

In fact, 2.8 million Americans deal with workplace illness or injuries annually. Certain physical demands are often delegated in higher percentages to specific races. For example, Hispanics (33.80%) are often carrying/moving heavy loads compared to 17.38% of Whites and 30.48% of Blacks, according to the

2015 American Working Conditions survey.


Work can often be psychologically unhealthy -

Too much stress can exacerbate mental illness, including issues like

anxiety

and depression. Tight deadlines, long hours, and increasing workloads can contribute to these. According to Mental Health America's

2021 Mind the Workplace report

, nearly 83% of respondents felt emotionally drained by their work.
Creating Healthier Workers Using SDOH as Guidelines
By better understanding how social determinants drive health care and well-being disparities, leaders can make better decisions around creating a safe, supportive workplace.
While offering employees wellness and health programs aimed at keeping them well, it's important to also keep in mind the link between well-being and diversity, equity, and inclusion (DEI). Doing so means going beyond just physical fitness challenges and mental health resources; it means also remembering to include financial health and social equity as part of well-being campaigns.
Here's how employers can better serve workers:
Offer an SDOH survey -

It's a learning process, but having one can create a better understanding of the most identified needs in your workplace. Ask employees what they and their family members need to improve their health. Ask what their struggles are on a daily basis. Make the survey anonymous to allow employees to open up.


Underrepresented populations may need extra help -

Once the results do come back, leadership will see that these individuals probably have more mental and physical challenges. The pandemic in particular showcased the existing health disparities, including

higher rates of infection, hospitalization, and death among Black, Hispanic, and Asian people compared with Caucasians.


Understanding safety begins with leadership -

Company leadership must talk about safety, well-being, and healthy behaviors. Starting these conversations inside the workplace can extend skills and knowledge for employees to apply when they're outside the workplace, making them safer. This includes modeling safety in the workplace, offering appropriate messaging, discipline, and praise for safety when the appropriate protocol is followed.


Build a "safe" culture -

Workers need to know that not only are their skills appreciated but they are accepted as they are. Leadership must create a climate of tolerance that allows employees to speak up. On this same note, it's important for a company culture to also encourage peers to engage in respectful conversations and also respectful disagreements, as needed.


Take a closer look at the physical work environment -

Make it easy for the healthy choice to be made when workers are on the job. Offer a quiet room, a walking path, a gym, or healthy food options. Think about it: Some workers may only have access to these when they are at work. Does your work environment support an overall healthy workforce?


Host lunch and learn events with subject matter experts -

Even the best of workplaces can benefit from experts in the field of psychology, racial inequality, and well-being. Consider bringing in experts to discuss issues like the impact of racial trauma and injustice, emotional labor, and more to help workers better understand emotional trauma.


Collaborate -

One of the best ways to improve health and reduce disparities is by looking at ways to collaborate with local community organizations. Whether that's paying your lowest-paid workers more or even offering a food bank at work, there are a variety of ways to empower employees negatively impacted by SDOH.
Simply promoting healthy choices and campaigns won't eliminate health disparities. But, partnering with public health organizations and working closely with employees can make a deeper impact that makes a difference. Here are some specific examples of how partners of Healthy People 2030 are working to improve programs, policies, and interventions to better people's environments.
Well-being goes deeper than most people have the time, interest, or energy to explore. But a long-term successful business strategy will include opportunities to help employees do better, feel better, and experience well-being in a wholesome, deeper way by considering the Social Determinants of Health from the start.
Interested in investing in your community's health? Learn more through Healthy Workplaces Healthy Communities about why investing in your local communities can create a healthier, stronger, and more productive workforce.
How does your company incorporate SDOH when creating wellness campaigns and programs?