When was the last time you got lost in a really good book? If it's been longer than a year, it's time to dust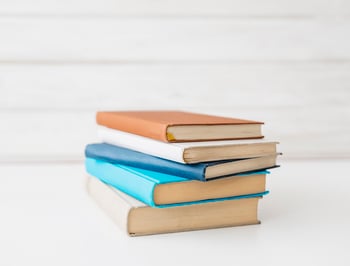 off your library card. Or pile a stack into your Amazon cart.
Aside from the joys of reading to learn something new, there are neurological and mental benefits of reading, too. Studies show stress reduction, mental stimulation, memory improvement, and improved focus are just a few of the immediate benefits.
If you enjoy reading about health and wellness in particular, then you'll love our list of books below to keep you on the path to happy and healthy.
Whether you're interested in physical, mental, or spiritual health, you'll find a book below for you.

Happy reading!

Add These 10 Health and Wellness Books to Your Reading List:
By Jennifer Adler, Jess Thomson
Nutritionist Jennifer Adler shares her devastating yet inspiring personal story of growing up in poverty and how long-lasting abuse and malnutrition impacted her early on. Determined to find a path of healing, she learned how to heal herself from the inside-out with food.

Now, she works as a nutritionist to help clients discover their healthiest selves and the power of healthy eating. Part memoir, part healthy eating guide, this book encourages readers to develop lifelong healthy eating habits.
The New York Times bestselling author encourages positive thinking with this short, powerful read. The concept of "change your thinking, change your life" is a big one throughout the 121-page book. From practicing unselfish thinking to harnessing creative thinking, it's a book that is all about, well, thinking. Readers of this book will find inspirational quotes and guidelines to start thinking like a successful person.
By Tom Brady
Even if you're not a Patriots fan, there's no denying the legendary Tom Brady is the picture of perfect health. Despite being in his 40s, Brady moves with the speed and precision of a much younger athlete. In this book, he details his approach to long-term fitness, including illustrated pages of his regular stretching and workout routines. Non-inflammatory recipes that Brady swears by are also included in this #1 New York Times bestselling book.
By Phoebe Lapine
Food blogger Phoebe Lapine shares her journey in this memoir of finding her own healthy balance after being diagnosed with an autoimmune disease in her 20s. This read is for anyone who suffers from autoimmune issues as well as those looking to achieve optimum health in their own unique way. Lapine details her 12 wellness directives — like eliminating sugar and discovering her spiritual side — in hopes of encouraging readers to find what makes them well too.
By Marie Kondo
They say a clean space means an uncluttered mind. Readers go on a journey with Japanese cleaning consultant Marie Kondo as she shares her KonMari Method to declutter, simplify, and organize home spaces. Find out how to determine what brings you true joy, and what items don't, and how to get rid of your clutter piles forever. This book may bring inner peace from cleaning out your home, office, and other areas you've been avoiding tackling for the last decade.
By Gabrielle Bernstein
Discover mental release after following this book's six-step process and applying each to your daily life. Each step builds upon itself to help readers let go and allow feelings of pain, suffering, and judgment disappear. The book's teachings collect spiritual principles from a variety of sources, including tapping, Kundalini yoga, prayer, metaphysical teachings, and more. The author promises readers will spread love and "live a miraculous life" after reading and following the teachings.
By Greg McKeown
If you've ever wondered how to apply yourself to gain your life's biggest reward, this book is for you. This book doesn't promise a time management strategy or numerous new-age ways to be productive. Instead, it offers a "systematic discipline" to figuring out what is essential in one's life. McKeown's end goal is for readers to take away knowing where to place precious time and energy to achieve their highest potential.
By Rhonda Byrne
Based on the 2006 feature-length film of the same name, this book is one for those who believe in building their own destinies. Throughout the chapters, "The Secret" is revealed and how to use it in all aspects of life to create exactly what you envision for your health, relationships, happiness, and more. Readers looking to deeper explore their talents and untapped potential will find this book's perspective interesting, inspiring, and challenging. Looking for a mentally and spiritually challenging book? This one is it.
By Dr. Michael Greger
The founder of NutritionFacts.org reports on the 15 top causes of premature death in America, including high blood pressure, various cancers, diabetes, and more. Dr. Greger — who is also a nutrition expert — offers explanations of how nutritional and lifestyle interventions can often be a better option over surgical and/or prescription pills to help prevent and reverse such diseases. In addition to offering in-depth research, Dr. Greger also shares a checklist of the 12 foods that should be eaten each day for overall optimum health.
10. 10% Happier
By Dan Harris
Take a journey through a meditation skeptic's eyes in this book. Nightline co-anchor Dan Harris shares his personal experience of having a nationally televised panic attack and how he forced himself to slow down and reflect. Along with Harris' personal tale, this book also weaves in neuroscience facts of how exactly meditation improves the human mind and spirit in more ways than one.
What are you currently reading right now? Share below!
Image created by: Freepik