August is National Breastfeeding Month.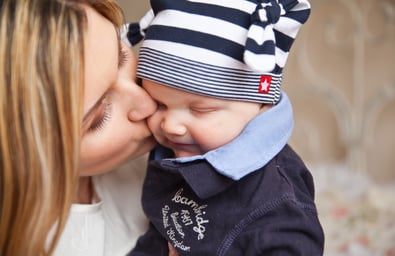 To kick-off the month, August 1-7 is World Breastfeeding Week. Since breastfeeding (including pumping at work) can be a sensitive subject, it's best for employers to approach it with a "just the facts" attitude. This includes offering insight and education to workers on their rights and the laws surrounding breastfeeding.
Lactation laws exist, which includes having a private room for female employees to express milk.
Here's a look at what employers need to know to best support breastfeeding moms this month and all year long:
What is National Breastfeeding Month?
This relatively new awareness month was created by the United States Breastfeeding Committee (USBC) back in 2011. The month-long event is focused on celebrating breastfeeding benefits along with ensuring policies are created to protect the right for women to breastfeed.
Every year, the USBC launches social media messaging and/or outreach campaigns surrounding breastfeeding support.
Pumping at Work Laws: What Employers Need to Know
Breastfeeding is a touchy subject for new moms. It's an area where employers must tread carefully as there are strict federal and state laws that surround it.
Pumping comes along with breastfeeding, especially if a new mother is returning to work before her baby is a year old. On average, most women need up to 20 minutes to express milk by pumping.
Becoming a new mom is already challenging enough without having to worry about how to properly feed a baby upon returning to work.
Employers can let new moms rest easy by knowing they have support — including a place to privately take care of lactation needs to stay comfortable and keep their newborn fed.
Plus, it's well documented how beneficial breastfeeding is for mom and baby.
Additionally, federal law does provide workplace breastfeeding protections. This applies to employees in all 50 states. Through state laws, some workers may have even more protections when it comes to breastfeeding.
The most important law employers should know about is the 2010 federal law known as the "Break Time for Nursing Mothers" law.
Under this federal law, employers must provide a break time and a place for hourly wage-earning and (some) salaried employees to express breast milk on the job. The requirement includes a space that's private and is not a bathroom.
Employers must keep this space available until the employee's baby is a year old. These breaks don't need to be paid, but if a worker does it on a "paid break" then they should be compensated.
Because laws are different state to state, you'll need to check your specific area for details.
Helpful Resources For Pumping at Work Laws
There are lots of resources around supporting female workers who breastfeed or pump at work. As for employers, it can be dizzying trying to keep up with the work laws.
Here are a few of the best resources to better understand laws and what's required of you as an employer:
Check out your state laws - Know your laws well, including federal laws on workplace breastfeeding accommodation.
Want to know how your employees are protected? The U.S. Department of Labor Women's Bureau offers a map with details of employment protections for employees who are pregnant or nursing.
Learn more about setting up a lactation room - Discover how you can best support lactating moms at work by reading up on your employer responsibilities.


How to Show Support During National Breastfeeding Month
Research shows women who receive support for breastfeeding are more productive, happier employees. Breastfeeding also allows women to drop pregnancy weight faster, which can reduce their risk for obesity, diabetes, and other health issues.
As an employer, you can show your support during National Breastfeeding Month by educating colleagues about laws and the benefits of breastfeeding. You can also get creative in your presentations and in supporting new moms.
Here are a few ideas to participate and show support:
Share breastfeeding facts in your company newsletter
Upgrade furniture in your lactation room
Sponsor a lactation cookie-making workshop
Host a local La Leche League speaker
Buy a separate fridge for moms to store expressed breast milk
Make gift baskets with breastfeeding essentials for new moms
There are numerous ways to show support during National Breastfeeding Month. If you're at a loss for how to begin planning for the month-long event, reach out to your local La Leche League or survey new parents on what information would best help them.
How does your office support breastfeeding and/or employees who pump at work?