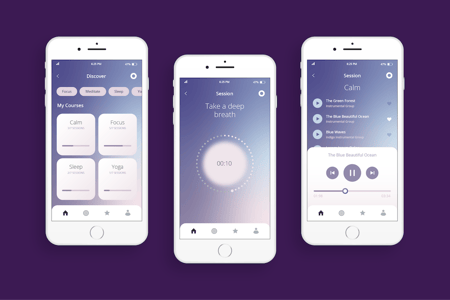 For some people, the thought of figuring out how to reduce their anxiety only brings on more anxiety.
But, there are simple tools to make it feel less daunting. Some of the best meditation apps for anxiety are designed to quell anxious thoughts that so often spiral out of control.
In fact, meditation is scientifically proven to benefit the anxious.
According to Mayo Clinic, there are plenty of benefits to meditation, including anxiety reduction and increasing self-awareness. Anxiety not only robs you of the present moment, but chronic anxiety puts you at a higher risk for heart disease and high blood pressure
If you're tired of dealing with the negative effects of anxiety, meditation may be the answer. And, no, you don't have to do it for hours daily to see the benefits.
Need some guidance?
We rounded up both free and paid versions of the best meditation apps for anxiety below. Check them out to bring a little more zen to your life.
The Best Meditation Apps for Anxiety
Nix those racing thoughts, negative feelings, and stressful moments with meditation time.
Meditation is proven to help control anxiety, lessen stress, and minimize an array of physical and emotional conditions. If you're looking at options to intervene and intercept anxious thoughts, meditation is an excellent way to help the out-of-control emotions feel more in-control.
With a little guidance from an app, even the most anxious individuals can get some reprieve.
Here are 15 options to consider exploring for anxiety relief:
1.

Insight Timer
Want to test out your meditation practice for free regularly? Insight Timer boasts about being the "world's largest FREE library" of guided meditations. With over 90,000 meditation offerings, you're bound to find something you like. Listen to inspiring lectures on topics like "Being Friends With Your Own Mind" and "Re-centering in Times of Uncertainty." Like to keep worries away with yoga? Join in on the app's free yoga classes, too.
2. Headspace
Meditate anytime and anywhere with Headspace. Whether you need to wind down before bed or calm yourself before a big work presentation, Headspace offers hundreds of guided meditations. Choose meditations on everything from stress management to anxiety reduction. Busy, busy, busy? Try a 3-minute session that anyone can fit into a cram-packed schedule.
Cost: 7 days free; then $12.99 monthly
3. NuCalm
If you're willing to invest some time and money into your meditation practice, this app experience may help you become a meditation devotee. NuCalm uses a 3-step process to help users get into a relaxed and calm state of mind. Apply a biosignal disc on your wrist's acupressure point before opening the app and putting on headphones for a calming session. Low on time and energy? You can customize which program you want to do. Users say it improves sleep, helps jet lag, and reduces anxiety. The company recommends using it for a minimum of 20 minutes daily, three to four times weekly.
Cost: Monthly subscription $59.99 monthly; yearly $599.90 (2 free months)
4. Oak
Decompress and make meditation a habit with Oak. Happily meditate in the way you need to in order to quiet your anxiety. You'll find unguided meditation and progress tracking helps when you're first starting out. Users will also find mantra meditations, breathing exercises, and calming sleep music to unwind at the end of a busy day.
Cost: Free; offers in-app purchases
5. Aura
Called the "one-stop solution for emotional health", Aura offers a variety of meditations so you'll never get bored with your practice. The world's top coaches offer insight inside the app, too. You'll also find the app is advanced with mindfulness AI to utilize billions of data points to find your perfect meditation session. With over 3,000 personalized tracks, users can find any type of meditation session to halt anxious thoughts in its tracks.
Cost: Free; offers in-app purchases
6. Breethe
Sometimes, you just need to Breethe. Whether your goal is to feel happier, relax, fall asleep, or just deal with your anxiety, Breethe has you covered. Called "the friendliest wellness app", users find the app's options make it easier to calm the mind and body with mental exercises like hypnotherapy, meditation, and stories.
Cost: Free; offers in-app purchases
7. Waking Up
Want to better understand your mind? Then download Waking Up. Inside the app, you'll meet Sam Harris, a philosopher, neuroscientist, and New York Times best-selling author who dives deep into the theory of meditation and its practices. If you have had trouble getting into a meditation routine due to your skepticism, this app may help you find your peace sooner.
Cost: $99 a year
8. Mesmerize
This app is unique in that it offers an audio-visual meditation experience that is, well, mesmerizing. Mesmerize pairs psycho-acoustic music with guided meditations and a visually engaging design to engage users. (Think of those old Windows screensavers that bounced shapes around your screen back in the day.) You'll also find sleepy stories, nature sounds, and focus music to help ease anxiety and worries any time of day.
Cost: Free; offers in-app purchases
9. Meditation and Relaxation Pro
For those who wish to fully immerse in their meditation, the Meditation and Relaxation Pro app is a great option. Designed for use on an iPAD, anxious individuals will find the bigger screen helps with engagement in the meditation programs. Whether you're in need of calm, concentration, loving kindness, or body scans, this app has a variety of options to reduce anxiety and stress.
Cost: Free; offers in-app purchases
10. Liberate
Created specifically for the Black community, Liberate offers unique meditation topics and programs. Focus areas tackle topics like depression, microaggressions, internalized racism, and ancestral healing. Meditations range from five to 25 minutes in length, creating an opportunity to carve out time for self-care in busy daily schedules.
Cost: $9.99 monthly or $71.99 yearly
11. The Mindfulness App
Get focused on a mindful meditation journey with The Mindfulness App. Created with options for both beginners and advanced practitioners, the app's ultimate focus is to bring inner peace to its users. The app will greet you by name upon being opened before giving the option to meditate on anything from being present to self-appreciation. Even when your screen is locked, you can get little reminders of positive ways to start your day without anxiety.
Cost: $9.99 monthly
12.

Calm
Anxious thoughts keeping you from fully relaxing? Calm offers a variety of ways to relax in both its free and paid versions. Listen to a sleep story, enjoy nature sounds, or take a guided meditation journey with an experienced meditation expert. You can also keep a daily log of how you're feeling to track your moods and anxiety.
Cost: Free 7-day trial; then $59.99 a year
13. Simple Habit
Need to achieve more peace in less time? Simple Habit is for people who need to keep meditation simple. It's a 5-minutes a day meditation app for people who are busy and always on the go. Meditate on topics ranging from "Relieve Your Anxiety Immediately" and "Kindness to Self" to "Accept and Let Go" and "Setting Intentions."
Cost: Free; in-app purchases available
14. Ten Percent Happier
Based on the book of the same name, the Ten Percent Happier app is for meditation skeptics. Each week, new content is released to help users improve their practice no matter how cynical they may be. Courses are included in the app to increase mental focus and get rid of the mental clutter that tends to add to anxious thoughts.
Cost: Free; in-app purchases available
15. Meditation Nest
Need to find some calm ASAP? Curl your thoughts up into the Meditation Nest and rest easy. Whether you need relaxing sounds to calm your racing mind, meditation to improve your focus, or precious alone time, this app offers all of it in 5-minute doses.
Cost: Free; in-app purchases available
Relieving Anxiety is Only an App Away
Tired of letting anxiety take over?
Then it's time to try one of these meditation apps.
Do an experiment for a week or two with one of the listed options. See if you notice a difference in your mood or racing, anxious thoughts.
If it works for you, keep at it.
Not your thing? Try a different app. That's why there are so many; not everyone enjoys or connects with the same ideas, voices, or meditations.
Above all, remember meditation is a compounding practice that will help alleviate anxiety with regular practice. You condition your mind to settle down with intentional quiet time. It's not easy, but most things worth having aren't.
That includes your inner peace.
With some work at it, we bet you'll find that you deem one of these the best meditation apps for anxiety.
Happy meditating!
Looking to reduce anxiety in your workplace? Find the guidance you need in our free download: Tap the Power of Mindfulness in the Workplace.