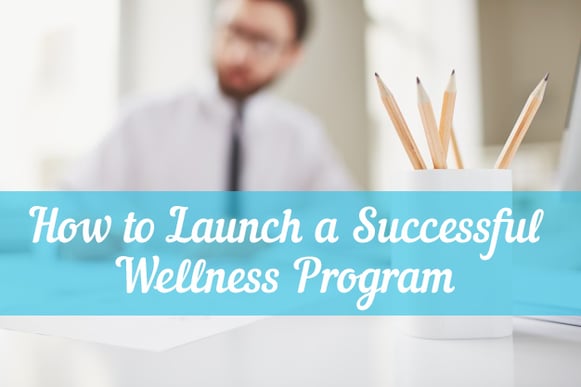 We get it, starting a corporate wellness program for the first time sounds scary and intimidating. If you are thinking about launching a wellness program, you may not know where to start or what steps to take.
We want to help take some of the guesswork out of launching a wellness program. These basic steps are simpler than you might think, and they will work for companies of all sizes and demographics.
If you're looking to create a healthy workplace by empowering employees in their work and personal lives, here's how to launch a successful wellness program:

Know That There is No "Right Way"
There's no rulebook or official checklist for a corporate wellness program. In fact, the most successful wellness programs are the ones that are customized specifically to fit the needs of a company and its employees.
Don't follow another company's outline of a wellness program just because it worked for them. Use other corporate wellness programs for inspiration and ideas, but be careful not to directly copy other programs. Part of what will make your program successful is its ability to resonate with your employees. Your employees will get nothing from your wellness strategy if it was created for a different audience.
Assemble Your Wellness Team or Committee
Don't go at it alone! Building a dependable team will help you brainstorm new ideas, promote your wellness program, and provide you with any support you need. Ask employees at all levels of your organization to volunteer to be members of your wellness team or committee.
Remember that it's important to keep your team diverse–you'll want input from both upper management and the "Average Joe" of the workplace. The one thing every member of your team should have in common: the desire to improve wellness and happiness among employees.
As time goes on, be sure to identify and recruit some "wellness champions" to join your wellness team. These employees act as a great support system for their co-workers. They will help you boost employee participation and serve as an extension of your employee recruitment strategy.
Determine What Your Company Wants
What is your company hoping to gain from implementing a wellness program? Some examples include:
More productive employees
Reduced absenteeism
Higher employee satisfaction scores
Recruiting and retention benefits
Find out What Your Employees Want
Determining what your employees want out of your wellness program is a little trickier. The only real way to know is to ask! Send out a survey to employees to discover their feelings and opinions on health and wellness. Ask them what "wellness" means to them and what they would hope to gain from their wellness program.
You can use this information not only to help set goals, but also to create challenges, educational materials, and wellness activities that will appeal to your employees' wants and needs.
Develop a Plan
A successful wellness program will have clearly defined goals, a budget, timeline, and objectives. Cross-reference what your company wants with what your employees want out of this program. Look for common themes or areas for opportunity to create the goals for your wellness program.
Once you have your goals set, you can start detailing the rest of your implementation plan. Since this is the first time a wellness program has been launched at your company, remember to keep goals and timelines reasonable for the first year–you want your employees to feel inspired and excited about the wellness program, not burnt out from it! Try focusing on Smart Goals while developing your plan.
Communicate
Can't stress this one enough! Communication is the foundation of a successful wellness program. Without an effective communication plan in place, employees won't know what is going on or how to get involved. Although the goals and organization of your program may seem clear-cut and obvious to you, some employees won't know anything about this "mysterious program" or why they should get involved.
Be sure to send out regular information and updates on your new program throughout multiple communication channels. For more information about effective communication strategies for your wellness program, check out this article.
Create a Culture of Wellness
This means creating a supportive environment for your employees. A culture of wellness will help your employees form new, healthy habits that will actually last. Your workplace should make health a priority, and make health convenient for employees. Try out these seven steps to master a healthy company culture.
Launching a wellness program may seem like a lot of work, but we promise it will pay off! Remember that it's okay to take your time when developing a wellness program–it doesn't happen overnight for any company. Take these pointers into consideration to launch a successful wellness program of your very own. Your employees will thank you for it!
What questions do you have about launching a new wellness program? Ask away in the comment section below!
Image Created by Pressfoto - Freepik.com