So you've created a wellness program – complete with incentives, challenges, screenings, and a portal. It has all of the features it needs to succeed. However, you've been noticing that employees are not excited about the program and participation is lower than expected. This could be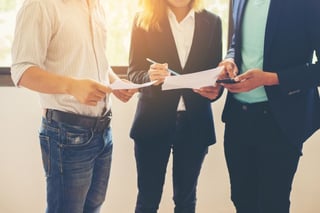 because your wellness program does not have the proper foundation in place – and this foundation is communication.
Effective wellness communication serves as the primary building block for behavior change and measurable progress. Your employees will not succeed–or even become interested in the wellness program–without a communication plan in place. If communication hasn't been a focus of your wellness program plan, it's time to shine the spotlight back on your wellness communication strategies.
Here's how effective communication could save your wellness program:
Engage Employees
Without effective communication strategies in place, employees simply will not participate. Employees need to know enough about their wellness program to want to get involved. Communicating about the benefits of your wellness program will help motivate employees. To engage and excite employees, you should be communicating how fun it is to participate in the program. Be sure to keep communication simple and consistent during the beginning stages of your wellness program.
Communication is also needed to keep employees engaged throughout the duration of the program. Regular communication efforts provide some consistency in your wellness program. Always stay in touch with employees and send them reminders about what the wellness program offers and any upcoming events. A simple reminder can go a long way.
Keep Employees in the Loop
Where? How? Why? These should be the fundamental questions that your wellness communication covers. Employees should always know what is going on in their wellness program and how to get involved. By using effective communication tactics in your program, you can easily educate employees by keeping them informed of your wellness program's current status.
Connect Employees
Communicating to your employees in a way that is tailored to their wellness needs and wants will help your employees feel connected to the program. Do some research to find out what your employees care about gaining from your wellness program the most, and then tailor your communications accordingly. It is important to keep in mind that you want to inform your employees as well create a message that resonates with each employee.
Here are some helpful communication tactics to keep in mind:
Timing. Create a communication plan that includes regular messaging. You should communicate often so that your employees receive helpful reminders that will boost participation. Although you want to be sure to communicate regularly, try not to bombard employees either with too much information at once.
Simplicity. Keep things short, sweet, and simple. Simple language can be the most effective in getting your point across. Keeping things short and to the point will hold your employees' attention.
Strategy. Time your communications to a specific company or public event. Have a company holiday party coming up? Let employees know that they can find information on healthy party foods through their wellness program.
Style. If you haven't already, give your wellness program a brand! Branding helps give your employees a consistent and easy-to-follow message. Branding also helps give your communication materials a style that will stand out and entice readers.
Don't let your wellness program fall short due to a lack of communication – it's a simple fix! Create communication that resonates with your employees that includes valuable, relevant, and personalized content. Keeping up with wellness communication will engage, inform, and connect your employees.
What communication strategies does your company use in your wellness program? Share some ideas in the comment section below!
Image Designed by Jcomp - Freepik.com