Need some fun, new healthy living apps to download?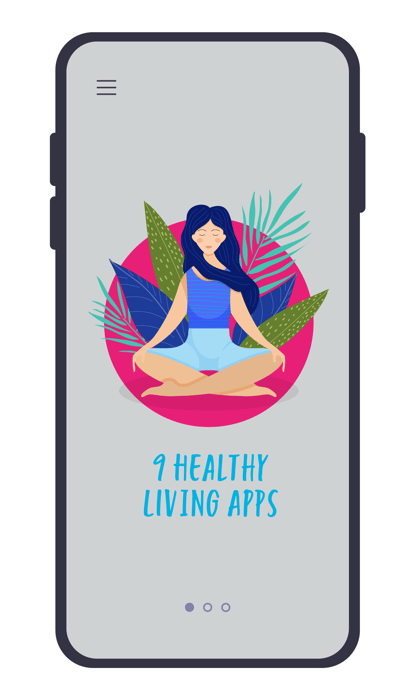 Healthy living is more than just eating well and staying fit. It comes down to a series of everyday choices you make as you go about your day. Thanks to our digital devices, tracking habits, setting goals, and finding accountability through wellness apps is easier than ever.
Most of us spend way too much time on our phones. Why not download useful apps that help with health and wellness to make your digital time a healthier experience?
Below we share nine of the best apps to download for a healthier life and digital experience.
Healthy Living Apps to Download Today
As much as it hurts to admit, many of us spend far too much time on our phones these days. In fact, a survey done in February 2021 found that nearly half of the respondents spent an average of five to six hours daily on their phones — that doesn't even include work-related activities!
If you're looking to create healthier habits — starting with your screen time — consider trying out the following apps for a more productive way to spend time with tech.
Here are nine to check out:
1. Everyday Habit Tracker
Need to focus on creating better habits? This app is for you. The hard part is showing up and doing it daily. With each day you do your habit, a "chain" forms, showing you're less likely to break the habit you're building. This app helps form new habits to achieve goals ranging in a variety of categories from fitness, finances, wellness, and more.
Available on iPhone and Android
2. Yuka
Wondering what's lurking in your products? Sometimes it may feel as if you need an entire course on deciphering food and product labels in today's world. That's where this app comes in handy. Yuka scans food & personal care products to decode their ingredients and evaluate their impact on your health.
Available on iPhone and Android
3. Lose It!
If calories and pounds seem to be adding up for you, give Lose It! a try. Learn more about the food you're ingesting and keep your calories under budget daily with the help of this app. Free and premium memberships are available.
Available on iPhone and Android
4. Telehealth Online by HealthTap
This app helps connect you to low-cost primary care video appointments. The app also boasts of saving users up to 75% on prescriptions, too. This is ideal for those dealing with after-hours health issues and for those without insurance. Membership ranges from $45 billed every three months or $99 per urgent care visit.
Available on iPhone and Android

5. Fabulous: Daily Habit Tracker
This beautifully designed app ranks number 48 in the health and fitness category. With this app, you can focus on building habits — especially around mental health — as a way to make healthy routines a part of your daily life. Create to-do lists, make a gratitude journal, do short workouts, and more with this app.
Available on iPhone and Android
6. MindDoc
This self-management app allows you to track your moods to cope with mental health conditions like insomnia, depression, anxiety, and eating disorders. Users get insights and summaries on symptoms and behaviors to discover patterns and find the best resources to deal with them.
Available for both iPhone and Android
7. Sleep Cycle
Curious about how well you're sleeping? Learn more with this all-in-one sleep tracker, monitor, and alarm clock app. Perhaps the best feature of this app is that your phone analyzes your sleep and wakes you up with a gentle alarm in the lightest sleep phase. That way you wake up feeling well-rested and ready to tackle the day!
Available on iPhone and Android
Related: 8 Experts Give Their Best Advice on How to Sleep Better at Night
8. Fooducate
Looking to eat a more balanced diet? Try out this app. As you shop for groceries, learn how to detect healthy and unhealthy options at the store. Just scan the barcode and get a nutrition grade to learn about the product's details like if it's 100% whole grain or if it has too much sugar. The app is unique in that it also analyzes additives, food colorings, and GMOs in products.
Available on iPhone and Android
9. winwalk
Need to get motivated to get moving? Then this healthy living app is for you. The free pedometer counts your steps and rewards you with gift cards from your favorite brands. The more you move, the more you earn. Plus, you're getting healthier in the process. How's that for motivation?
Available on Android only
Start Making the Most of Your Time With Your Smartphone
If you can't give up your smartphone habit, at least consider making your time spent on it valuable, productive, and healthy!
It's important to remember that apps can't necessarily replicate community support vibes like you'd get at an in-person gym or through a coach. But you can create a way to feel supported when you take on challenges like walking more or sleeping better.
Here's how:
Actively recruit -

Get like-minded friends or colleagues to join you in downloading the app of your choice. Make it about getting healthy together and use the app and report back findings and progress.



Look at additional support

- Most apps have support that you can use if having tech issues. But some — like the everyday habit tracker — also have social media pages where you can connect with other users. This is an opportunity to connect with other individuals looking for support like you!



Let your goals be known -

Share with your accountability partner, spouses, best friend, whoever, and let them know your intention. Ask them to check back with you to see how it's going with using the apps you downloaded.
Above all, have fun with it and celebrate your progress as you go. You don't need every single app in this blog to start getting healthy. Take it slow and start with one. See how it goes. These healthy living apps are an opportunity to invest in yourself and your health. The reward is the new habits you build to create an even healthier life.
What is your favorite health or wellness app? Share in the comments below!