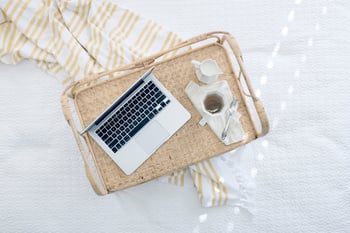 Flu season is quickly approaching. Now is as good a time as ever to talk about your corporate policy on taking sick days.
If you don't have a policy for sick days, you need to make one! Whether your policy is new or old, it's important you spend some time communicating it to your employees. Make sure they understand exactly what the rules are as we head into high-risk seasons like flu season.
When an employee is sick, odds are they feel pressured to come to work. They don't want to miss out, get behind or appear weak. But when a sick employee shows up to the office:
They're not as productive as you'd like them to be because they don't have as much as energy as they usually have.
They're miserable to work with because they feel pretty miserable.
They're a threat to the entire office because germs spread like wildfire in the close-quarters of an office building.
If you shame employees for taking sick days—whether intentionally or not—you're piling on the pressure for them to show up when they feel ill. You're inviting a loss of productivity, damaged work relationships and germs into your office building.
Ultimately, you're asking not only for a miserable employee to suffer through a long day, but you're asking for an office outbreak of whatever illness is going around.
And it's completely unnecessary.
In today's digital workplace, it's not absolutely necessary for most employees to work from within the office every single day. If an employee doesn't work directly—face-to-face—with clients, and if they don't rely on static equipment that's housed in the office, they can probably get by working remotely for a day or two.
So if they're sick, let them stay home.
Depending on your policies, and the needs of your company, that can take shape in a couple different ways. During high-risk seasons like flu season, you might consider implementing flexible scheduling. If someone's feeling ill, allow them to work when they're feeling up to it. So long as they meet their scheduling requirements, you should have no problems.
You could also allow employees to take tele-sick-days. Let them telecommute when they don't feel well. If they have their computer and access to the resources they need, they'll be able to get their work done from the comfort of their homes without exposing your entire workforce to their illness.
Regardless of which policies you implement for handling sick days, your corporate attitude needs to be one of understanding. A sick employee suffering through the workday is not an asset to your company—and it won't help them get better any faster.
So don't shame employees for being sick. Encourage them to stay home when they're feeling ill, and be as flexible as possible in working through sick days together.
How do you handle employee sick days at your company?