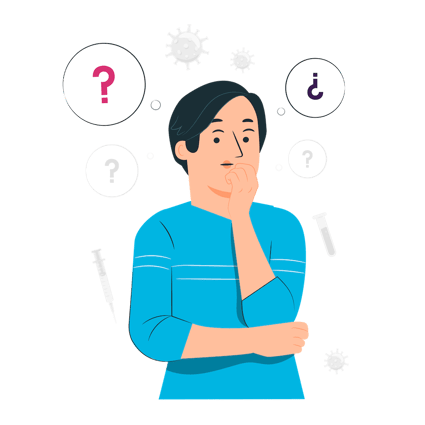 Now that more than 123 million Americans are fully vaccinated, COVID-19 vaccine conversations are now the norm.
But how do you help keep facts and fiction straight in the workplace?
While employers can't control all conversations, they can control what's distributed content-wise to their workers. By only sharing COVID-19 vaccine facts from verified and legit sources, it provides an opportunity for employees to self educate.
Below, we share all the facts your team needs to know about the vaccine.
This post offers the newest information about the shot, plus dos and don'ts for COVID chats in the workplace.
Tips for Sharing COVID-19 Vaccination Facts
With a new vaccine, it's normal for people to have questions about them.
And, without a doubt, the amount of information out there — both true and false — can be overwhelming to most individuals taking it all in.
For anyone who spends any time on social media, the amount of information one can consume is staggering. Like all news stories and major events, the coverage of the COVID-19 pandemic has led to myths and falsehoods spreading online faster than wildfire.
So, how should employers go about getting employees correct information?
A few tips:
Do listen without judgment -

When in conversation about the vaccine, actively listen to employees. Some people have a true fear of needles. Others may have religious backgrounds that prohibit the use of vaccines. Sometimes the thought of adding another health "to-do list" item is overwhelming enough. Listen — and respond — with respect and let them know you hear what they are saying.


Don't contribute to rumors -

As entertaining as some conspiracy theories can be, don't add fuel to rumor wildfires in the workplace. Ask team members to refrain from intense discussions regarding the vaccine "theories" or "rumors."


Do offer legitimate source content -

Ensure your HR, benefits department, and

wellness committee

has information that's been vetted and verified by health organizations like the Centers for Disease Control and Prevention (CDC). Anything that comes off social media should be used with caution.

Don't throw mask requirements out yet -

If your team is still in the workplace together, don't abandon mask requirements just yet. Masks are still a good way to prevent the spread of COVID in tight quarters and to those who haven't been fully vaccinated yet.

Do advise against posting COVID cards - Because personal information is put on the vaccination cards, advise employees who get their shots not to post pics of themselves with it on social media. Information can easily be stolen and used against them.
COVID-19 Vaccine Facts to Share With Your Team
Almost everyone knows the COVID vaccine is now available.
But there's still a lot of misinformation out there. As an employer, help reduce the spread of incorrect information in your workplace by sharing only the facts. If you're offering on-site vaccinations, this is especially important in your marketing efforts, too.
Consider using the below information in email blasts, newsletters, and sharing it in team meetings. In doing so, you help your employees make informed decisions when it comes to vaccination time.
Here are some facts to distribute to your team:
Fact: Individuals 12 and Older Are Now Eligible
When the vaccine first rolled out in the United States in December 2020, supply was limited. At first, only healthcare workers were eligible. Then senior citizens were eligible to get the shot. Now, everyone 12 and older can get the vaccine at a variety of locations, including pharmacies and physician offices.
Fact: The COVID-19 Vaccine Won't Give You COVID
When you get the COVID vaccine, keep in mind you may have post-vaccination side effects. The CDC states side effects like chills or tiredness are normal. After a few days, the symptoms should go away.
Other possible side effects may include:
Fever

Nausea

Headache

Muscle pain

Pain at injection site
Always stay hydrated and rest if you feel tired. Dress lightly if you have a fever. Prior to getting your vaccine, over-the-counter medicine like ibuprofen, acetaminophen, aspirin, or antihistamines aren't recommended for trying to minimize side effects.
Fact: Vaccine Shot Requirements Differ by Brand
Depending on what's available in your area, you may have to get one or two shots for full protection. The brands Pfizer-BioNTech and Moderna both require two shots for the best protection. Johnson & Johnson's Janssen only requires one vaccination for full coverage. You can learn more about the authorized and recommended vaccines here.
Fact: You Can Return to Some Pre-Pandemic Normalcy
Last week, five months after the first COVID-19 vaccine was rolled out, the CDC stated fully vaccinated individuals could return to pre-pandemic activities. You're considered fully vaccinated if it's been two weeks since you received the vaccine. Fully vaccinated individuals can resume activities without mask-wearing or physically distancing, except where required by federal, state, local, tribal, or territorial laws, rules, and regulations, including local business and workplace guidance, according to the CDC.
For those who have been fully vaccinated, you:
Can gather indoors with fully vaccinated people without wearing a mask or staying 6 feet apart

May gather indoors with unvaccinated people of any age from one other household

Can conduct outdoor activities without wearing a mask with the exception of certain crowded venues

Don't need to get tested before or after travel or self-quarantine after travel within the United States
Additionally, if you've been exposed to someone with COVID-19, you don't need to quarantine or get tested unless symptoms present. Learn more about socialization after being fully vaccinated on the CDC's website.
Fact: Allergic Reactions Can Occur
It's important for those who have had allergic reactions to vaccines —both severe and/or immediate — to discuss vaccine safety with their physician prior to getting one. If you've already had a COVID shot and had a reaction yet require a second dose, talk to your doctor about potentially getting a different type of COVID-19 vaccine. Those who have allergies not related to the vaccine — pet, food, etc. — may still get vaccinated. If you do get a vaccine and believe you're having a severe allergic reaction — including trouble breathing — call 911 immediately.
Fact: The COVID-19 Vaccine is a Standalone Vaccine
It's important to note that you can't get all your vaccines, plus a COVID-19 shot done in one appointment. The CDC recommends waiting a minimum of 14 days after your COVID shot before you get any other vaccine, including a flu shot. If you've recently been vaccinated for another health condition, wait at least 14 days before getting your COVID shot. If you happen to get a COVID-19 vaccine within 14 days of another vaccine for any reason, you DO NOT need to be revaccinated with either one, according to the CDC.
Share Nothing But the Facts
You can't go wrong with facts, especially if it's backed by science and research. This is especially true for anything you send out as an employer about COVID-19.
When in doubt, visit and share these sites for updated insight:
In sharing information directly from a source, your employees will have a better understanding of where it's coming from. Doing so builds trust and allows them to dive deeper into their own research on legitimate websites.
If you, or others in your life are concerned or reluctant to get the vaccine, check this out report. The team at Kaiser Permanente has done some fascinating work to understand why people are reluctant. They created seven archetypes and developed strategies/messages that can be personalized to resonate with each group.
How do you encourage your staff to learn about COVID-19 vaccine facts? Do you talk about COVID-19 in the workplace? Let us know in the comments below!